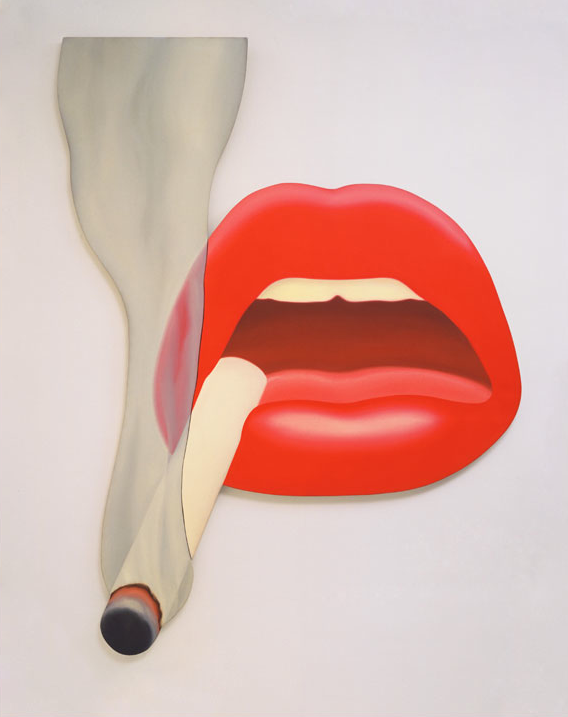 Tom Wesselmann "Smoker no.1", 1967 MoMa New York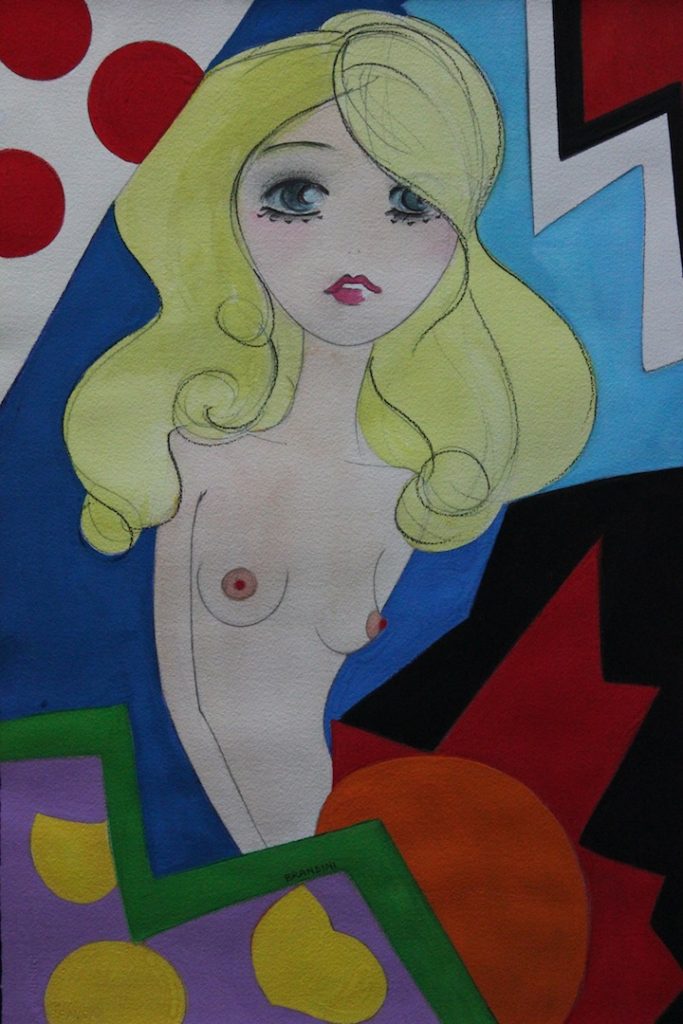 "Claire" by Beatrice Brandini
For me art has to "shake", which is a thought, a doubt, it's all good, as long as it is not indifference…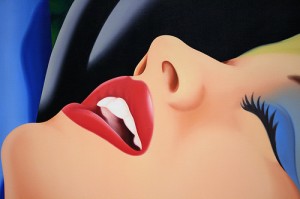 Tom Wesselmann, detail of "Bedroom Painting no.38", 1978 
But it must also be nice, something that you hang on, stand, observe daily and that should make you feel good.  The works of Tom Wesselmann are all over this. 
American artist born in Cincinnati, after a first approach to the study of psychology devoted himself to art, achieving immediate fame and success.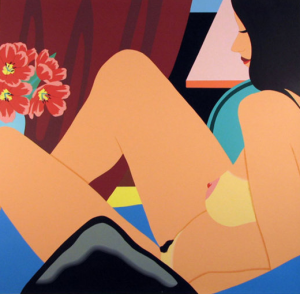 Tom Wesselmann "Helen nude", 1981
Wesselmann elaborated recurring themes, a bit 'like all the protagonists of Pop Art, nudes, landscapes, still lifes, but with a stamp so personal and recognizable to turn his canvases into icons.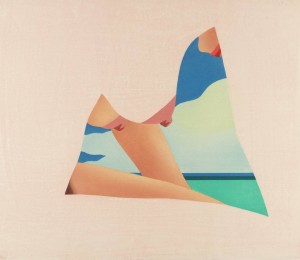 Tom Wesselmann "Seascape Dropout", 1982
Like Andy Warhol sought the sources of inspiration in the most unlikely places, the ones that had nothing to do with the art world, such as advertising, magazine female Hollywood cinema and television. Pretty obsessed with appliances that were the real stars of those years in the homes of Americans (we are in the sixties and the appliances were new, a commercial / consumer boom, a bit 'like the computer in the eighties or mobile phones in the nineties), Wesselmann them often portrayed against the backdrop of his works. But the use of these objects had nothing to sociological or psychological, for the artist was pure graphic, background.
The art produced during the Pop Art (abbreviation of Popular Art) took a loan almost always banal and everyday objects.  Jasper Johns, with its American flags become iconography, Robert Rauschenberg with his assemblages "physical", Andy Warhol with soups or detergents, voice of consumerism and change of habits and customs (women's empowerment), Schifano in Italy with his TV, etc.. All a bit 'sons of Dada Duchamp, who in the twenties with its "ready made" was a common object (the coat rack, a urinal …) work of art, decontextualizing the object and depriving of its function. Probably for all also a form of rebellion and sarcasm to criticism.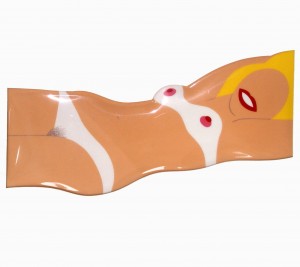 Tom Wesselmann "Cut out nude", 1965
Often they also worked directly in his paintings which then became three-dimensional. In the famous Great American Nudes, along with the painted images are telephones, radio, television on, refrigerators, doors and windows, towels, hanging portraits, reproductions of Matisse, Picasso, Mondrian. To contrast with the three-dimensional objects, to contrast with the three-dimensional objects, his subjects were flat, as occurs in billboards.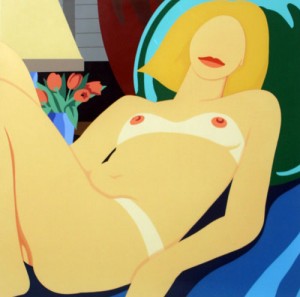 Tom Wesselmann "Nude no.2"
His famous nudes, that despite leave little to the imagination (his women were naked, with red lips parted, swollen breasts), are not vulgar, in fact I consider them "positive", something that would show to a child without fear of morbidly scandalize or intrigue.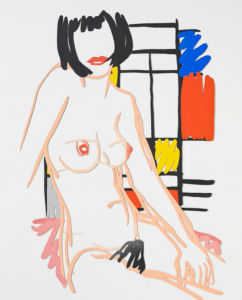 Tom Wesselmann "Monica sitting with Mondrian", 1978
Subsequently canceled the female figure to give space to details, such as red fingernails or large half-closed lips voluptuously who smoked a cigarette.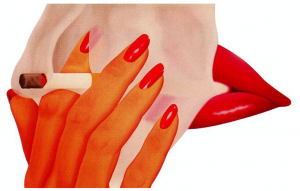 Tom Wesselmann, "Smoker no.3"
"Painting, sex and humor are the most important things in my life." Tom Wesselmann. Although in reality his life was "regular" and quiet, with the painting as a protagonist and an important female figure, his wife and muse Claire, while listening to his beloved country music.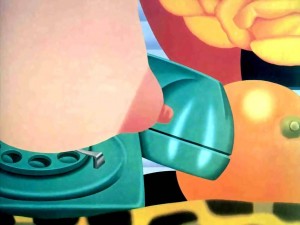 Tom Wesselmann, "Bedroom no.25", 1967
I really like the art of Tom Wesselman;  many years ago at Arte Fiera in Bologna,  I was going to buy you a small drawing, unfortunately in the end the sense of responsibility made me give up, is one of the great regrets, in term of acquisitions, that I have!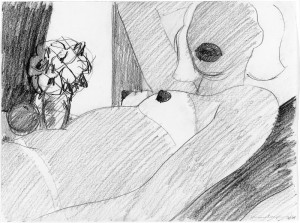 Tom Wesselmann "Study for Great American Nude", 1957
Finally a little of  fashion inspired even to its unmistakable lips …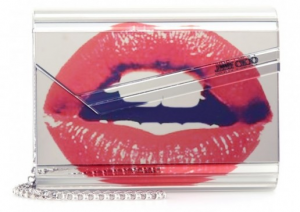 Jimmy Choo Clutch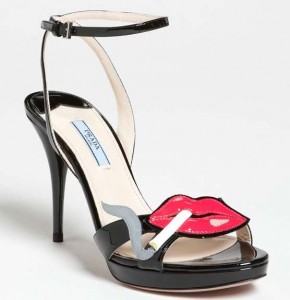 Prada Shoes
Yves Saint Laurent, catwalk e Zooey Deschanel for Elle Magazine in Saint Laurent dress
Stella McCartney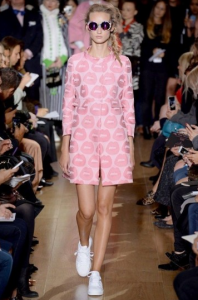 Dress Giles
Charlotte Olympia shoes e Diane von Furstenberg bags
Mood Wesselmann by Beatrice Brandini
Mood Wesselmann by Beatrice Brandini
Good life to all!
Beatrice