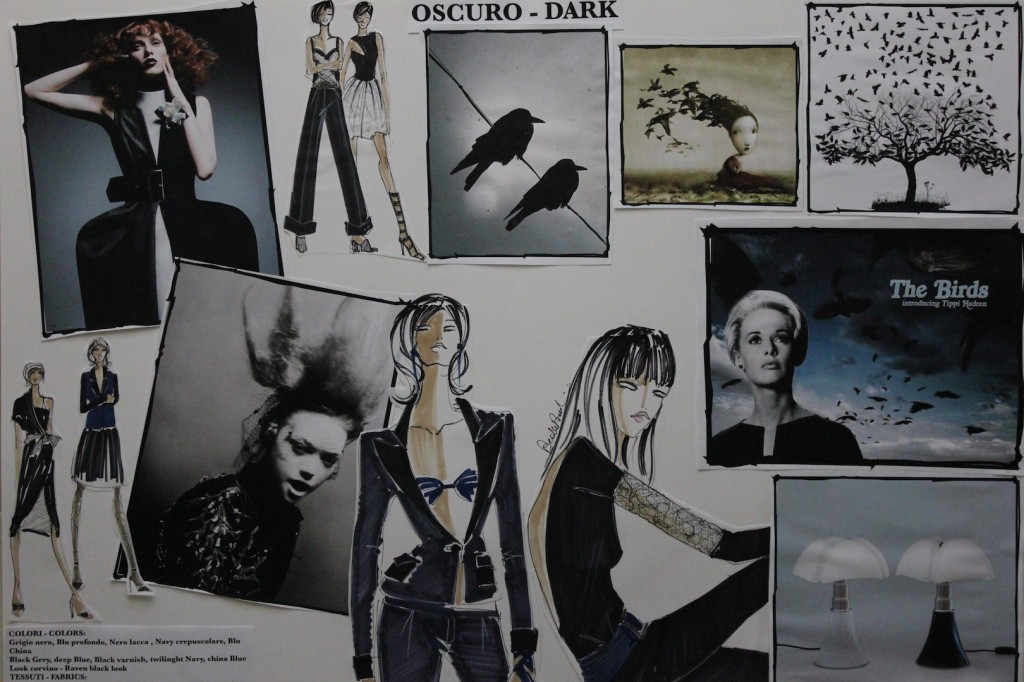 OSCURO-DARK  mood by Beatrice Brandini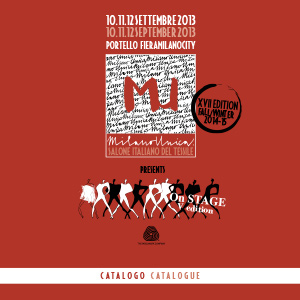 Cover  of catalogue- XVII edition of Milano Unica, Italian Textile Fair
The fair Milano Unica collects Italian and international exhibitors for each type of fabric, accessory, textile complement, it is really a complete and interesting exhibition, a must for those who work in this area.
The fair is divided into these main categories:
Ideabiella, woolen fabrics of the highest quality, especially for men's clothing.
IdeaComo, fine fabrics, silks, mainly for women's clothing.
Moda In, wide range of fabrics and all kind of accessories
Shirt Avenue, shirting fabrics, traditional and innovative
Basically, the best of Italian production, companies without which we "creative" we could not do our job.
Milano Unica Fall / Winter 2014-15
As always I picked up my feelings that I expressed with a Mood Board.
In short, I have added notes to "explain" most of every macro trend.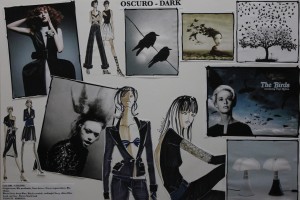 OSCURO – DARK  by Beatrice Brandini
I called this board "Dark" capturing the feeling of introspection, mysticism, collection .. which still characterizes collections of fashion, music videos, art and streetwear. It has no negative cognition, although crows, skulls, cemeteries, the night visions, are characteristic signs of this trend, but this time in a key renewed, more mystical and scientific.
It still talks about Punk, therefore accessories like studs, chains and metal in general continue to be protagonists.
The colors are dark,  goes to the Grey Black in Black Lacquer, with shades of Blue.
Fabrics like velvet, damask, leather and ecoleather, iridescent surfaces, fabrics quilted.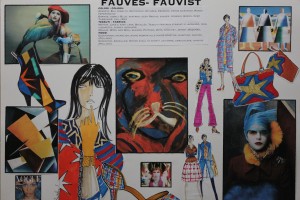 FAUVES  mood by Beatrice Brandini
I called this tendency in honor of one of the most important and innovative artistic movements of the last century , the Fauves, that manifested itself in France at the beginning of the twentieth century and that, even if short-lived , revolutionized the whole art later. Fauves , in the French launguages Beast , was coined by a critic who saw the works of some of these artists and called them " cage aux Fauves ", ie a "cage of wild beasts ," the wild expressive violence of color. Among the artists was Matisse , Derain , Vlaminck, etc. . I chose this current because in addition to the use of a palette very strong and suitable to translate the colors that I think will be the trend next year , were the first to become interested in African art, and for them was no longer important to the academic excellence of the work , but the pure color , the shape , the immediacy . Concepts translatable also for fashion.
Colours: Orange , cobalt Blue , Saffron , Orchid , Ginger , Red pepper, Green ceramics.
Boucle Fabrics , Wool , Mohair , effect crocheted fabrics , Jacquards, prints .
And even stirpes, prints and animal prints , camouflage …. All in an eccentric way .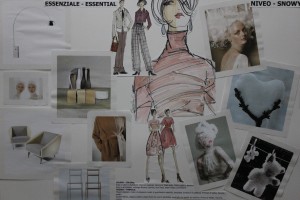 ESSENZIALE – SNOWY  mood by Beatrice Brandini
Giorgio Morandi could be the face of this trend , with its simple and essential  elegance . Just as Gio Ponti , with his inventions to revolutionary design in their classical and normality .
But also snowy because pure as snow, because it uses all the shades of white .
Colors : Gray , Brown melange , Apricot, Skin color , pale Yellow , Ivory, and of course WHITE .
Drapped fabrics, drapery motif that refer to the male wardrobe, as Prince of Wales or flannels , jacquard square . But even double organza for lightness and femininity.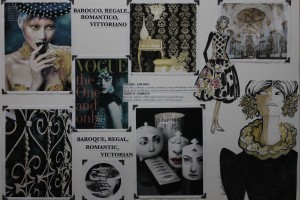 ROMANTIC – BAROQUE – REGAL  mood by Beatrice Brandini
The ideal would be the French and English aristocracy  on the nineteenth century , with its myths and rituals , from the court theater , to the tea, from the romantic novel, to the fox hunting ….
Precious fabrics like brocade, taffeta, moire, silk velvets. And a lot of floral jacquard.
Accessories such as buttons and tie-offs are rich and important.
Colors: Black, gold , bronze , orchid , amethyst, blue gradient .
These are the macro trends that I have noticed and "felt" more than others .
Good Fashion & Good Life at all!
Beatrice