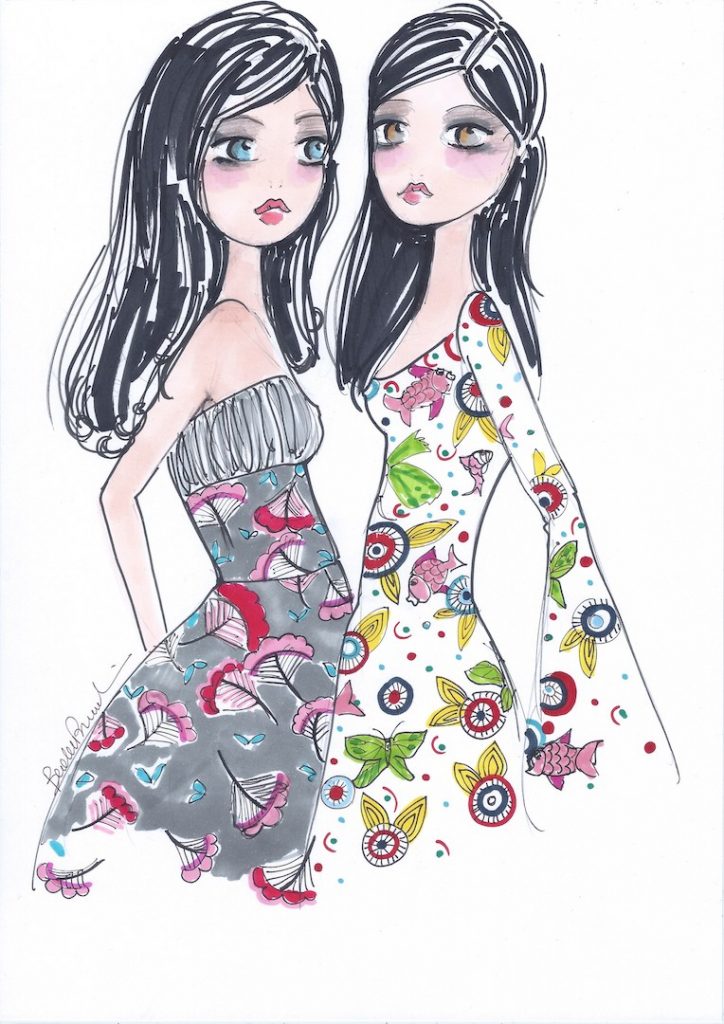 "Fantasy" by Beatrice Brandini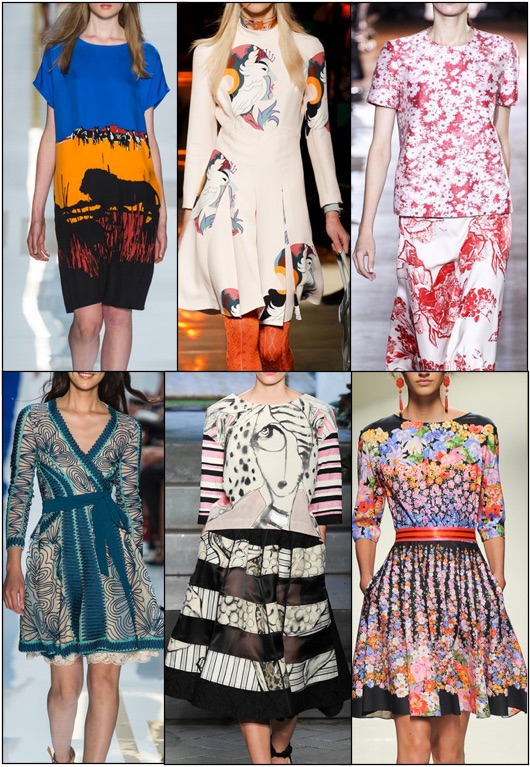 Fashion Show S/S 2014
I decided to talk about pattern because I've always loved, in fact stripes, checks, polka dots, flowers, geometric, abstract … are a wonderful way to enrich and customize a shirt, a skirt, a dress. But mainly because for the next Spring Summer (but will remain so for the ' Fall / Winter, from what we've just seen on the catwalks of New York and Milan), they are, pattern, the real protagonists in fashion. 
There is no designer or label that has given them space, proposing them in all their forms and facets, and the most interesting thing for me is that at the beginning there is also a strong artistic component, or the clothes look paintings borrowed a famous art gallery. There are not pattern "simple and traditional", but often it is collaborations with contemporary artists or citations/frameworks famous artists, not-too- veiled.
The collaboration between art and fashion is still old thing, Coco Chanel had already experimented with the artists of the early twentieth century, Elsa Schiaparelli with surrealists like Dali and Cocteau, Yves Saint Laurent with Mondrian …. However, I believe that the use of modern and contemporary art collections in the current has a different value. First of all answers a question/ increasing interest towards art by the final consumer (see the success of fairs such as Art Basel and Art – Miami ), so the fashion understood immediately that has an important return investing in image, communication and therefore also economic . Then today the modern and contemporary art is more "popular", but his loan to fashion, it's, at the same time, also more conceptual, see the Prada Foundation,  Trussardi Foundation, Pinoult Foundation , etc. , where they celebrate and help emerging artists, alongside stars already consecrated.
Kenzo S/S 2014 collection and Raymond Pettibon
Jil Sander S/S 2014 collection and Alighiero Boetti
Missoni S/S collection 2014 and Gary Hume
The most representative in this way, because she has always been a lover and supporter of art with her beautiful Foundation, was Miuccia Prada, but also because the design/pattern has become for it's spring/summer 2014 collection, absolutely representative. This always happens in her fashion and her clothes, but with this collection, the recognizable and the reference to the brand is really immediate.
Prada: Innovation and modern creativity. Collaboration with the artist Stinkfish, famous for its murals. Inspirations: Pop Art, Writers, Color Block, references to the Sport.
Antonio Marras: pure poetry … Inspiration: Botany, Illustrated books of flowers, Enchanted Gardens.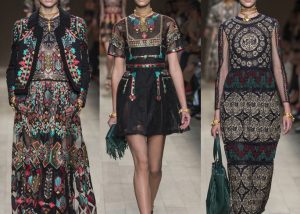 Valentino: ethnic refined taste. Inspiration: Folk, Ethnic, Byzantine Empire.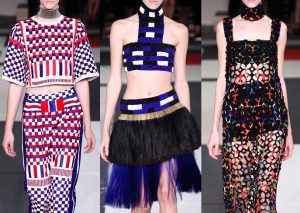 McQueen: Modern Art Inspiration: Mondrian, Geometry, Arabesques.
Vanessa Bruno: Easy, nice and portable. Inspiration: mix of geometries.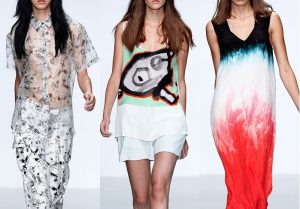 Zoe Jordan: modern graffiti. Inspiration Basquiat.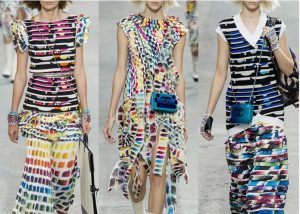 Chanel: a young and chic Parisian artist. Inspiration: Pantone, Paint, Colours proofing …
Alberta Ferretti: feminine and elegant. Inspiration: Scarf 60s, Vibrant Colors, Folk.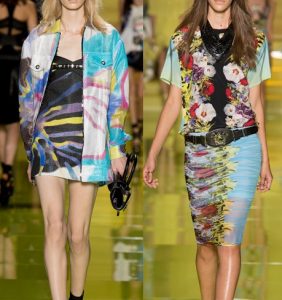 Versace: sexy and rock. Inspiration: Photographic Prints, Abstract Drawings, Prints Blurry.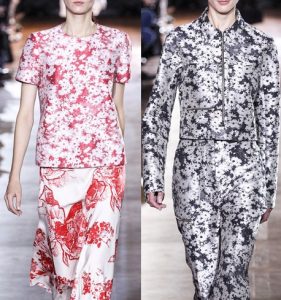 Stella McCartney: rigor female. Inspiration: All-over prints, Flowers.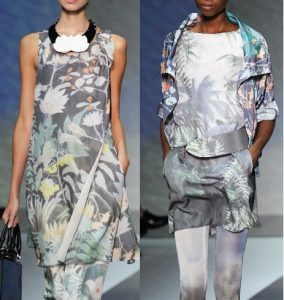 Emporio Armani: Grace and poetry. Inspiration: Watercolors, Gardens, Tropical forest.
Diane Von Furstenberg: A woman modern, chic and contemporary. Inspiration: Tribal designs, African animals, Flowers.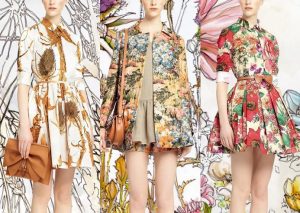 Red Valentino: A jeune fille aux fleurs. Inspiration: 60s, Flowers, Vector glossy.
Jasper Conran: Summery Bon Ton. Inspiration: Drawing primitives, Mix-up of patterns and design.
Etro: sophisticated citizen of the world. Inspiration: Prints Scarves, Patchwork, Ethnic, Morocco.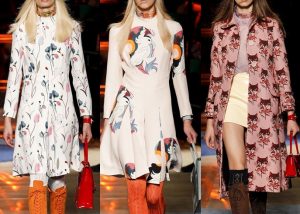 Miu Miu collection lovely. Inspiration: Art Nouveau, Floral/Surreal 
I imagined two models waiting to go on the catwalk dressed in a mix of patterns, also in the walls, in the head and heart, chaos and freedom!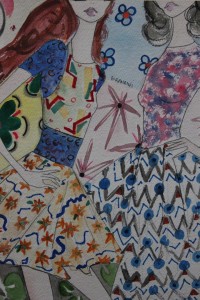 "Backstage" by Beatrice Brandini
Good life to all!
Beatrice