Mood by Beatrice Brandini

Mood by Beatrice Brandini
Today I want to talk about trends for next Spring/Summer 2014.
I have identified four important issues and for each I have created a board where I put my drawings and evocative images, in order to "tell" every board in an explicit and immediate way.
FESTIVAL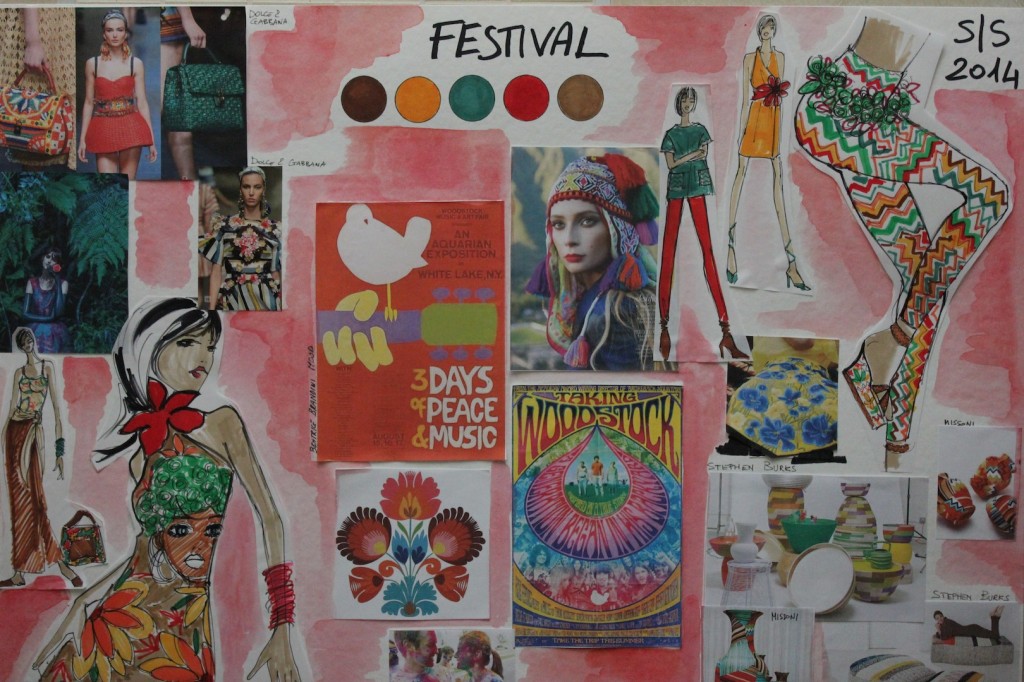 This theme sums up everything that the Summer should evoke,  color, happy, carefree, light, holiday, music …. but all in a less obvious direction.
As I noted in the beautiful setting of Pitti Filati, for Fall / Winter 2014-15 with the theme of LOVE, there is a desire of aggregation, of friendship, just being together, and in this theme, that I called Festival, there is  a message, the desire for collective participation, it also highlights a need (hopefully) socio-cultural.
So Festivals such as parades, shows, folklore.
The materials will be those traditionally more summer as linen and canvas. Many prints and embroidery with floral theme, especially pachwork processing, stitching zig zag. A lot of embroideries, appliqués, decorations, even with "poor" materials such as raffia. Also important accessories that sometimes complement the dress same as the new jewelry.
Importantly, two of the most important sporting events of the next few years will be played in Brazil, the FIFA World Cup in 2014 and 2016 Olympic Games. Brazil as cheerful and colorful for excellence, but it is having a second life for fashion (Isabela Capeto, New Order for accessory), design (the Campana brothers), and cultural movements in general.
Colors: Emerald, Tangerine, Red Geranium, Fuchsia, Coffee.
RAW NATURE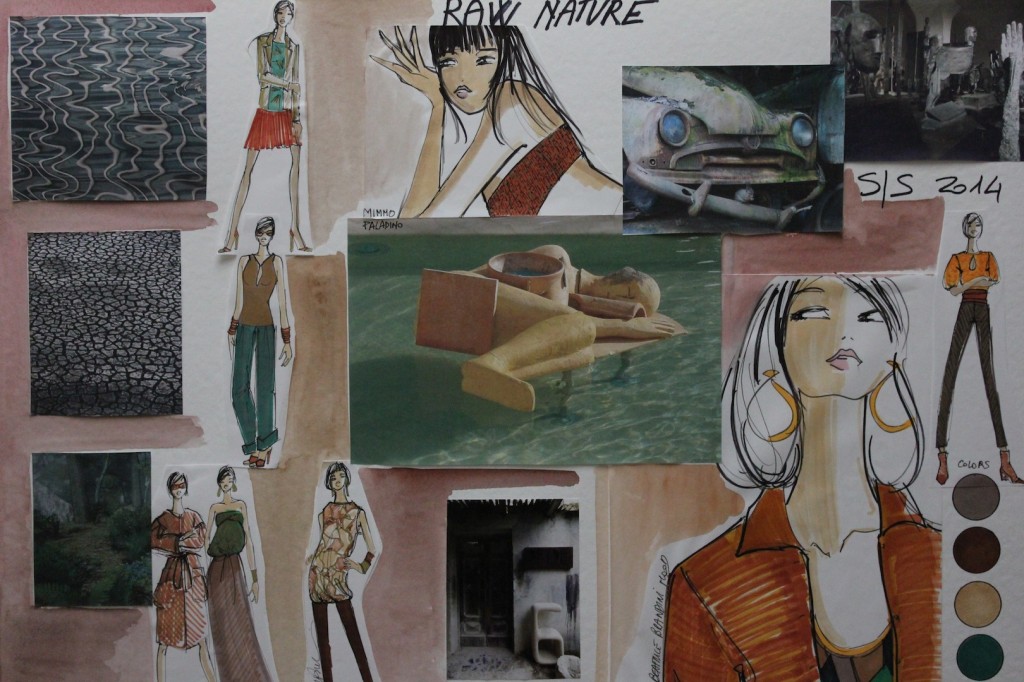 The nature becomes a protagonist, both as colors like surfaces. It 'a nature that "screams" their impatience. Rude, poor, exploited, abused ….
The theme of the earth that somehow becomes an "ethical" message.
Rocks, stones, trees, leaves, become a starting point for surfaces, prints, jacquard designs. Sculptural forms, uneven surfaces, unfinished hems. Accessories with a hand made feel  as buttons. New camouflage.
Colors: Terracotta, Olive Green, Green Grass, Mud, Clay, Bronze.
NEO – LED – 3D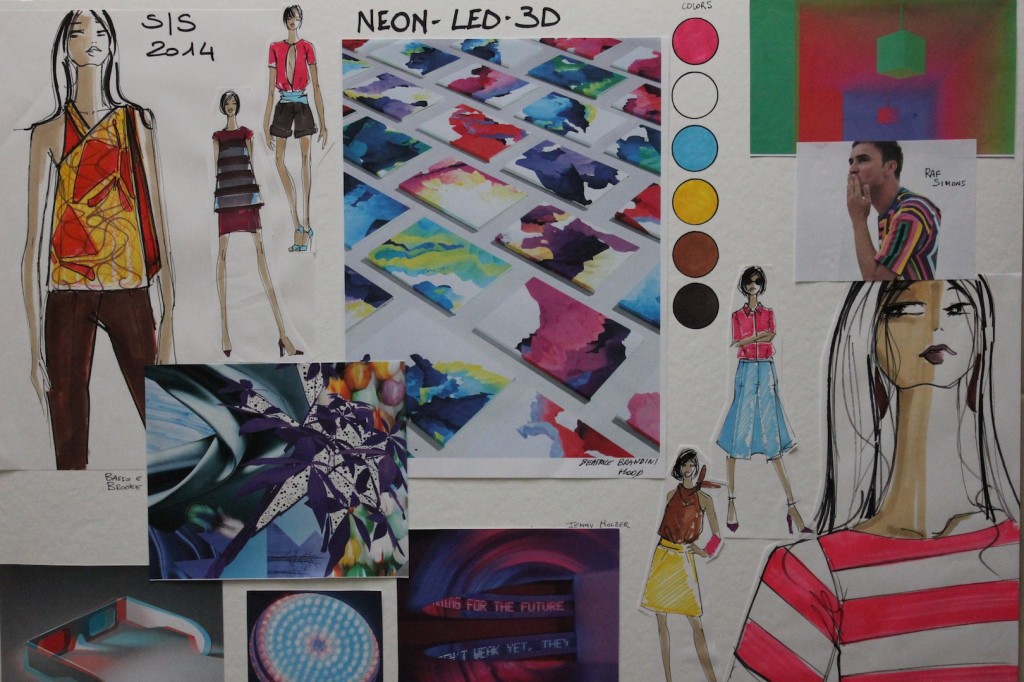 Microscopic and macroscopic vision of universe. Future and technology are the key words.
Installations, LED lights, artistic performances that affect our daily lives and therefore also the fashion.
Fabrics iridescent, transparent, plastic-coated. Shiny yarn. Accessories and details reflective. Digital treatments  on prints and fabrics. Illusory effects. Simple and basic shapes.
Colors: fluorescent, brights, neon, strong colors almost primaries, combined with optical White.
GEISHA – IKEBANA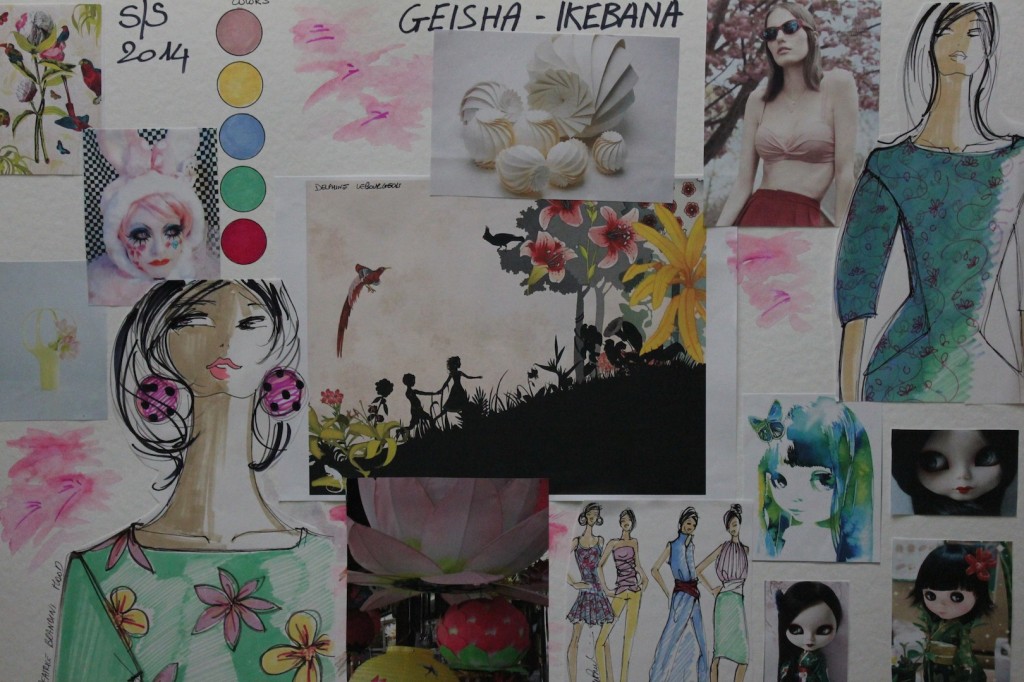 Theme that combines tradition and modernity, geisha and girly look, new design, toys, manga, Asia….
China, Japan, Korea, the mixtures of these large areas and Asian cultures, create a strong and kitsch mix, but also delicate and feminine.
The kimono is the garment that influences the shapes of the dresses that are actually simple. Decorations, embroidery and applications. Accessories are protagonist,  bags and shoes became "spectacular." Brocade, satin, duchesse and then floral prints all over on glossy surfaces.
Colors: pastel such as Banana, Apricot, Aquamarine green, Lilac, Ivory.
These are just some of the trends that I have "feel" for the next Spring/Summer, I will speak again soon, also for accessories and for man; then we will see what we will offer the fashion shows of major designers.
Good life to all!
Beatrice