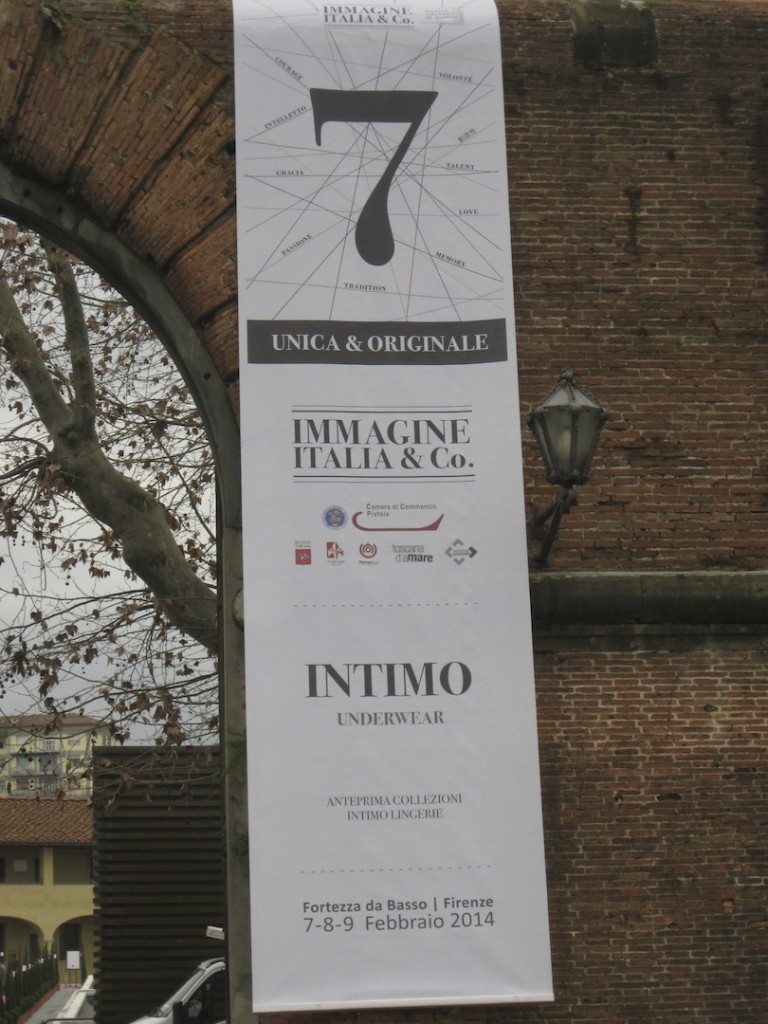 Banner of Immagine Italia & Co. Intimo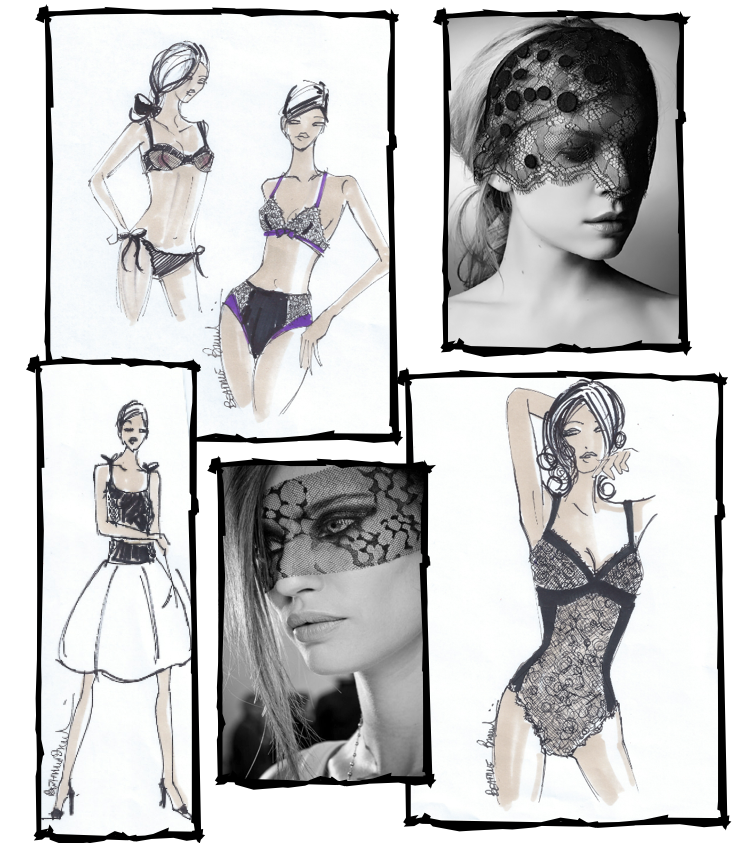 Mood sexy by Beatrice Brandini
In the Fortezza da Basso there the new event dedicated to underwear for Fall / Winter 2014 – 15, Immagine Italia & Co. 234 Italian and international brands display their best proposals in this area.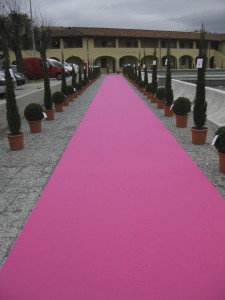 Catwalk shocking pink, beautiful! 
Under this brand "Immagine Italia & Co." from next season also will be part of Moda d'Amare, fair devoted instead to the Beach, a beautiful sign of harmony and strengthening, to face the market in one of the most delicated moments in recent history.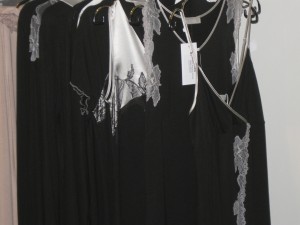 Annette Lingerie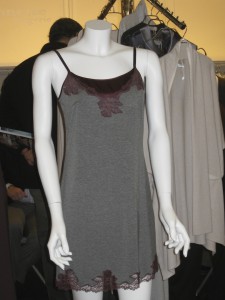 Annette Lingerie. An interesting melange jersey with lace, and the proposed optical satin and silk with lace inlaid.
As I already stated for the fair's Beach, Moda d'Amare, it is a pleasure to visit these two exhibitions, because in addition to finding interesting proposals for these two areas, Lingerie and Beach, all combine to make you work well and "lean" . The credit, the press room, information about events, hospitality (especially thank Mrs. Barbara Cosci, press officer and communications for availability and kindness and Mrs. Stefania to care in a professional but friendly, it is not always obvious, journalists and visitors), many fashion show for buyers and press. Really thank you all!
Two oil painting on the stand Max Mara Hosiery 
That I always try to see the positive side (you can [and should] find even in a crisis such as this one), I want to reiterate that no one can compete with the excellence of our country that is not only linked to creativity (which is also elsewhere, also if in Italy is great), but it involves a creative and production process that has no competitors in the world, I am referring to raw materials, to small artisans who know how to work any material like no other (leather, jersey, silk, wool, embroidery , prints …), the ability to adapt and find solutions by yourself entrepreneurs …..
In fact, in the press relise of the fair are listed 3 reasons to believe in the recovery: 
The courage of entrepreneurs 
The prestige of Made in Italy 
The generosity of those who invest in quality
I'm totaly agree!
Nice proposals Aubade Paris, lingerie a little 'fru fru" that only the French know how to do …..
I took pictures of the things that impressed me the most and created the mood, with sketches, of those that I think will be the trends for next year A / W 2014 -15.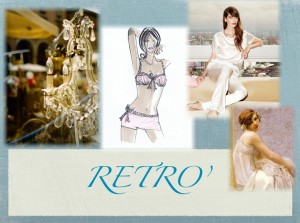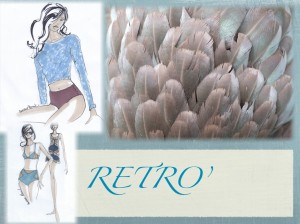 "RETRO'" Mood Board by Beatrice Brandini
This Mood has a romantic allure, elegant and a little 'vintage. The colors are dusty and neutral, forms stolen from corsetry. Natural fabrics, such as silk, cotton, but also technical fabrics that seem, by the hand, natural to give your body fit and "form". Also important is the presence of the wool, is linked to the intimate, both as Loungewear / Homewear.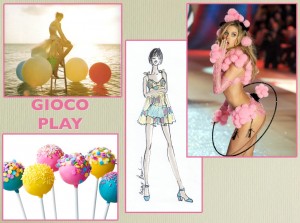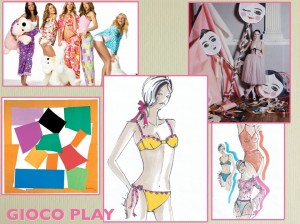 "PLAY" Mood Board by Beatrice Brandini
This mood is young, colorful, vitamin and optimistic. I called Game giving it many meanings, as the game fun, game like aggregation, game as "happy island" …. Very important are the prints, graphic or floral. A woman a little 'Alice and a little' Japanese manga. Jersey, stretch cottons, printed and embroidered tulle, crochet effect, modal and cupro.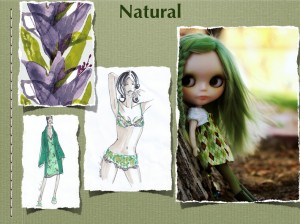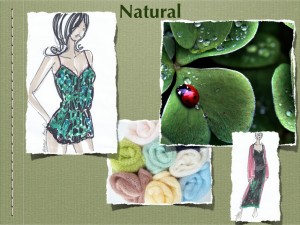 "NATURAL" Mood Board by Beatrice Brandini 
This theme is "green", both from the point of view of color (green, green and more green), both from the point of view of "ethical". Prints, embroidery and applied designs that refer to nature and natural fabrics with a chain echo, soft and fluctuating.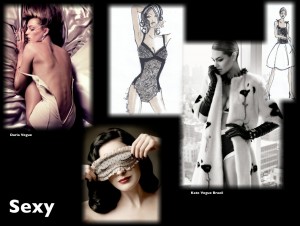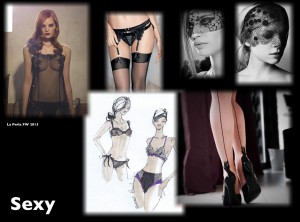 "SEXY" Mood Board by Beatrice Brandini
This theme is clearly more feminine and sensual, black is the protagonist color. Lace, tulle, floral embroidery and games "I do not see", make each piece precious and sexy. Silk and satin fabrics protagonists. For a woman to be aware that their femininity recognition through underwear.
The things that most struck me are:
Luna di Giorno proposal
Luna di Giorno. Brand that I had already noticed and mentioned in the post of Moda d'Amare in July, see again was a confirmed. I like this style elegant and true to himself, there is no need to change complete each season, in fact, to be credible, I think it's important to respect their own DNA and have a definite style. Beautiful interpretation of this proposal and the sponge with the lace and polka dots, very Cote d'Azur, a way to make the bathrobe finally feminine.
Gazia'lliani proposal
I know this brand Grazia'lliani from I did my Beach line. It 's always been faithful to an ideal of intimate elegant and unconventional. There are not proposals for lingerie and corsetry "classic",its  woman is a little 'grunge a little' bohemian, who loves beautiful and comfortable fabrics, which does not want to look enticing as granted. Beautiful prints, interesting fabrics burnout.
DO proposal
DO French brand very attractive. Proposals Beach total look where the press and the inlay 3D is the leitmotif of the collection. Beautiful accessories, and vaguely vintage chic. Collection adapts to Saint Tropez or Ibiza late '70s.
Valery. I love the combination of rustic and impalpable, or light below, with lace, chiffon, tulle … and heavy top, wool, thick wool, etc.. I liked their proposals for lingerie classic but not trivial.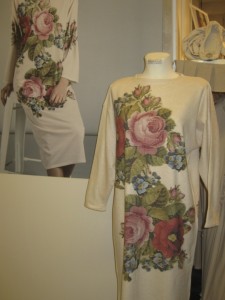 Emma lingerie  beautiful this printing effect "cross stitch"
The underwear has a great historicity in our country, I hope we can overcome this crisis, reaffirming its leadership at the international level, he deserves it!
Good life to all!  
Beatrice