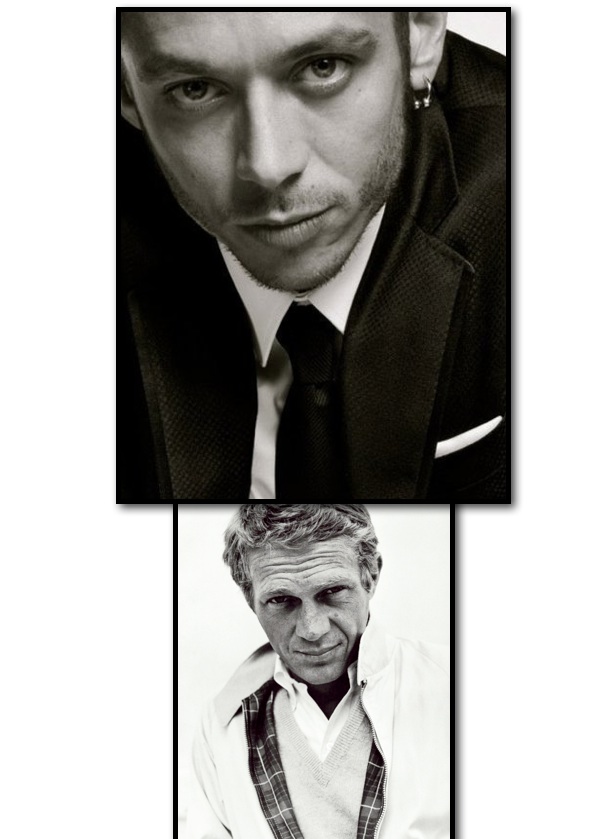 Valentino Rossi and Steve McQueen … the same charisma!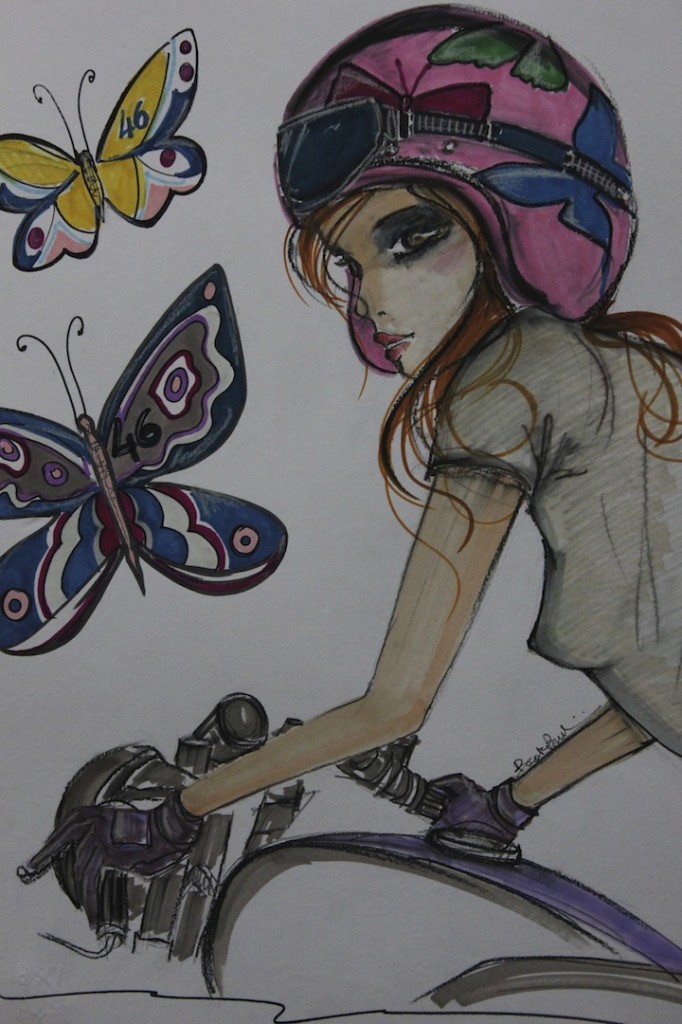 "Bond girl" by Beatrice Brandini
There are people with fashion and art have little to do but they are so good,  passionate, charismatic, unpredictable, funny.., that not only rampant as protagonists in what they do, but they have the power to influence inexorably all the rest, sports, life, a comprehensive concept of lifestyle. One of these is definitely Valentino Rossi.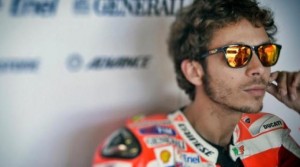 Valentino Rossi
I am supporter of Valentino because it is my husband who has always followed, admiring his sample to 360 °. My husband was indoctrinated into this sport, explaining that beyond its exemplary cleverness, his greatness lies mainly in giving strong emotions to his fans, not sparing anything, often putting himself in play. Honestly it would be the same t the MotoGP without Valentino Rossi? ça va sans dire (it goes without saying).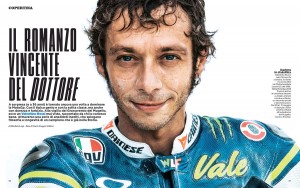 Valentino Rossi photographed by Carlo Furgeri Gilbert
It reduces (metaphorically) in meatballs opponents, and there were so many. Some were so humiliated that have disappeared, because they were not even honest (and modest) to understand the gap.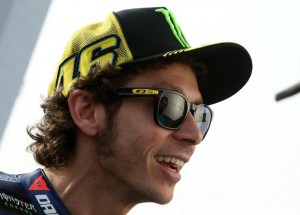 Valentino Rossi
Valentino is enhanced when finds someone to really compete, never forgetting to be a champion right (you've never heard blame the other, they are opponents or mechanical?). Loyal and generous in and off the track, linked to old friends, he said recently: "A friend would not give up for anything in the world. Not even for a win. "
Probably even a little 'luck, both for the dream that failed to live, doing brilliantly one that best knows how to do and wanted to do as a child, is to go up to the surface after some adversity in life. But I strongly believe that luck helps the daring and that therefore, in this case, is the Valentino's effect Valentino to "help" him (including its superstitious gestures).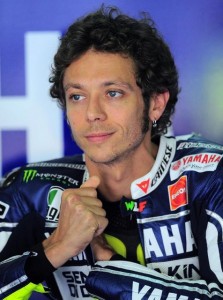 Valentino Rossi
I am convinced that if Rossi was not the champion he is, he still left his mark on everything he did. His personality is so strong that it is difficult to think that he would remain "in the shadows".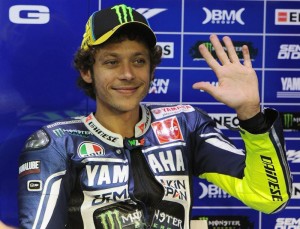 Valentino Rossi
Many have tried to imitate him but unfortunately for them there is only one Valentino , UNIQUE, any attempt would be (in fact it has already been) pathetic (I can think of the Nastro Azzurro beer advertising, to Fastweb with the fun Cevoli.., gag at the end of the races to celebrate the victories, helmets ironic and self ironic [the one with the donkey or the wild-eyed for a super detached before the curve], and many other things spontaneously funny.).
All this with a disarming simplicity.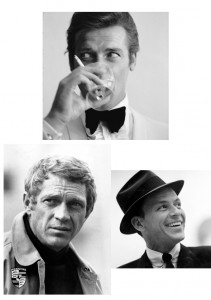 Roger Moore, Steve McQueen e Frank Sinatra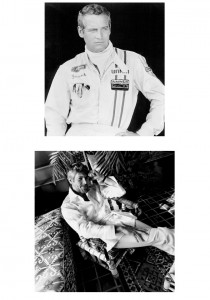 Paul Newman e James Coburn
In "my" cover I matched Valentino Rossi to Steve McQueen because I always known a certain physical resemblance but also of style and personality. Recently I saw one of my favorite movies starring Steve McQueen, "The case of Thomas Crown," I thought I saw Valentino recite, the same ikeable rogue, the same charisma …, the same passion for speed and motors. I was a director or a film producer, I would think…, would be a perfect 007, if I think of all the James Bond of the story I think of their class, but also irony and that wonderful attitude of not taking herself too seriously. I imagine him as Roger Moore chasing the bad guy, specifically that gigantic man with steel teeth called "Shark" in "The spy who loved me".
Moreover, already two giants such as Brad Pitt and Daniel Day-Lewis said they estimate he deeply, even, either, that would be him 
I can think even James Coburn, Paul Newman, Frank Sinatra, Roger Moore and Tony Curtis, unquestionably talented actors, but also sympathetic "rascals" (at least in the interpretations) just like Valentino.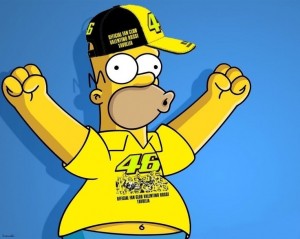 Even Homer Simpson is a big fan of Valentino
Valentino in fashion seen by Beatrice Brandini
Whatever happens the championship this year, Valentino has shown once again (if ever it were needed) to be truly a living legend, a champion that is good for the sport and not only, a very champion, as he was called the great Fausto Coppi; when there is the same technical values (motorcycle / technology / team) Valentino is always there to fight for the first place, most generous, especially considering that the public loves him. Opponents alternate but he remains and is always Valentino Rossi.
Marco Simoncelli and Valentino Rossi
He also has the merit of having made closer to the sport, MotoGP, even people who were not particularly passionate, do not watch a motorcycle race, at least not alone, look at him, a bit as when there was Alberto Tomba for ski who managed to approach and inspire millions of Italians to "cold", after him was no longer the same thing, and so I'm afraid it will be for the bikes. Maybe only Simoncelli was probably the only true worthy successor to Valentino, not only for talent but also for charisma, sympathy, generosity .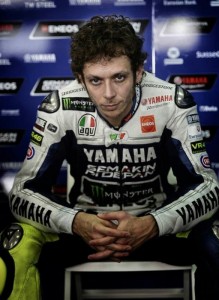 Valentino Rossi
I remember the great Francesco de Gregori that in a his beautiful song says: "If he is a good player you see him by courage, by altruism, by fantasy…" and Valentino Rossi has all these qualities.
For these reasons "All life with Valentino!". Someone like him would even cloned. Rossi "is different" and for me the only real number 1 (with 46).
Thanks to Valentino as you are and how you feel your fans.
Thanks Mr. Bond!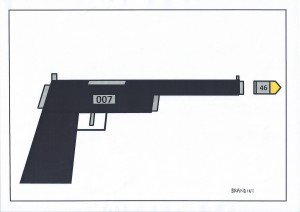 "Pistol caliber 46" by Beatrice Brandini
Good life to all!
Beatrice