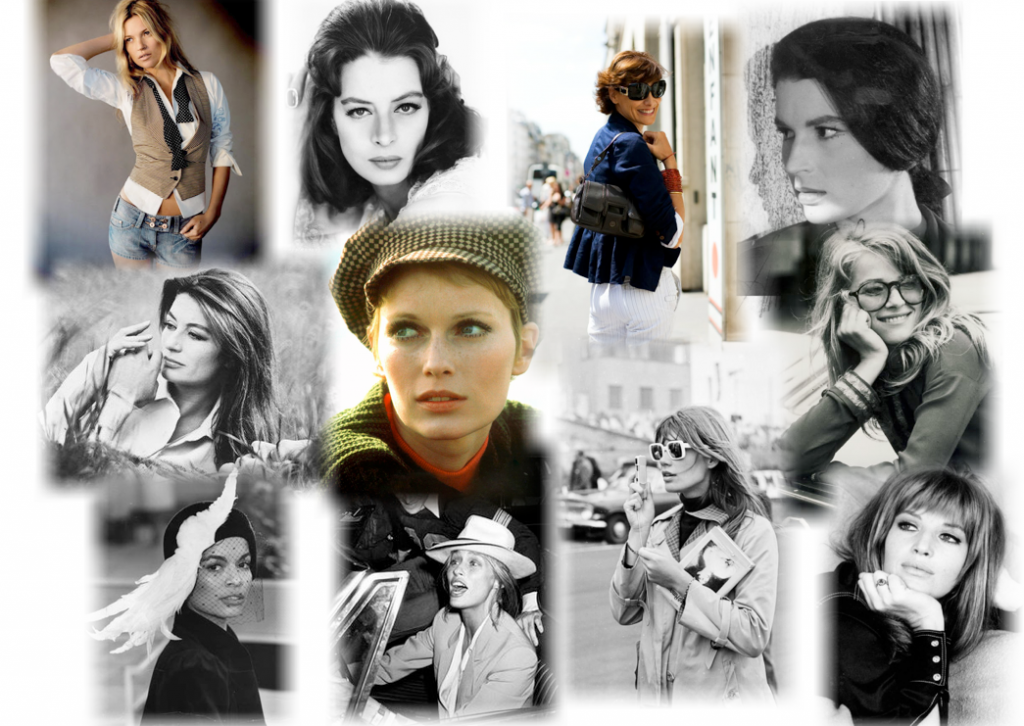 "The unforgettable" by Beatrice Brandini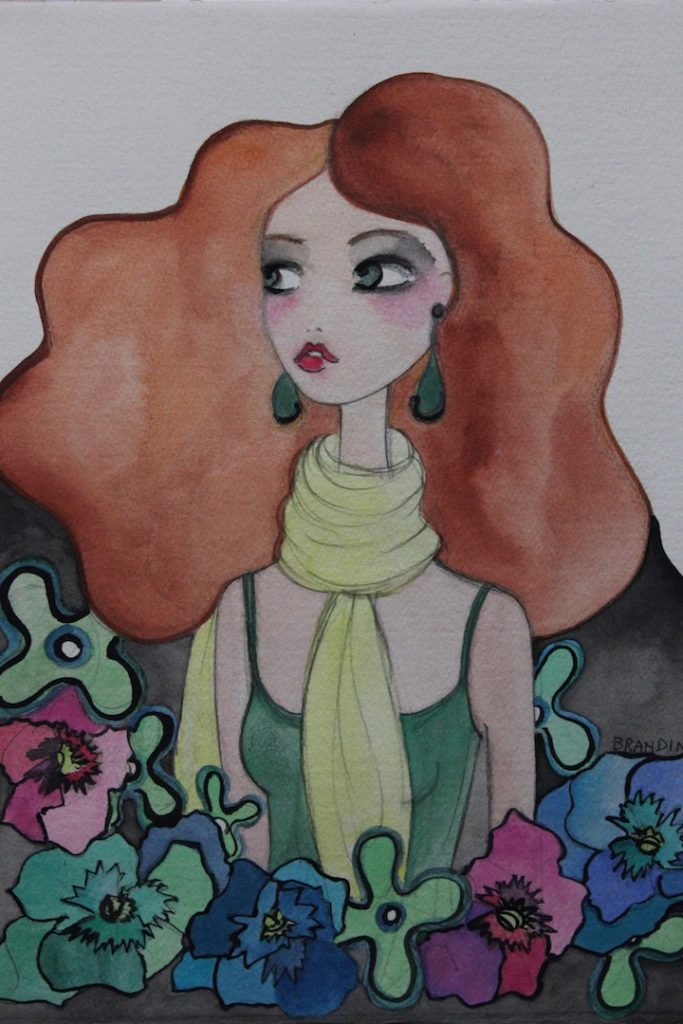 "The Aristocratic" by Beatrice Brandini
Chanel said: "Fashion fades only style remains"  and it is a philosophy quite acceptable because to have style (charisma, class), no need to spend fortunes (certainly would help), but it is the awareness of themselves, of what value to us and makes us feel at ease, to make the difference. And accept our faults, and why not, our limitations, and finally choose the most "suitable" for us, because in the end even our appearance and our style are our calling card.
Twiggy photographed by Richard Avedon
Beauty does not have much to do with the class, certainly an attractive appearance is already "half done" (as my grandmother used to say), but if we think of women charismatic, elegant, wonderful, are not necessarily just beautiful. I think in fact to Anouck Aimee , Barbara Streisand, Lauren Hutton, Capucine, Ines De La Fressange, Romy Schneider, Kate Moss , indisputably beautiful women but especially elegant, their style and their class are more important than their attractiveness .
That said even the clothing has its importance, there are in fact leaders, called "classics" that should be in every woman wardrobe.
In this small post I will give some advice on this topic, "pills" that I capitalized during a lifetime.
The first "rule" is to follow what we like, not the dictates of newspapers or of "stars", primarily real life is another, what is good for us "mortals" is slightly different to what you can get/afford a star. The fashion should be watched, followed, but then everyone has to interpret it as they see fit, and most importantly, what best suits his personality and physicality. Moreover, even the imperfection of the look has its own charm , those who break the rules, who is wearing things a little bold and not perfectly matched, who of absolute perfection cares a bit, it has all my respect!
It would be good to invest on some "classic" items timeless. Those pieces that not only never go out of fashion and then buying them have already "invested", but they are ones that you will always look elegant.
Make the mix , create your own personal style , mixing things, buy a nice bag and with a skirt vintage unearthed at the flea market, or a pair of old ethnic silver earrings with jeans and a nice silk shirt (even from your mom ), a low-cost dress with a cashmere cardigan , etc. . etc. . Because in the end a touch of " madness " , something that apparently seems eccentric , strange , you make it special and different from all .
Shoes and Handbags are important, it is better to save money on clothes that accessories.
Do not buy compulsively (it happened to me often), not too much in  special price, not the wrong measures.
Finally, these lists are really the "must have", ie those things that never go out of fashion, that make you elegant and perfect for any occasion.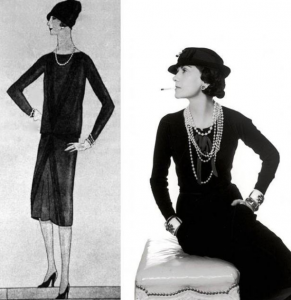 Chanel with his invention of the Petite Robe Noir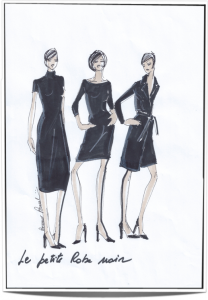 Little black dress interpreted by Beatrice Brandini
Two women unforgettable Catherine, Audrey 
The black dress. Karl Lagerfeld said "you're never too little or too much elegant in a black dress." The Petite Robe Noir is really the boss that deserves a place of honor in our closet. Elegant, refined, sober, with an important accessory can become what you want, just like a blank canvas. With pearls, bon ton, with a considerable bijou and quirky, eccentric, with a belt jaunty , boot with the sexiest.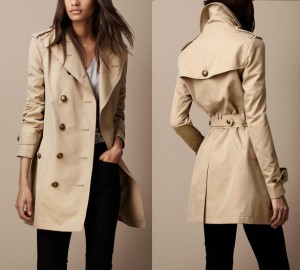 Burberry trench, the trench coat par excellence!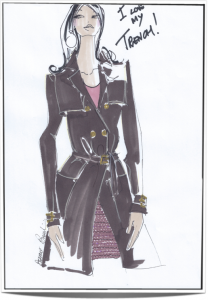 The trench interpreted by Beatrice Brandini
Demi Moore                                  Kate Moss
The trench another important item that goes with everything. Perfect for mid-season, but practically wearable all year.. With a long flowers dress with a pair of boots makes you cheeky, a little 'grunge romantic; with jeans a sport class, with a pair of men's trousers very seductive, as a Diane Keaton in Manhattan.
Some of the many wonderful suggestions of Max Mara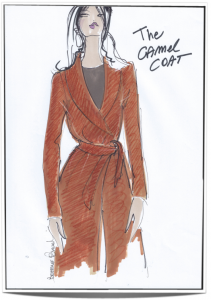 The camel coat interpreted by Beatrice Brandini
Jessica Alba
Gwyneth Paltrow on US Vogue, photo of Steven Meisel
The camel coat, elegant and refined. That is a bit the same speech of the trench, although quality has a greater added value. Perfect those of Max Mara. There are countless variations, large, screwed, long, male, double-breasted, with belt … is to understand what the style that suits us, although this year I've seen those oversized, not very easy, worn with style and awareness, fabulous!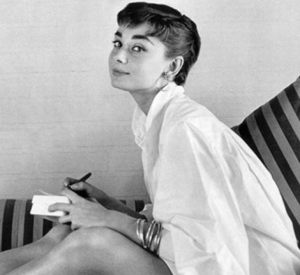 Audrey Hepburn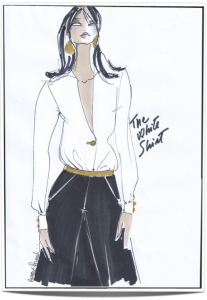 The white shirt interpreted by Beatrice Brandini
Alexa Chung                                             Vittoria Puccini
Rania di Giordania                    Olivia Palermo
The white shirt. Cape refined and chic. What could be more elegant than a white shirt with a nice pair of jeans? almost nothing … We think of Uma Thurman in Pulp Fiction (with pants blacks), Audrey Hepburn in Roman Holiday (with a skirt), Katharine Hepburn in Spell (with wide trousers male).The white shirt suitable for everything and everything is elegant. Borrow also that of your man, if the sizes are not quite incompatible with him, will make you look sexy, irresistible.
A nice blazer. It is important because it gives you "serious" aspect, and for us, women, it is sometimes necessary (the consideration that in male environments or sexist is still an achievement!). Giorgio Armani has reinvented and moved  it, wonderfully, in the feminine universe.
Charlize Theron , Gwyneth Paltrow e Olivia Palermo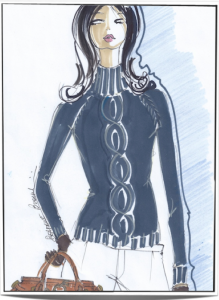 Sweater sketch by Beatrice Brandini
A cashmere sweater. Although this head is always perfect in its multiple interpretations, jacquard, plain, worked, with jeans, with an elegant dress, alone on the skin (sexy and wonderfully comfortable).
Charlize Theron , Gwyneth Paltrow e Olivia Palermo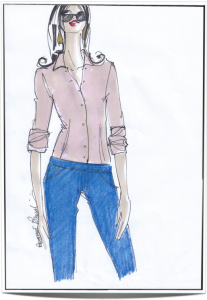 Jeans by Beatrice Brandini
A nice pair of jeans. Luckily they were invented! They are beautiful skinny, wrinkled, with the line, flared, colorful, and with any combination. They give you a straight air "easy", also playing down the look more rigid and set. Because they are virtually indestructible, it is better to invest on a pair of jeans brand and who has made his philosophy of life on jeans.
Carine Roitfeld, Miranda Kerr e Elle Macpherson
A white pants . This is a passion of mine,  I think a nice pair of white canvas pants , well made and well cut , are extremely elegant and make you look more beautiful . It is a item more easy in the Spring / Summer season, perfect with a man's shirt or vintage fantasy / flowers, with a t-shirt over and a nice belt. My favorites are the extremes or skinny , with a jewel sandal , or narrow and wide on the bottom, a little ' 70s.
A beautiful bag and a beautiful evening bag , what today is called a clutch . A part from the iconic bags which I have already spoken, but they are really a bit too " demanding " (Kelly , the Birkin , the Chanel 2.55 , the Jackie , the Speedy) , I think spending a little money to buy a nice bag is almost indispensable. A leather bag , but classical with style and personality, can make interesting a "modest" look . An important bag is really forever, you can alternate this with a shopper canvas (those graphic, as Moschino's bag or Marni's bag, really irresistible, with a work-wise as "poor" became accessible ), you can take advantage of the salesfor buy our heart's bag, or wait and save a bit . The sacrifice will be rewarded .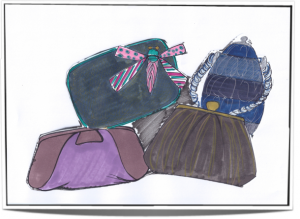 Clutch by Beatrice Brandini
Even a clutch is almost essential, and there are countless occasions, a concert , a theater, an important dinner, a party. there are times that you do not need to lug around half the house, but a bag / jewelry that's just what it takes to complete an outfit.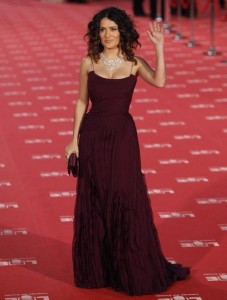 Perfect example of evening dress: Salma Hayek in Gucci Premiere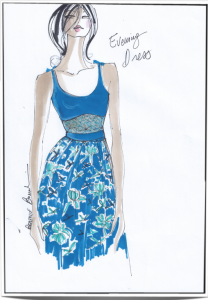 The evening dress interpreted by Beatrice Brandini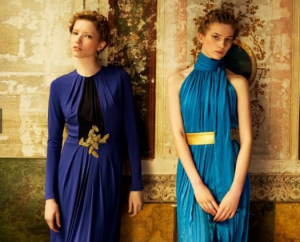 These beautiful evening dresses Mango, low-cost brand
still Mango
An evening gown . Same comment made for the clutch. Since we are not stars who are photographed and followed also at the dentist, you do not need to have many evening gowns, our opportunities are relative especially if you have children. But have a nice evening dress in the closet is a kind of reassurance , a lifeline, there may be the important evening , an invitation to a party, in an occasion where wearing it.
Finally, I want to reiterate again that style is not really a question of money . Even in the blog posts are often in that direction, the proposals are sometimes unapproachable, both in style and your wallet … instead make choices, expensive clothes mix with others definitely affordable ( low cost, market, second-hand ), think carefully about what to buy, at the end will win because you'll be more careful and your purchases more "safe" , you will be different from the others and even a little  unique
Good life to all!
Beatrice