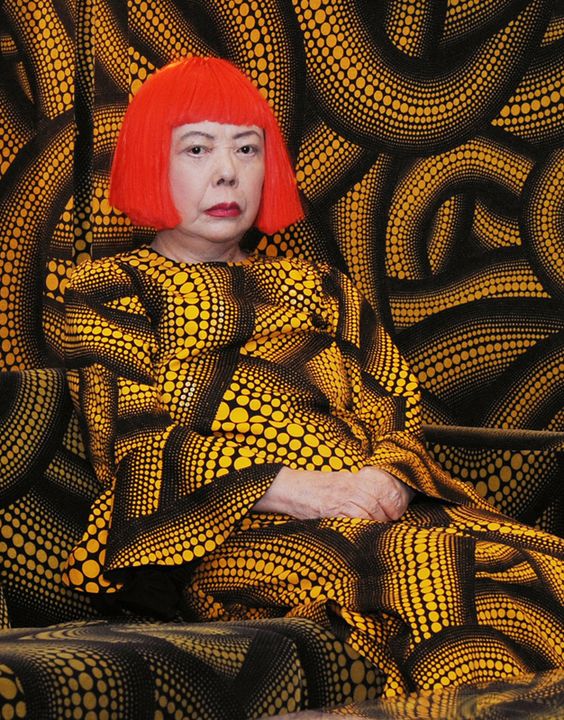 Yayoi Kusama photographed by Araki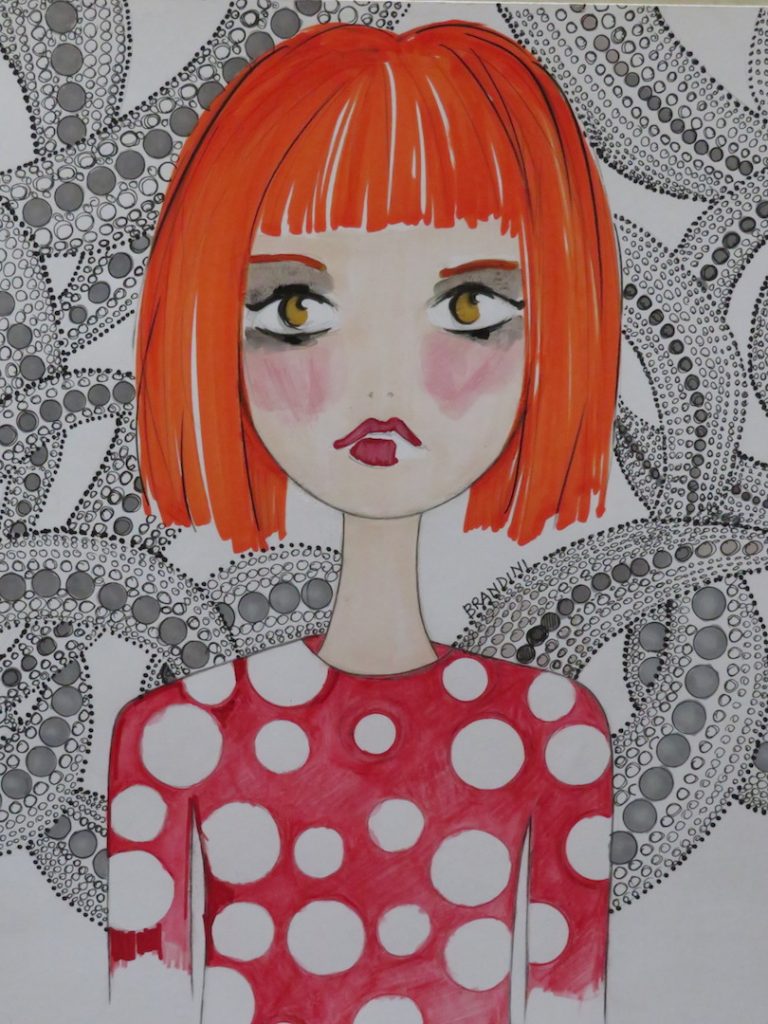 "Yayoi" by Beatrice Brandini
An enchanted and complex universe made of polka dots, eyes, mushrooms, tentacles, a world whose dimension is much more tormented than it appears to be.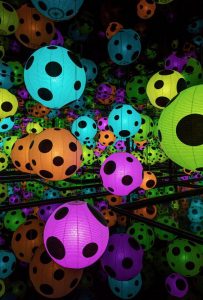 Installation by Yayoi Kusama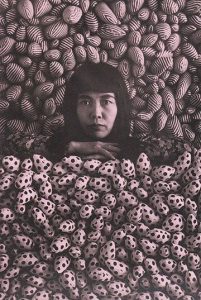 International Galery Orez, 1965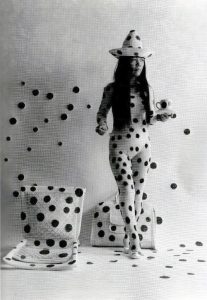 Yayoi Kusama
Yayoi Kusama is 90 years old and, for more than fifty years, plays a leading role in the world of contemporary art. Born in Japan in 1929, she began to paint as a child, expressing her complex inner world of creativity but also of emotion and fragility. For this reason painting and art have been a salvation, a means that allowed her, through her art, to express her inner torments.
Yayoi Kusama at the Tate Modern in London
At the end of the 1950s she moved to New York, the city offered a lot to those who wanted to experiment. It is in fact here that she took her first steps in the field of art, such as Infinity Net, Accumulatium or Sex Obsession are from this period. From the mid-sixties she also made numerous provocative performances by painting the bodies of visitors with polka dots and making them interact (they could enter inside) with her works. From the first works carried out we understand the innovation of this artist, above all contextualizing it with the epoch and its origins. Kusama deviates completely from the Japanese artistic scene of the time, still very conservative and anchored to traditional styles.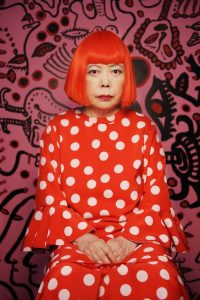 Yayoi Kusama 
The personal and professional stories of this great artist feed on each other. Raised in Japan during the Second World War by a family (and an era) that discouraged her creative ambitions, Kusama is also hampered in America, where sexism and racism were at the order of the day, as she herself tells in the touching documentary Infinity. From the 1940s to the present, the art and life of Yayoi Kusama merge and the boundaries between genius and mental balance become blurred, generating a dreamlike, playful, distinctive, and unique art.
Yayoi Kusama at the Louis Vuitton flagship store, luglio 2012
Some pieces from the Louis Vuitton collection by Yayoi Kusama, 2012
The polka dots, initially small and then ever larger, are the artist's stylistic and existential figure. The circular sign is the shape of the sun and the moon, of the infinite, of the cosmos, of the energy that man feeds on, as well as connecting with the hallucinations that have characterized her whole life.
Her works are exhibited in the most important museums in the world such as the MoMA in New York, the Tate Modern in London, the National Museum of Modern Art in Tokyo, etc.
Works by Yayoi Kusama
In Washington, the Infinity Mirror exhibition attracted thousands of visitors who made long queues to admire her works, giving them immense affection. Yayoi Kusama is in fact one of the most popular living artists, also famous for her collaborations and forays into fashion, such as that of 2012 with Marc Jacobs, then artistic director of the Louis Vuitton fashion house, who called her to create a collection of bags and clothes characterized by from its unmistakable polka dots. The classic monogram canvas of the brand becomes Monogram Vernis Dots Infinity.
Pumpkin by Yayoi Kusama 
Her Infinity Rooms are famous, rooms lined with mirrors that transport the visitor into a parallel world of polka dots. Or Mirror Room Pumpkin in which the object most loved by the artist, the pumpkin, is replicated in infinite variations.
Her works are highly rated, her 1960 White No. 28 was recently beaten by Christie's in New York for $ 7.109 million.
Mood Polka Dots (or Pois) by Beatrice Brandini
Mood Polka Dots (or Pois) by Beatrice Brandini
In her Shinjuku studio outside Tokyo, the artist paints all day, protected and cared for by assistants and hospital staff. In fact, since 1977 Yayoi Kusama has decided to live in a psychiatric hospital in Seiwa, probably a choice dictated by a desire for care never experienced before. A choice that humanizes her even more because it is not always easy to come to terms with one's fragility.
Good life to everyone!
Beatrice