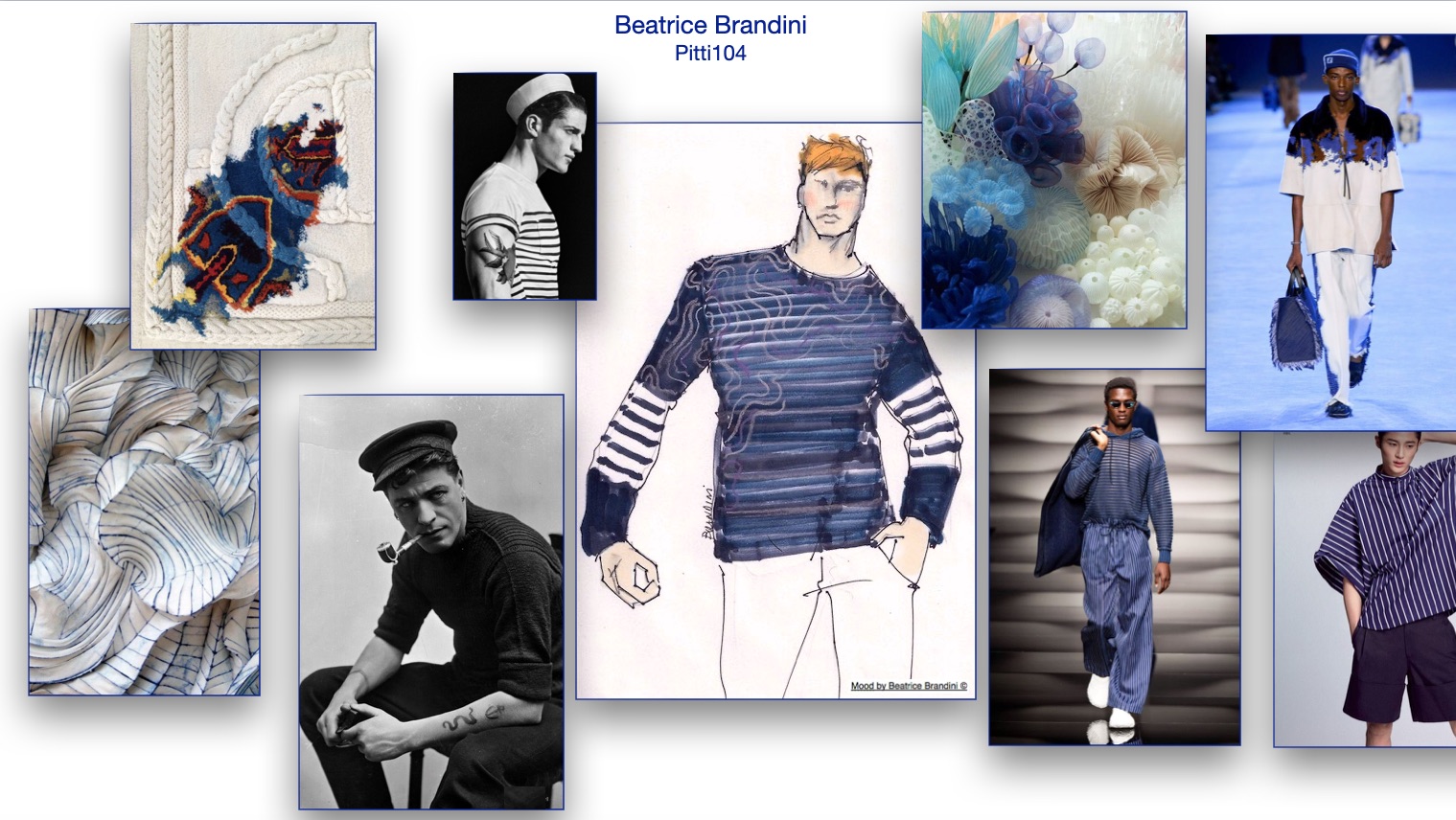 Mood Sailor man by Beatrice Brandini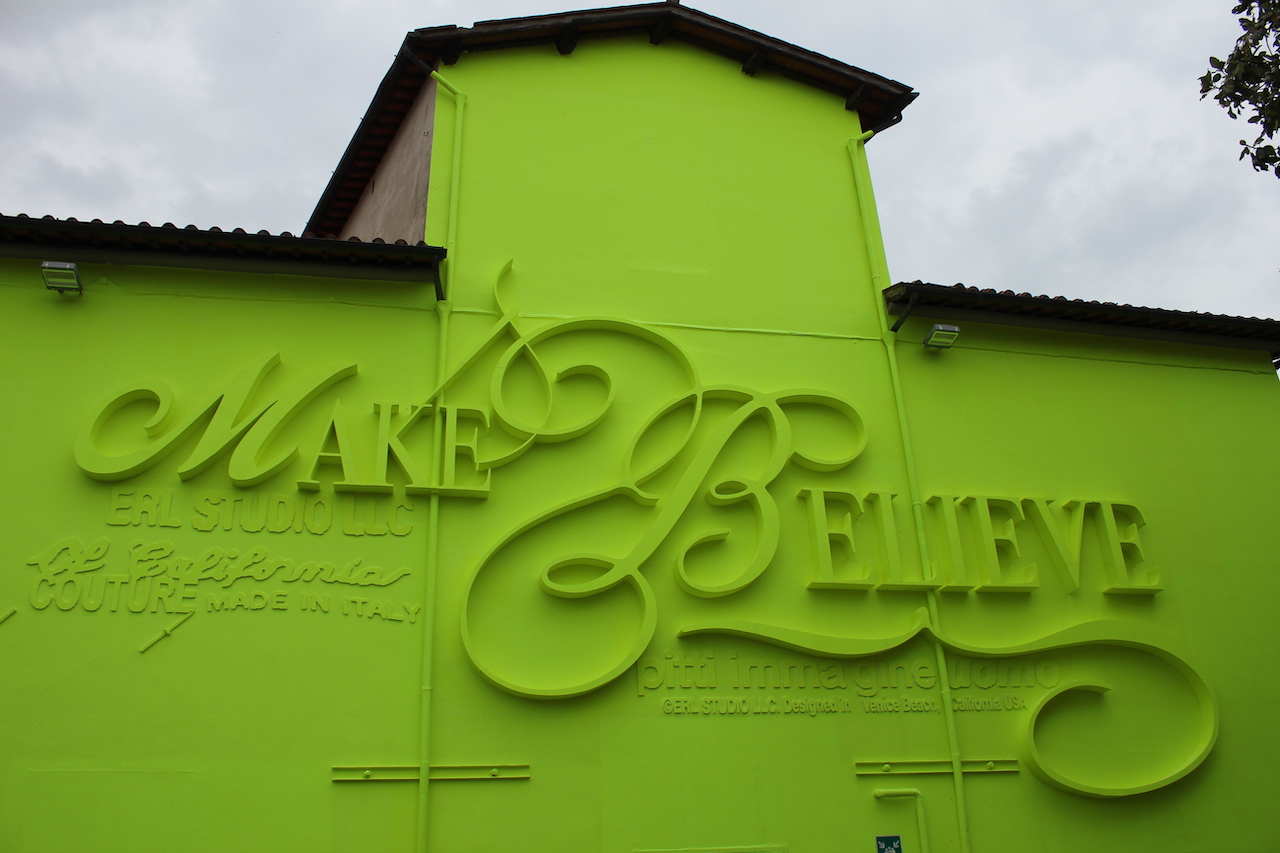 Pitti Immagine Uomo installation
My journey inside the Salone Pitti Immagine Uomo continues.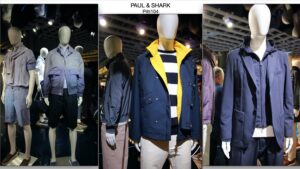 PAUL & SHARK a story that starts back in 1957, research and excellence have always been the guidelines, both in the manufacturing and in the use of raw materials. Collections distributed throughout the world, with a total of 2,000 points of sale. These are numbers that speak for themselves…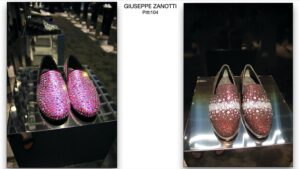 Giuseppe Zanotti a symbol of Made in Italy for footwear with excellent materials and a unique design. Beautiful these "slippers" studded with Swarovski rhinestones.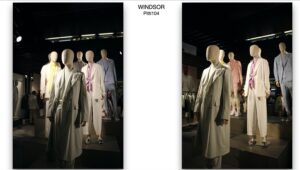 WINDSOR relaxed and tailor-made luxury for 130 years. Men's and women's collections that offer sophisticated but contemporary lines. For citizens of the world.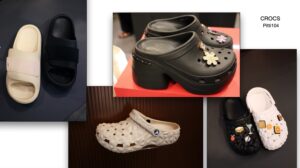 CROCS footwear made of a special patented resin, CrosiliteTM, which offers comfort and sustainability. Here at Pitti, creative and fun variations, for true fashionistas.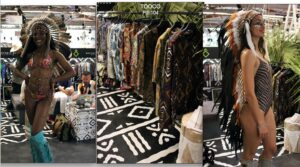 TOOCO nomadic spirit, South America and crystalline beaches are the moods of this brand, always consistent with its DNA. One of the funniest set-ups, also thanks to the super models on the stand.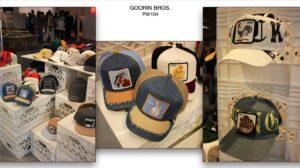 GOORIN BROS. Baseball cap but also other hats, always creative and a little crazy, fun but of excellent quality. When an accessory becomes a must.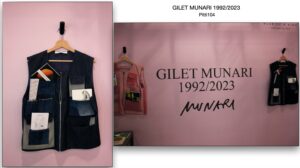 MUNARI VEST 1992/2023 Corraini Edizioni and the denim brand Blue of a Kind re-edit a project by one of the most extraordinary creatives: Bruno Munari. "Fantasy allows you to think of something that didn't exist before, without any limits" Bruno Munari. Project from 1992, when Corraini and Bruno Munari took part in Parole in Tasca, the paperback book fair at Castello di Belgioioso in Milan. To create a new way of displaying books, Munari invents the gilet for paperback art books. A simple item of clothing, such as a gilet, but with many pockets, of different sizes, to accommodate books. All made with fabrics with different shades and textures. An irresistible story, all Italian!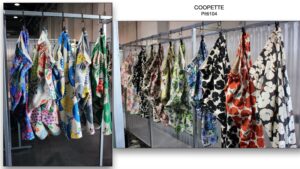 COOPETTE Californian brand produced in Japan, limited edition pants, made with excellent materials, Japanese linens and cottons, truly irresistible. I would have worn them all.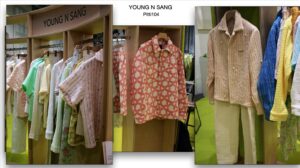 Young N Sang South Korean brand formed by Youngshin Hong and Sanglim Lee, which has made sustainability and responsibility its main feature. Only one release a year, which refers to a beautiful vintage aesthetic typical of Korea. Very interesting.
FILA Iconic sportswear brand, especially tennis, with a chic but also innovative and creative allure. Performance and functionality are the other part of the brand's DNA.
Visual dialogue between professions. An architect and a fashion designer – Michele De Lucchi and Fabio Falcetta – two protagonists, two Italian excellences, a conversation between fashion and design. The one that took place during this Pitti Uomo in the spaces of the Discovery Gallery is a small exhibition. A collaboration that was born from a meeting thirty years ago, precisely during a Pitti Uomo, when Falcetta presented a collection of outerwear for Motedoro and the stand was a project by the great architect De Lucchi. A beautiful friendship, two great creatives, the same will and passion to create something that lasts over time, not just beautiful. I met them at the exit of the exhibition and asked them to take a picture. As two "ordinary" people graciously accepted, unaware that I was going to write about them. So I made a reflection, thinking about how many half-socks today they feel like phenomena, behaving in an arrogant and rude way. Learn from extraordinary characters and personalities such as those, two gentlemen, De Lucchi and Falcetta, talent and work, but also humility, extraordinary even in real everyday life.
CHULAAP Thai origins but African inspirations, a brand that mixes colors and patterns, embroideries and batiks, for a decidedly beautiful and innovative result. The mentor of this beautiful project is Chu Suwannapha.
Streetstyle images at Pitti
Streetstyle images at Pitti
Streetstyle images at Pitti
These are just a few pictures that I took, of the thousands proposed by this fair. Every time I am amazed by the excellence of these small and large companies, some still artisanal, who know how to create unique products.
Maybe, but for some seasons now, I haven't glimpsed a dominant trend, or flashes of disruptive creativity, but I understand the difficulty of recent years, it's easier to stay in a comfort zone. But above all I reflect and understand that this is the main feature of the Italian system, since it has made Made in Italy great, here you can also wear beautiful things, they are not just creative exercises or sterile virtuosity. The fashion present at Pitti Uomo is beautiful and creative in an effective way, because after all, fashion must also be sold and worn.
Good life to everyone!
Beatrice