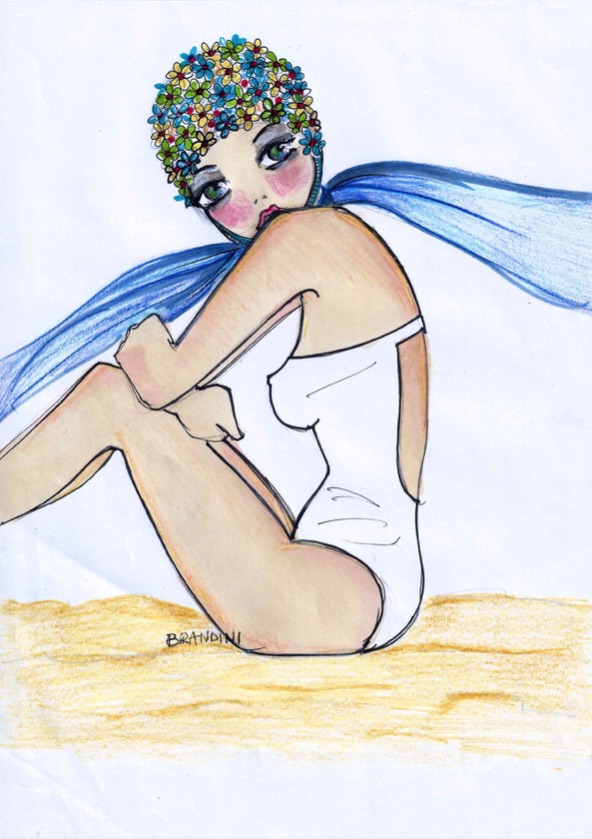 GIRLS WITH SCARF: Brigitta and the swimsuit fitting
Brigitta thought that this time, even more than the previous times, the swimsuit fitting would be more cruel, which is why she continually postponed it.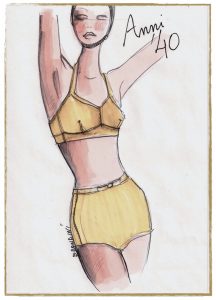 The forties sea by Beatrice Brandini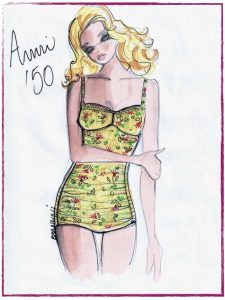 The fifties sea by Beatrice Brandini
In fact, if trying on the bikini after a long period of hibernation was always a shock (word "waxing" not received; foil for correct diets and nutrition, always valid from the next day; photos of Victoria Secret models attached above the refrigerator, yellowed without leaving the least influence … and the list could still be enriched); well this year there was also Covid which had not made her lazy, but paralyzed her, in which the only gymnastics Brigitta had done was to move from bed to sofa and vice versa.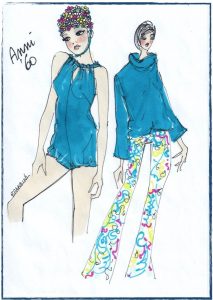 The sixties sea by Beatrice Brandini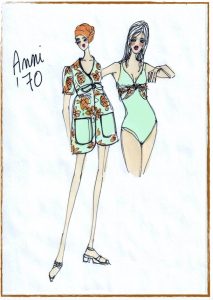 The sea in the seventies by Beatrice Brandini
So she thought that she would not go to one of those beautiful boutiques specializing in beachwear to try on her model of her wishes (the one that she would make her look slimmer, more slender, without cellulite). No this year the costume fitting would have done it at home, with soft lights and a less ruthless mirror than those found in the dressing rooms of boutiques, even those in the center, the coolest in the world (because no one explains to the architects that the mirrors must be friends of women, it is from the dressing room that the turnover is determined)
So one afternoon she took courage and undressed trying on last year's bikini.
You know when a lycra bikini (a stretch fabric 90% swimwear is made of) is pulled out of a drawer after many months? It's crushed and smelly, and most of all it's incredibly small, tiny. Brigitta thought how she had managed to enter it last summer? After all, not nine years had passed but only nine months….
She was so discouraged that she decided to let it go, this summer she would not undress, she would not even go to the beach. No one would have seen her without clothes.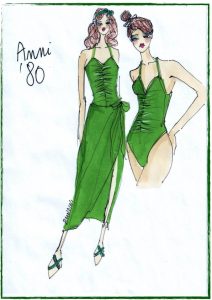 The sea in the Eighties by Beatrice Brandini
But that was how she rummaging through the drawers she found herself in the hands of old photos in which her mother and her grandmother were at the seaside. What a beautiful atmosphere, what class those ladies in one-piece swimsuit, elegant, not too bare, almost regal. The photos at the sea were taken by a photographer, no one or almost anyone owned a camera, and above all, no one dreamed of taking selfies and sharing them with the rest of the world.
Looking back at those old photos she thought about how beautiful her grandmother and mother were, but they weren't perfect, they were beautiful "normal" women.
Of course, the aesthetic canons have changed, certain proportions have been distorted, but although human beings have always wanted to be loved and admired, no one in those years was obsessed with their physical appearance and the search for perfection.
There was no surgery that homologated the facial features by making women, especially those after forty, unrecognizable panthers (how sad, but above all why?); There were no silicones and sculpted bodies to look fake. No, none of this.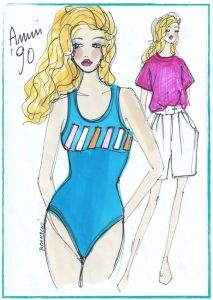 The sea in the nighties by Beatrice Brandini
Brigitta then realized that after all her not perfectly toned body was cute, at least it was true and looking good she looked a lot like that of her grandmother, beautiful at the sea with a fluttering scarf.
The following day she would go and buy a new costume, something that she would have appreciated, that she would have made her feel at ease with her too with a few extra pounds.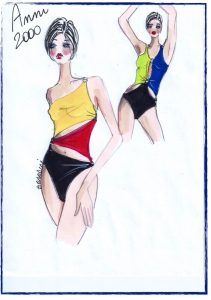 The sea of the new millennium by Beatrice Brandini
What a beautiful life was and how beautiful it was to be in harmony with your body, to accept yourself and to love yourself. Like eating a plate of pasta in the company of a good glass of wine and the people who make you happy.
Good life to everyone!
Beatrice