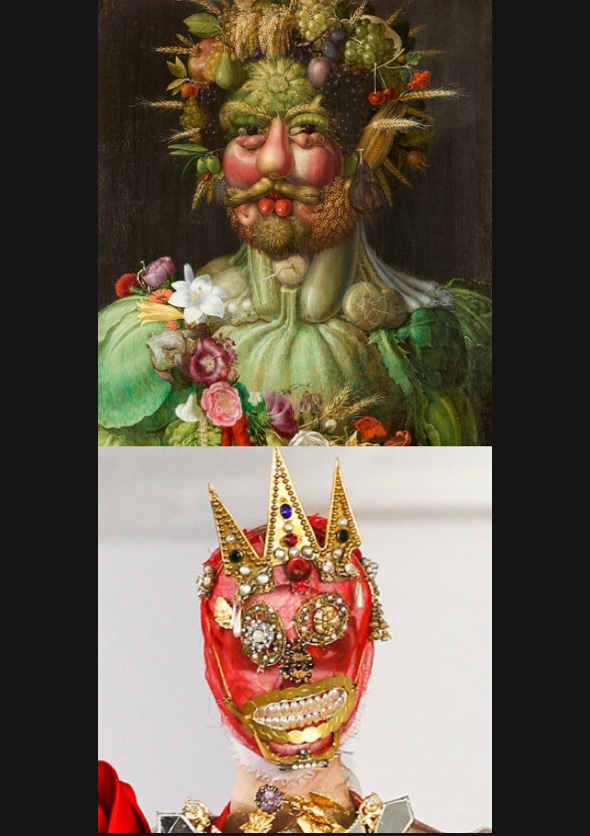 Arcimboldo "Vertumnus". John Galliano detail of Couture fashion show Maison Margiela.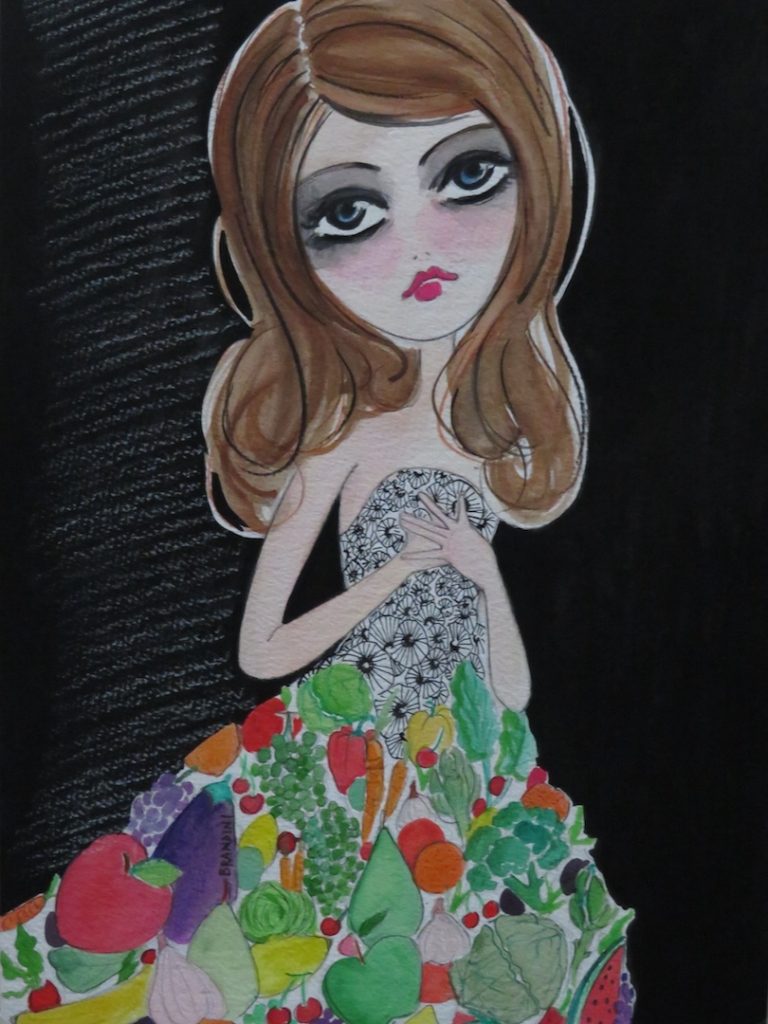 "Delight" by Beatrice Brandini
Even as a child, and it's easy to know why, I have always been fascinated, amazed and sometimes a tad upset from "Composed Heads" by Giuseppe Arcimboldo. Portraits grotesque formed by objects or items (books, fruit, flowers, birds …) which joined together made a face, often a portrait of the character or subject represented.
"The Waiter" and "The Gardener" by Giuseppe Arcimboldo
Arcimboldo was an original artist, unique, able to create a new genre (we are in the early sixteenth century) between the dream and the fantastic, with references esoteric, alchemical and naturalistic.
"Flora" and "Water" by Giuseppe Arcimboldo
Born in Milan from an aristocratic family, his early twenties he devoted himself to painting, beginning so challenging and important, namely the implementation of the preparatory drawings, known cartons, which would be served by the glass windows of the cathedral of Milan. His reputation will be consolidated in Austria at the court of Prince (later Emperor) Maximilian II of Habsburg. When he returned home he continued to work for major clients, enjoying fame and wealth until his death, occurred in a tragic and mysterious circumstances (he was assassinated), in 1593.
"Autumn" and "Vertumnus" by Giuseppe Arcimboldo
In the following years was forgotten; you have to get up to the twentieth century with the advent of surrealism and its "irregular "code, enjoying its rediscovery.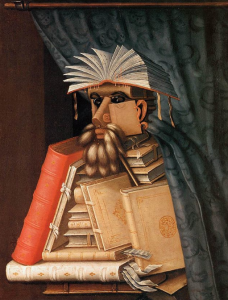 "The Bookseller" by Giuseppe Arcimboldo
But Arcimboldo was really great, in the code a very personal kind, but especially because the ones that seem simple grotesque portraits, are in fact the obsessive search for the meaning of the puzzling things. In his "faces" is unrest, there is nothing playful, as a first and superficial reading might have you believe, but the disorder of nature, the continuous and, alas very current, fight / exploitation of man and nature.
Images show Couture Maison Margiela collection created by John Galliano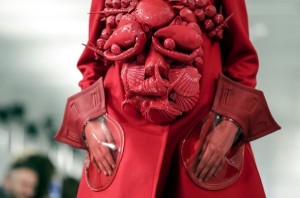 Particularly show Couture Maison Margiela collection created by John Galliano
When I saw that John Galliano, enlisted as creative director for the Maison Margiela (cleverly purchased a few years ago by the owner of Diesel Renzo Rosso), was inspired by Arcimboldo for his first show after the "necessary" exile, was greatly impressed . Further proof of the great talent of Galliano and his hunger for stimuli, often artistic, able to create true masterpieces.
Images show Couture Maison Margiela collection created by John Galliano
Fantastic creatures that seemed to come from the paintings of Arcimboldo, shells or soldiers to decorate the hair, latex for high shoes, lace, tulle, decorations … Twenty-four high fashion garments, made in a very short time (Renzo Rosso called Galliano only in October last year), but of masterful beauty and perfection. Margiela was called the invisible creator, one who has never been exposed in the spotlight (none, or almost, in fact knows his identity), contrary to Galliano, and is the first major difference between the two most talented and dissimilar designers. Perhaps for this Galliano has "used" Arcimboldo and his creatures and grotesque caricatures (for the theatrics, the "mock" and "madness" ..?)
Images show Couture Maison Margiela collection created by John Galliano
Images show Couture Maison Margiela collection created by John Galliano
But then I thought that the choice of Galliano was not only the result of admiration for the "bizarre" artist, but that somehow could also be linked to his past personal events. Perhaps the poetics of "junk" as aesthetic code, the food in the portraits of Arcimboldo, could not be attributed to the "junk" which has been forced in recent years Galliano by the press and media? Rightly or wrongly (severe were his statements, but who made no mistake in life? Especially when the mind is tired and not entirely lucid …), dismissal from Dior, judgments and out of the back door, seem distant memories …Life sometimes forgives and returns, and it is good when it goes to the service of talent and who can benefit from it.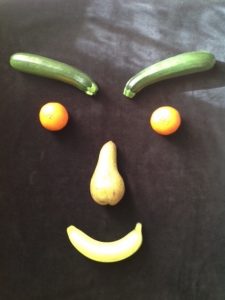 Natural composition by Beatrice Brandini, Arcimboldo inspiration
"New Couture" by Beatrice Brandini
Welcome back John and great Arcimboldo who knew how to inspire you in your rebirth.
Good life to all!
Beatrice