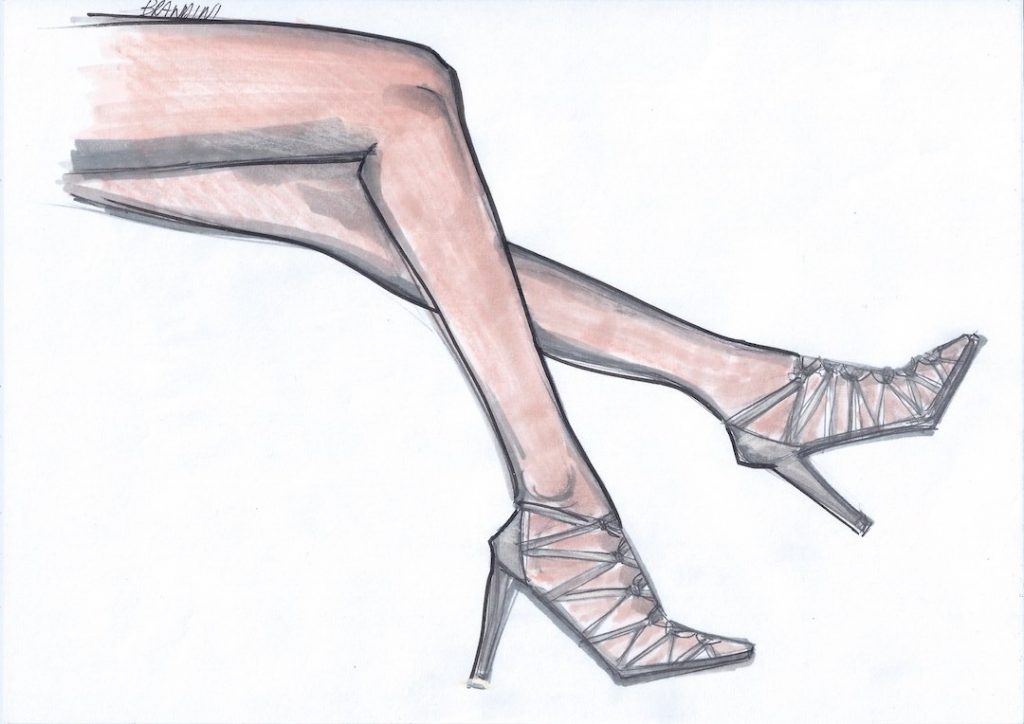 "Shoes and beautiful legs" by Beatrice Brandini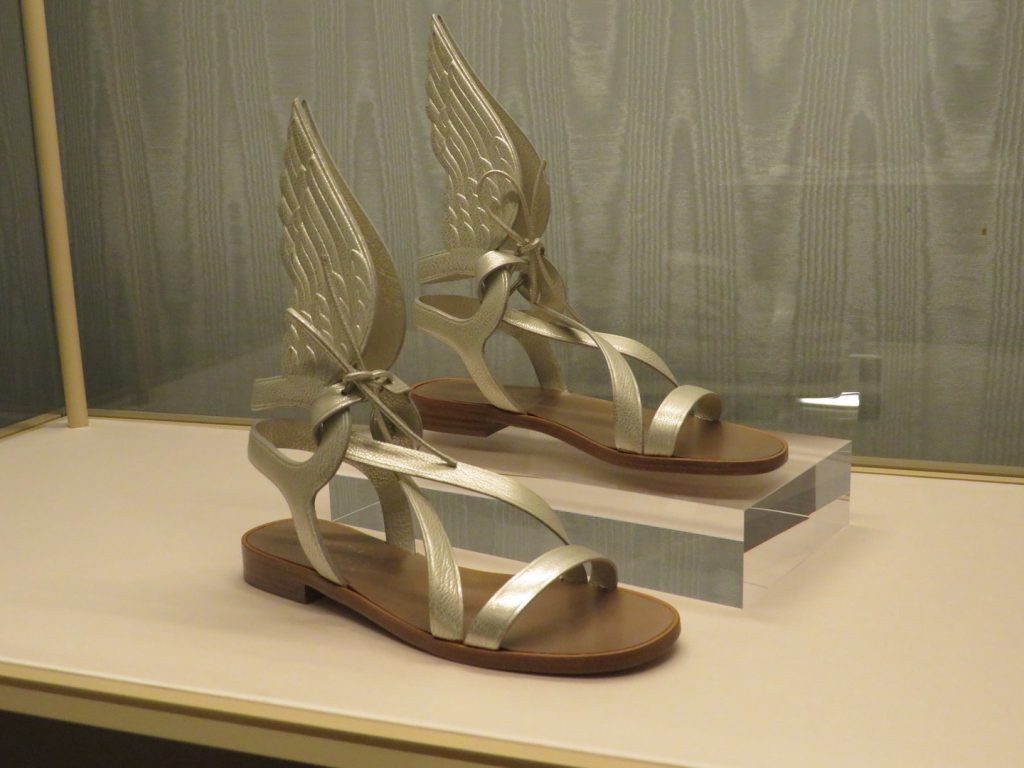 Sandals "Flash" by Salvatore Ferragamo
At Palazzo Pitti, until 19 April 2020, an exhibition dedicated to footwear will make you discover and admire Roman charioteers, shoes of movie stars and some models of the most important twentieth-century designers.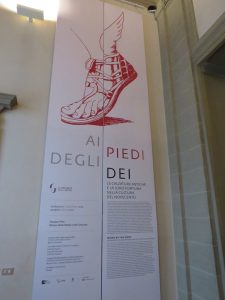 Banner of the exhibition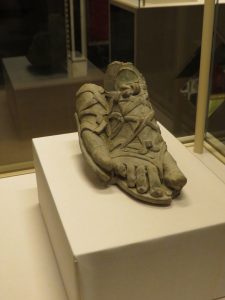 Feet crossed with krepídes, mid-1st century BC
Left foot of a colossal statue, 1st century AD
"At the feet of the gods", an exhibition curated by Lorenza Camin, Caterina Chiarelli and Fabrizio Paolucci, wants to tell us about the infinite roles that the shoe has played in the West from ancient times to the present. About 80 works, some lent by international museums such as the Louvre, among the most important examples of the various types of footwear used between the fifth century BC C. and IV AD, overlap with contemporary creations, telling us that history is always a precious element from which to draw inspiration.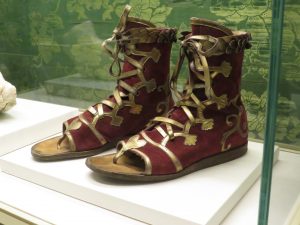 Footwear inspired by endromídes for television series Cleopatra. Pompei shoes factory, Formello – Rome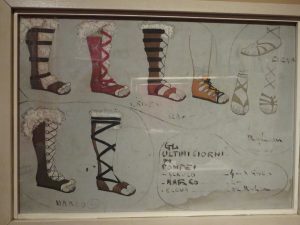 Footwear sketch for the film "The last days of Pompei ". Pompei shoes factory, Formello – Rome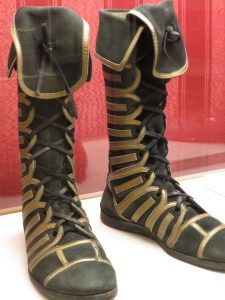 Wear inspired by embádes for the film "The Fall of  Roman Empire", Pompei shoes factory, Formello – Rome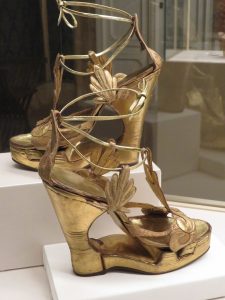 Reinterpretation of antique sandal on platform for the film "Cleopatra". Pompei shoes factory, Formello – Rome
There are also many samples made by the Pompei shoe factory, the most prestigious shoe factory serving the most important international cinema (from Cleopatra's sandals made for Liz Tylor, to Ben Hur's shoes for Charlton Heston, to those of Gladiator for Russel Crowe .. only to name a few).
Female sandals by Emilio Pucci, S / S 2014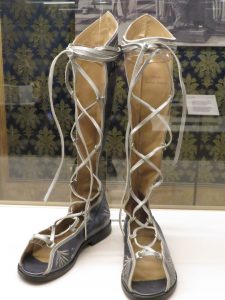 Reinterpretation of antique wear for the film il "Gladiatore". Pompei shoes factory, Formello – Rome
Pictures and movie posters in the multimedia room by Gianmarco D'Agostino
The director of the Uffizi Gallery Eike Schmidt summed up perfectly this way: "Man has always wanted to pour into shoes, a humble and everyday tool, a reflection of those principles of harmony and symmetry that governed the classic taste. The shoe thus became a work of art … "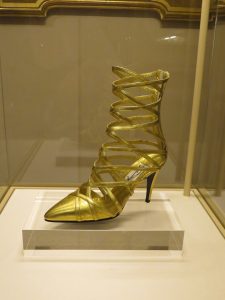 Sandal by Genny, 1994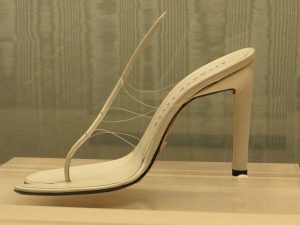 Sandal by Richard Tyler, 1999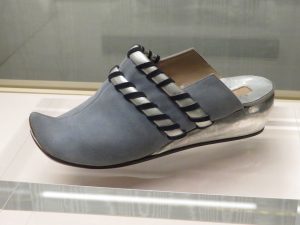 Pianella by Salvatore Ferragamo, 1939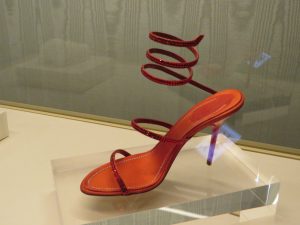 Sandal by René Caovilla, 2000
Fabrizio Paolucci, curator of the exhibition and director of the Department of Antiquities of the Uffizi.: "The shoe is not only an accessory and this concept was already clear to the ancients … With its shape or its colors, this garment told everything about the person who wore them: sex, economic status, social position and work. ".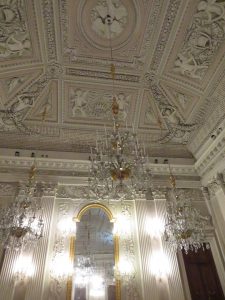 View of the Sala Bianca of Palazzo Pitti, site of the press conference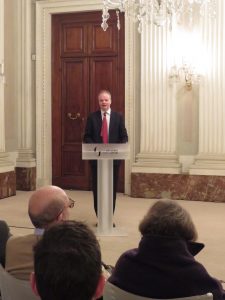 Director Heike Schmidt at a press conference
New creations inspired by ancient footwear, by Beatrice Brandini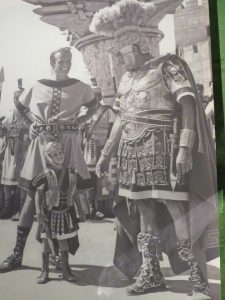 Poster Charlton Heston from the film Ben-Hur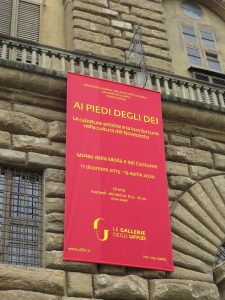 Banner of the exhibition on the facade of Palazzo Pitti
Cinema and fashion, history of costume and contemporary creations, these synergies are beautiful and perfectly coexist in this exhibition.
"Mom always says that there are a lot of things that can be said about a person from their shoes. Where are they going. Where have they been ". (Forrest Gump)
Long live shoes, and, as Carrie Bradshaw would say: "There are two things you can't get enough of. Good friends and good shoes ".
Good life to everyone!
Beatrice