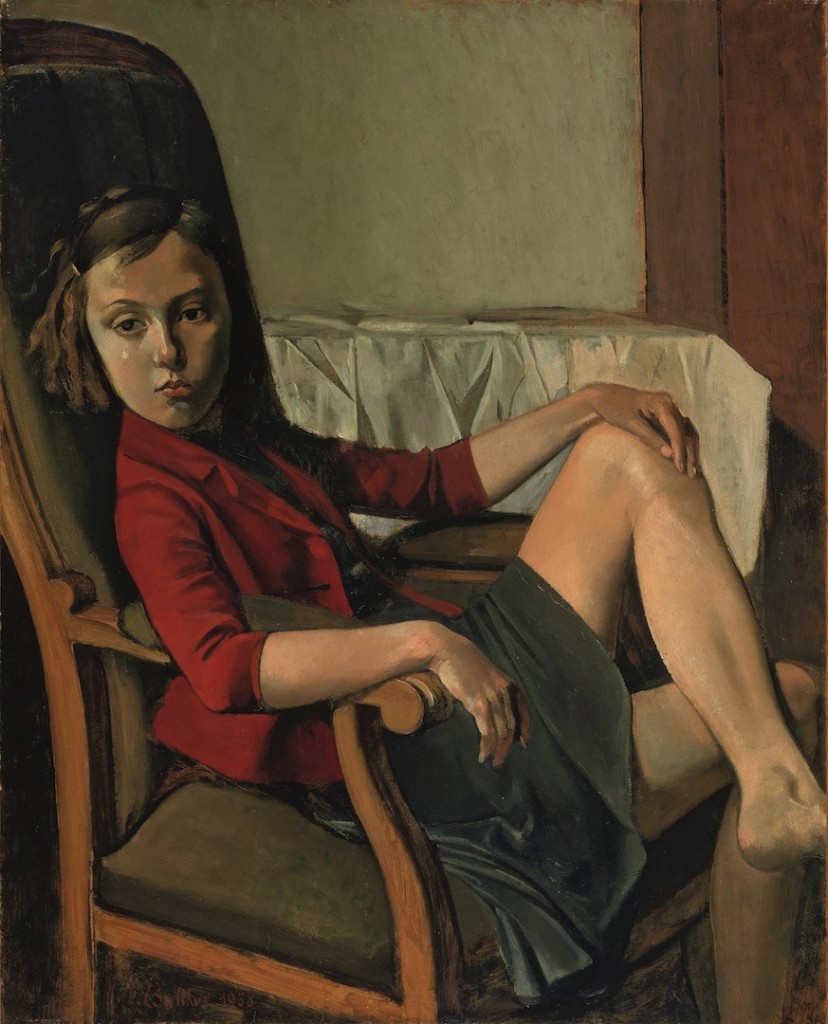 Balthus: Thérèse, 1938 the Metropolitan Museum of Art in New York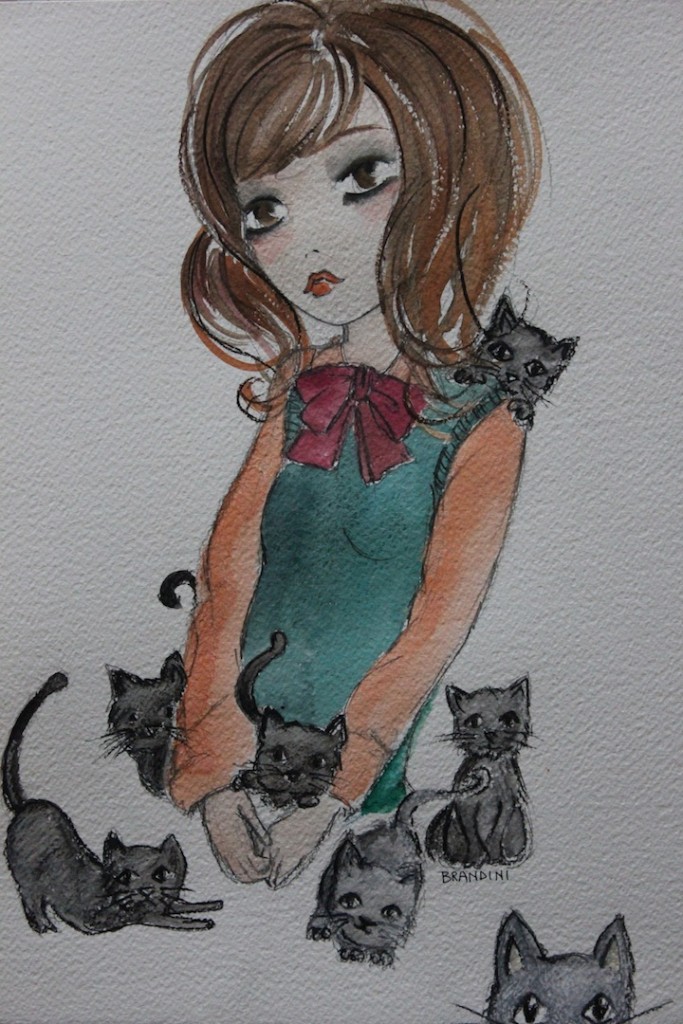 "Cathy" by Beatrice Brandini
Rome celebrates Balthasar Klossowski de Rola, aka Balthus, one of the most important and enigmatic artists of the twentieth century. At the Scuderie del Quirinale and Villa Medici until 31 January 2016.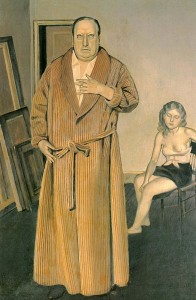 Balthus: Portrait d'André Derain, 1936. The Museum of Modern Art, New York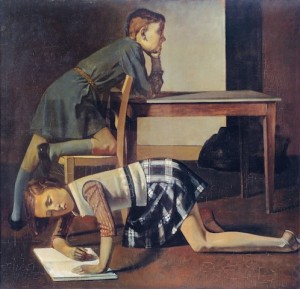 Balthus: Les enfants Blanchard, 1937. Musée National Picasso, Parigi
As Modigliani, Sironi, Casorati, Carrà, John Currin.., is one of my favorite artists, I know, has almost nothing in common with them, but as they are able to move with an art wonderfully expressive, intense, "fragile", sometimes disturbing, definitely personal, recognizable and different.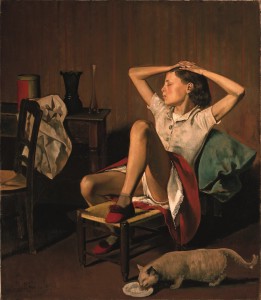 Balthus: Thérèse, 1938.The Museum of Modern Art, New York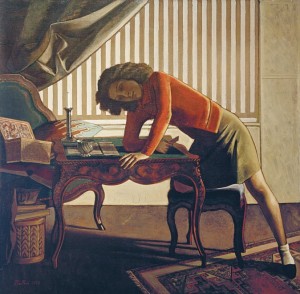 Balthus: La Patience, 1943. The Art Institute Chicago
Balthus was born in Paris in 1908 by a family of artists of Polish origin (father) and Russian (mother). He worked for the theater, illustrated novels (Wuthering Heights by Emily Brontë), he was director of the French Academy at Villa Medici (Rome) for more than fifteen years, where he was also an important task of restoration. He has traveled extensively, staying in many countries like France, America, Italy, Switzerland. But mostly he has painted, leaving masterpieces of incredible beauty.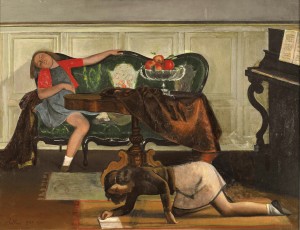 Balthus: Les Salon, 1941-43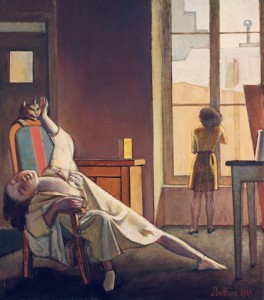 Balthus: La Semaine des quatre jeudis, 1949
This exhibition, with about two hundred works including paintings, drawings and photographs, from the most important museums in the world and from private collections, is divided into two distinct paths: one is his best-known works, the Scuderie del Quirinale, from other works created during his long stay in Rome, at Villa Medici, which highlights the artist's creative process.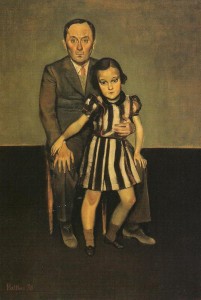 Balthus: Joan Miró e sa fille Dolorès, 1937-38. The Museum of Modern Art, New York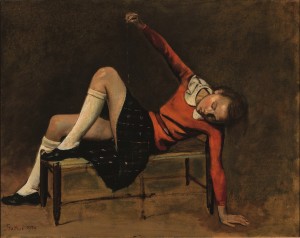 Balthus: Thérèse on a Bench Seat, 1939
Balthus is famous for his portrayals of teenagers in dreamy attitude and chastely sensual, in intimate and family atmospheres. Theme, that of childhood, which will get them even criticism and censure. Jean Clair, one of the largest, sophisticated lighting and thinkers of contemporary art, says this point well: "Only fools could treat him as an eccentric, isolated, sex maniac. He was not isolated at all, and here he shows how he worked alongside his friend Derain and Giacometti and within a continuous exchange of ideas with poets and writers from Artaud to Camus, in a milieu rich in intellectual intensity unfortunately disappeared . Balthus is painting. If you look at this exhibition you understands it, because it is full of rare drawings, unfinished work, preparatory studies extremely important and almost never shown".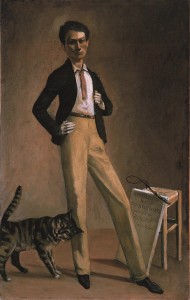 Balthus: Le Roi des chat, 1935, private collection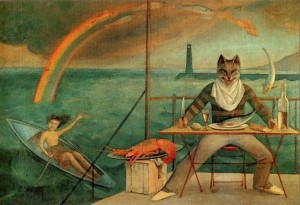 Balthus: Les Chat de "La Meéditerranée", 1949. Private collection
Even the cats were always a strong presence in his works. In 1935, just 27 years old, in fact creates one of his most famous paintings, "The King of Cats", self Portrait with an emblematic title. Cats often have more direct expressiveness and closer to the viewer, than they really human characters, often absorbed and expressionless, distant, as if to put a wall between them and those who watch them.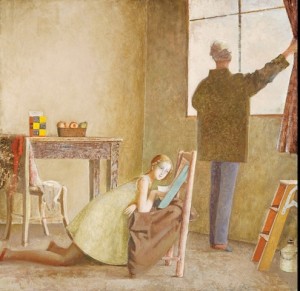 Balthus: La Peintree et son modèle, 1980 Centre Georges Pompidou, Parigi
In his long stay in Rome, he met and attended personalities such as Federico Fellini, Luchino Visconti and Renato Guttuso, in a Rome culturally vibrant, alive, that was at the turn of the sixties and seventies. But Italy was also central to his work, here in fact discovered the masters of the Tuscan Renaissance, especially Piero della Francesca, from whom remain deeply impressed and influenced, leaving that legacy renaissance that will be one of the central themes of his long artistic career.
Kate Moss photographed by Tim Walker, Italian Vogue in 2015 … mood Balthus
Kate Moss photographed by Tim Walker, Italian Vogue in 2015 … mood Balthus (here with the wife Setsuko)
I love Balthus because with his painting draws me in a rarefied and suspended world…, but also of strong emotions because it lives in the memory (childhood, games, the childhood home…). I like that the art make people think (concept that will never stop express), but similarly I also love his "therapeutic" role to bring beauty, in the eye and in the heart, to seduce us, to carry us away, like a good novel or a good movie. Here, I think that Balthus has been able to translate well both of these aspects in his works.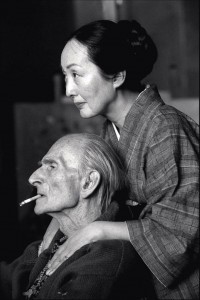 Balthus and his wife Setsuko, photos of Henri Cartier-Bresson
"I have nothing to say. Look at my pictures." Balthus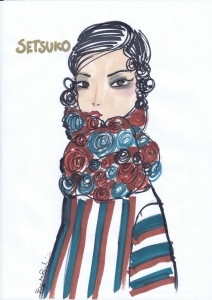 Setsuko view from Beatrice Brandini
Good life to all!
Beatrice