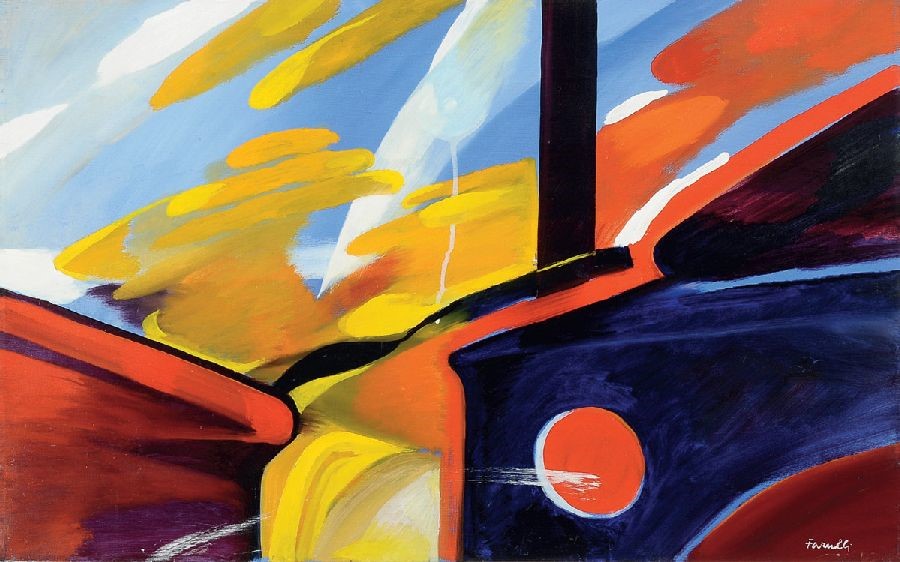 "Landscape" by Fernando Farulli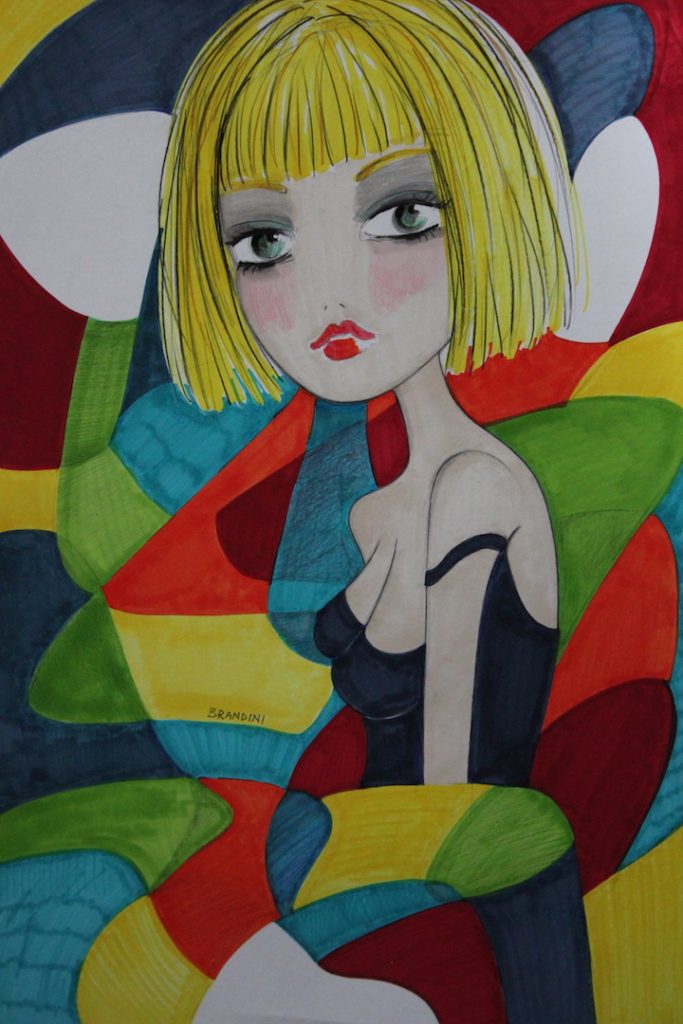 "Blonde atomic" by Beatrice Brandini
I have always been fascinated by this great artist, it was a true love at first sight from the first time I saw his works. However, he is a talent that has not had, at least not always, the legitimate and deserved visibility, with this post I would like to "balance the accounts".
Works by Fernando Farulli
Fernando Farulli was a Florentine painter of unquestionable talent. Holder of the chair of painting at the Academy of Fine Arts, he joined the movements "Arte Oggi" in Florence and the "Pros and Cons" of Rome. He began, in 1963, with a personal exhibition in Rome, and, in the same year, with an other in la Strozzina, Florence, an episode that represented his consecration, thanks above all to the passionate attention that Carlo Ludovico Ragghianti will dedicate to him until the end, his great and faithful supporter.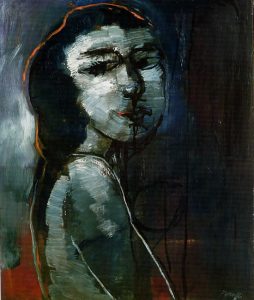 "Girl" by Fernando Farulli
In the following years he will exhibit with personal in Pasadena, Berlin, Rome, Brussels, Milan, just to name a few, and at the same time he will also dedicate himself to the scenography, with installations for the Maggio Musicale Fiorentino (1965).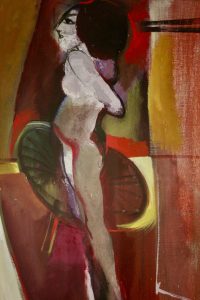 Work by Fernando Farulli
Fernando Farulli was born in Florence in 1923, from a family of workers persecuted by the fascists, a fundamental episode for the artistic and poetic development of the man-artist. Farulli will always represent the civil conscience of those men who, after the Second World War, wanted to contribute to the reconstruction (also moral), through art and beauty, for this reason his works are also an important iconographic testimony of the history of those decades.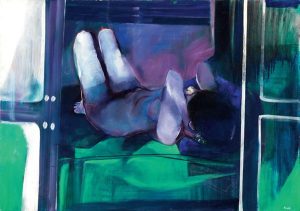 "Great naked woman" by Fernando Farulli
"Girl" by Fernando Farulli
In 1941 he exhibited at the National Engraving Exhibition in Modena … "an artist rich in intelligence. Fine some still life recordings that Bartolini would like. " Raffaello Franchi. In 1942, with three engravings, he participated in the XXIII Venice Biennale. In 1948 he was invited, with Nativi and Berti, to the 8th Youth Salon at the Galerie des beaux-arts in Paris.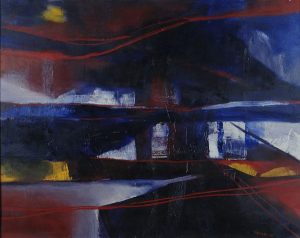 "Autostrada del sole" by Fernando Farulli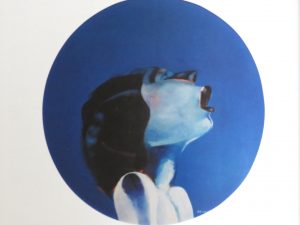 "The scream of the teenager" by Fernando Farulli, 1972
"… Beginning to know the value of some great painters, such as Picasso, Kandinsky, Rivera …, I started a new path towards a painting that had a real content, that is, it deepened more certain values, not only aesthetic, but mainly human, and a adequate language, adhering to our time of struggle and rise of a new society… "  1950, Fernando Farulli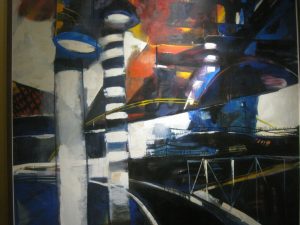 Work by Fernando Farulli
Landscape by Fernando Farulli
I really like Farulli with his dramatic painting, with his acid tones, as if they wanted to create openings to narrate his message. Even when it represents nature, Farulli always expresses a sense of calm sadness; moreover, there was little to laugh at if workers were given a voice when the factories were born, the absolute protagonists of urban landscapes. The purpose of Farulli's powerful painting, in fact, was mainly to fresco life, work, workers' struggles.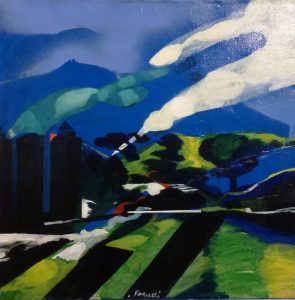 Landscape by Fernando Farulli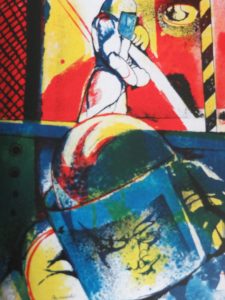 Fernando Farulli "Masks and Plexiglass", 1968
But the thing that seduces me most about this artist is his modernity. In fact, these are works that are sixty, seventy, even eighty years old, and are still incredibly modern, current, powerful. His neocubism, at least at the origin of his works, was very personal, perhaps precisely because he expressed the need to speak to men, to all men, without gender distinction. And it is this (message) that still makes it terribly current.
Fernando Farulli "Free swimmers from Atlantis", diptych, 1984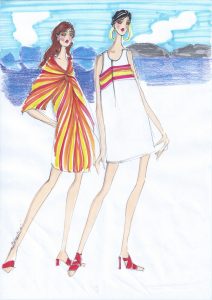 "Girls at the vernissage Fernando Farulli" di Beatrice Brandini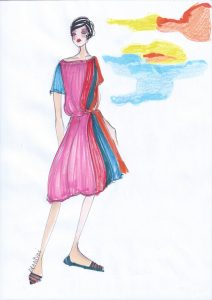 "Girl at the vernissage Fernando Farulli" di Beatrice Brandini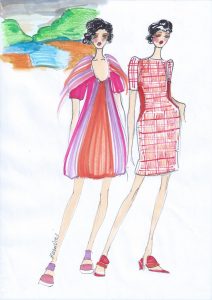 "Girls at the vernissage Fernando Farulli" di Beatrice Brandini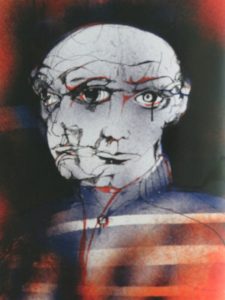 Self-portrait of Fernando Farulli
Good life to everyone!
Beatrice