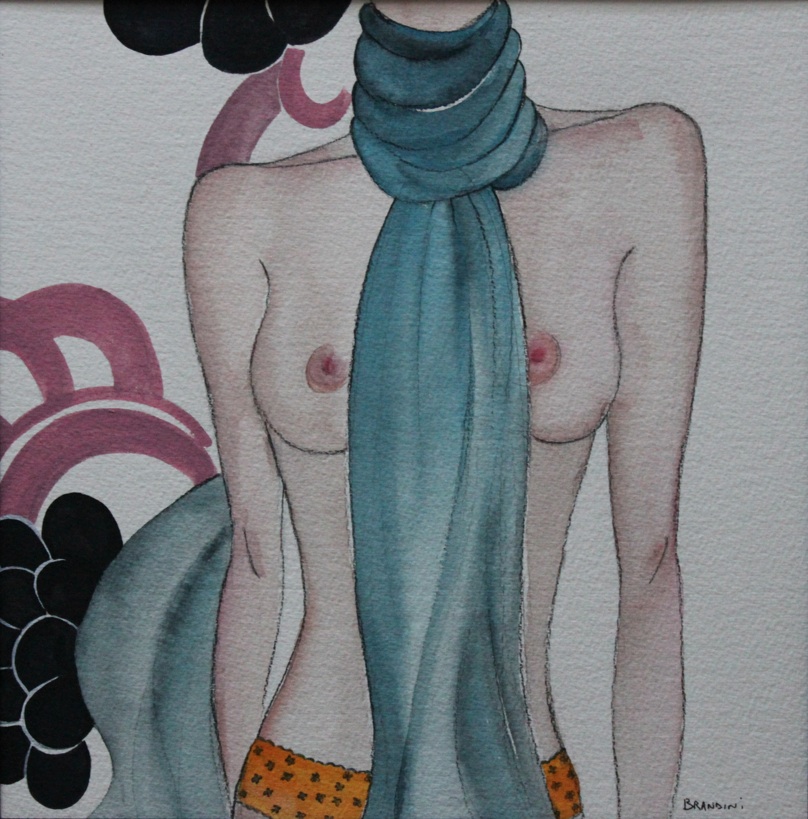 "The Foulard" by Beatrice Brandini, 2010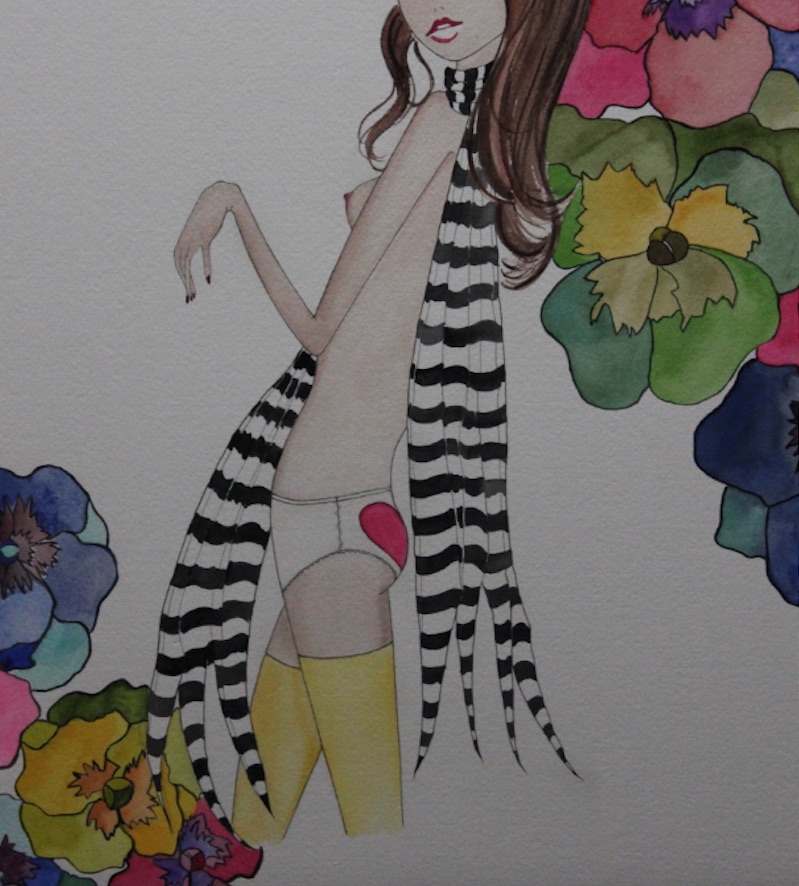 "Lolita" by Beatrice Brandini, 2011
Since I was a child, I considered this accessory a sort of Linus blanket, if on the one hand it is actually a way to protect us from the cold, on the other it is something more, a way to feel "warm" psychologically or intimately, transcending the climate and coming to the soul.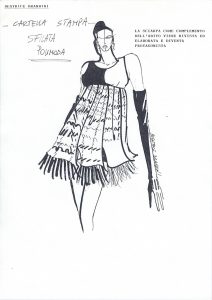 Polimoda 1992 final show press kit
Sketch + photo Polimoda fashion show, 1992
If I go back in time, I have high school drawings in which I very often combined my figure's dress with a scarf, often striped; even at the final Polimoda show (1992) my 5 outfits were linked to this theme. The photos and figures I have attached will certainly appear a little "démodé", after all 28 years have passed, but the scarf was already there.
Sketch + photo Polimoda fashion show, 1992
Sketch + photo Polimoda fashion show, 1992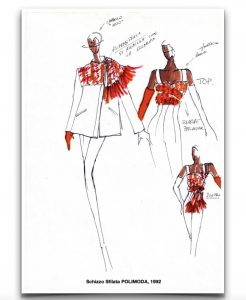 Polimoda fashion show sketch, 1992
Sketch + photo Polimoda fashion show, 1992
So when I started painting, spontaneously and unconsciously, at least at first, I realized that all my paintings always had a woman with a scarf. We can see this track on my site, on Pinterest, in short, on everything that tells me about me.
Other sketches made between 1989 and 1992
This is how a critic described me a few years ago:
Beatrice Brandini's poetics is nourished by her educational path: she paints elegant and refined young women, endowed with style, but also dreamy, ethereal and provocatively innocent. They are the result of the complex female nature, characterized by innumerable facets and contradictions. Often they are portrayed with a long scarf, not an accessory or a decorative element, but an object that fulfills a symbolic function. On the path that leads from adolescence to adulthood, the scarf protects and reassures these women, wrapping their body and soul. "In the absence of human warmth – writes the artist – I have my scarf, and that's enough for me".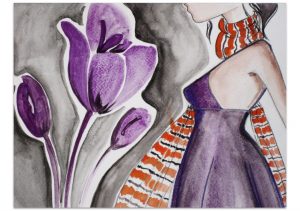 "Cloud – Violet " by Beatrice Brandini, 2007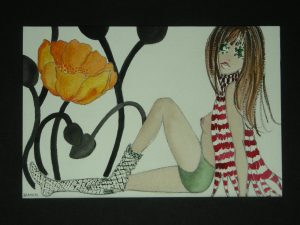 "Alice" by Beatrice Brandini, 2008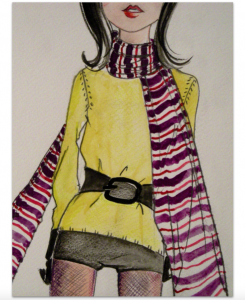 "Vanity" by Beatrice Brandini", 2009
And that's why I decided to start from here; making sure that "Girls with a scarf" can become a subject of stories, films, books, comics, objects … Something that keeps me company from a very young age, my little "obsession" that becomes a friend, my hallmark, my poetics.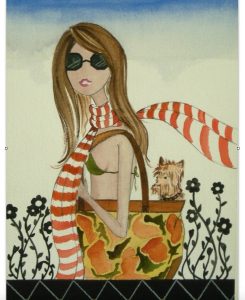 "Melissa and  Charlie" by Beatrice Brandini, 2011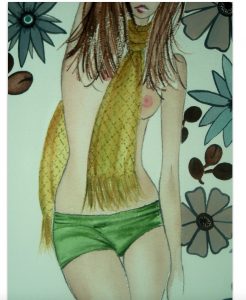 "The Body" by Beatrice Brandini, 2011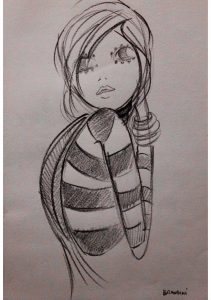 "The Innocence" by Beatrice Brandini, 2011
In the future, You will cyclically find stories in which a girl with a scarf will tell something about herself, will try to keep you company and give some advice, so that each woman, girl or child can be one (or the) protagonist with the scarf.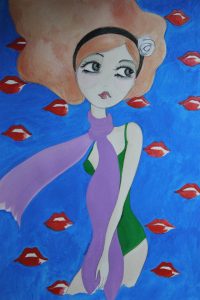 "Annette" by Beatrice Brandini, 2014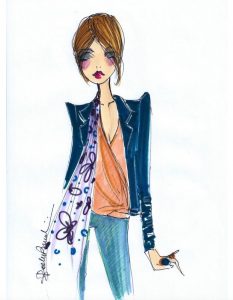 "Janet" by  Beatrice Brandini, 2016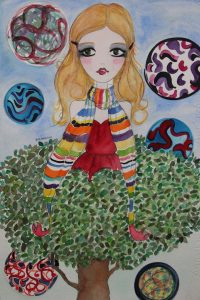 "Dorothy nel giardino magico" by Beatrice Brandini, 2016
The desire is to create an army of girls with scarves, since each person can find affection, consideration, affirmation, rights … and through my little stories can smile and recognize that these shortcomings (and I hope redemptions) are the same for each of us.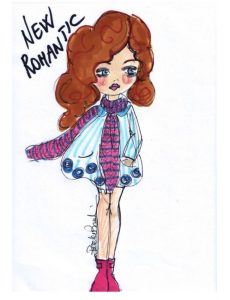 "New Romantic" di Beatrice Brandini, 2018
W the scarf and long live the girls with the scarf. I am the first!
Good life to everyone!
Beatrice