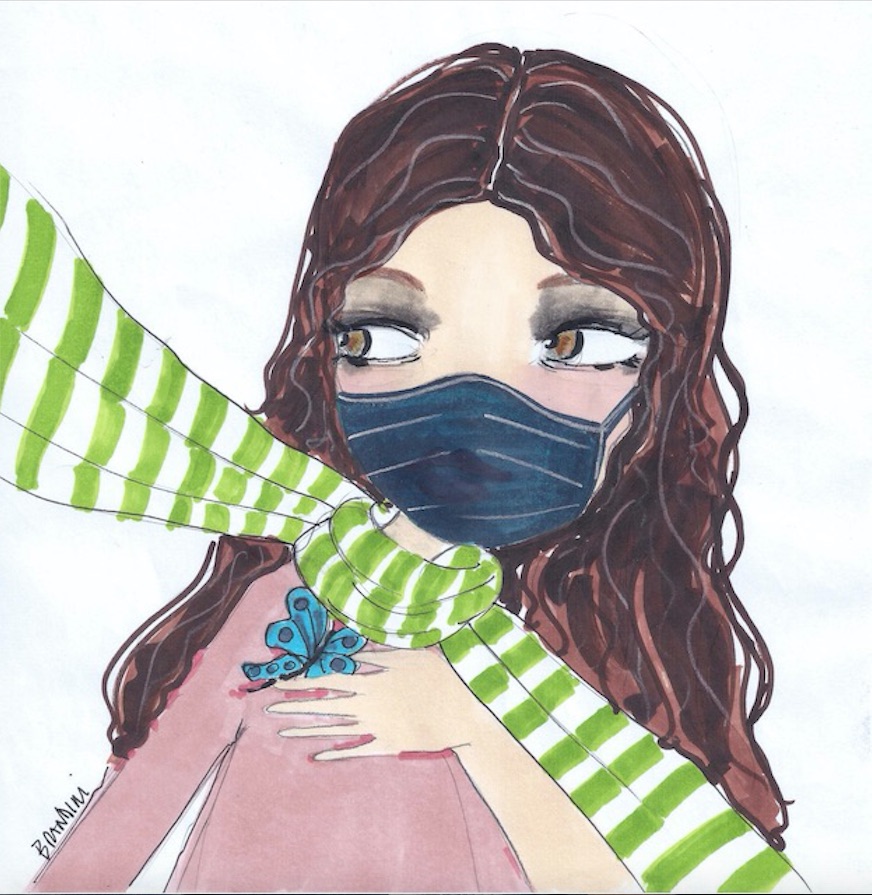 "Vittoria and the virus" by Beatrice Brandini
Vittoria was a curious and very intelligent girl, the thing she loved most was being in contact with nature and living outdoors. But unfortunately the pandemic had totally annihilated this great passion of her.
For months she had been forced to stay locked up in the house, she didn't miss high school or her friends too much, for this there was technology (DAD and video calls), but going to the woods, walking along the paths, discovering new forms of life , at least for her who lived in a big metropolis, that was a great absence.
One day, from her bedroom window, she saw a very special blue butterfly, WOW !!! she hadn't really seen many, certainly, not one of that beauty. Vittoria cautiously opened the window, but unfortunately the butterfly flew away. Damn, she had not even been able to take a picture of her, her insect had been faster than her, what a pity, who knows when she would see one of her again like hers.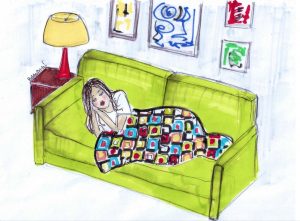 "Vittoria in the endless days" by Beatrice Brandini
The days passed lazy, in the morning she studied, in the afternoon she often felt with her best friend of her Sissi of hers; being more at home with mum and dad was basically a great opportunity, the years had passed very quickly and the possibilities of being together, apart from the holidays, were rare. However, the imminent arrival of Autumn made her sad, that was the time of year she loved the most, with all those colors, shades, scents. The leaves then, looked like abstract paintings come out of the skilled hands of a cubist painter, staying at home meant losing all that spectacle.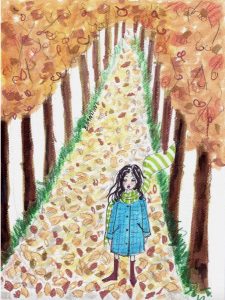 "Vittoria in the park" by Beatrice Brandini
One Sunday she decided to take a walk in the little garden near her house, she could start going out again and after all, even if it was not a landscape as she liked, seeing some trees and birds, it was a way to reunite with what she loved most , the nature.
She took her coat and the inevitable scarf and walked out of her. Suddenly she heard a imperceptible noise (it was easier to "hear", the cities were semi-deserted and not paralyzed by traffic), then and there she did not understand, then instead she recognized that beautiful blue butterfly that was fluttering over her head. How beautiful that she was!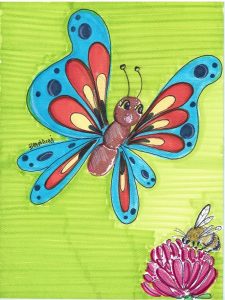 "The blue butterfly" by Beatrice Brandini
Vittoria continued to walk and the butterfly with her, how strange and what a surprise .. When she arrived at the garden the butterfly was no longer there, after all she had already been very lucky to have met her again and to have walked a bit of the road with her .
In the garden she began to collect leaves, to smile at seeing some small children that she was playing, everything that until a few months ago was "normal" seemed exceptional. Vittoria thought that after all this bad period something good must also have left us. She tended to be always optimistic, and even when, like now, it was difficult, Vittoria always managed to grasp a positive side, even imperceptible, in everything.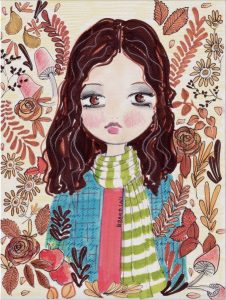 "Vittoria wrapped in an autumn embrace" by Beatrice Brandini
Then she thought that perhaps, after this terrible pandemic period, people would appreciate the little things more; that being with one's family, children, loves, friends, was the priority, something precious that we no longer had to lose. That people would share more, not just stupid selfies, but they would acquire a new sensibility. And that finally, perhaps after all this evil, we would all have more respect for nature, this wonderful world around us that becomes more fragile every day.
With these thoughts she returned home smiling, realizing, with infinite amazement and joy, that the butterfly was again above her head, like the first time she saw it at the window, she seemed to want to provoke her and wanted to say "you won't catch me anyway".
Could she be a mischievous sprite? Was it simply a coincidence …? Whatever it was, it represented life, with its beauty, its cruelty and its undisputed continuity. Anyway it didn't matter much, Vittoria was happy because at that precise moment she understood that she was out of the tunnel. That each of us could start living again, and that life, once again (but we always need to remember it), was the most important thing, a gift that we should never waste.
Good life to everyone!
Beatrice