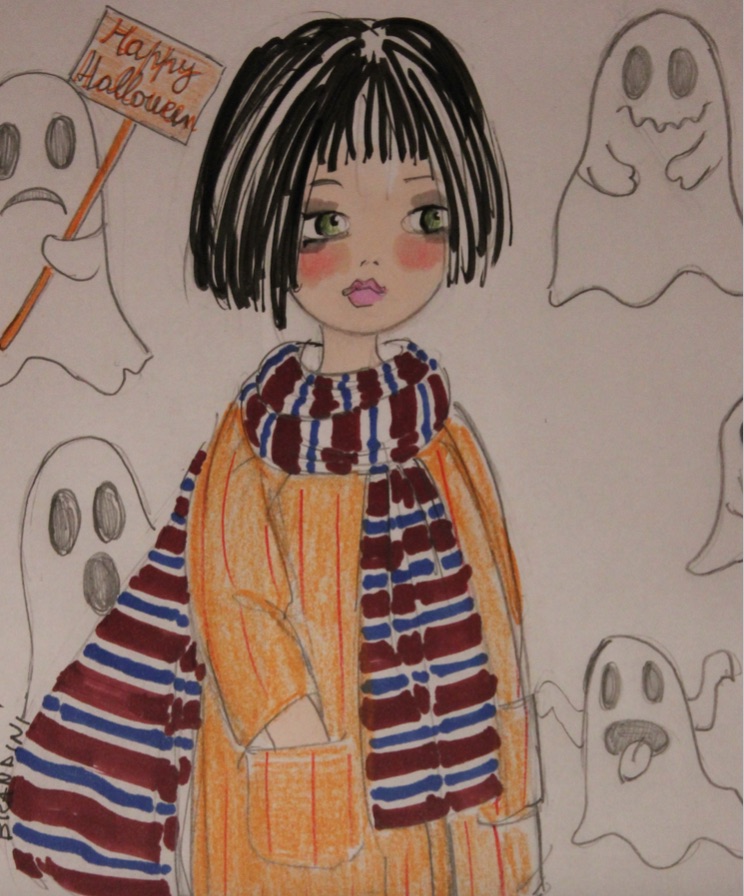 "Elena", particular, by Beatrice Brandini
On Halloween day, a fearless little girl dressed up as a Devil thinking she was the queen of the pumpkins, that day she sure was.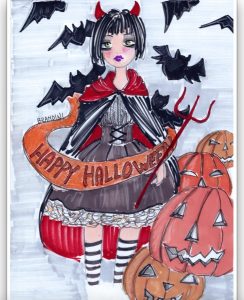 "Diavoletta" by Beatrice Brandini
She called the pumpkins with the nickname "the spiteful", and with them she went around the city trying to frighten as many people as possible.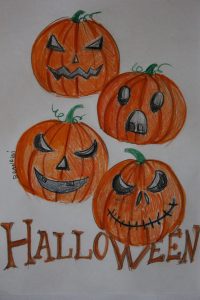 "The spiteful ones" by Beatrice Brandini
Diavoletta was a simple game dedicated to the Halloween party. She went from house to house with her beautiful pumpkins asking: "Trick or treat?", Reaping great success, or at least it seemed to her. But that evening something happened that she hadn't expected; the doorbell of a delightful house rang, when the door opened a very pretty old woman appeared, who as soon as she saw her dressed as a devil was so afraid that she ran away instantly, slamming the door behind her impetuously. Diavoletta,  unknowingly, had scared that lady very much. Maybe the old lady didn't know the Halloween party well, or her disguise had reminded her of some sad episode, who knows. Diavoletta for the first time thought that perhaps for such an elderly and defenseless person, her "game" could seem scary. Probably the lady was left alone, perhaps her husband was missing, she had no children or relatives, so she reflected on how inappropriate and hurtful certain gestures can be. She also thought of her grandparents, whom she did not see often, but whom she loved so much.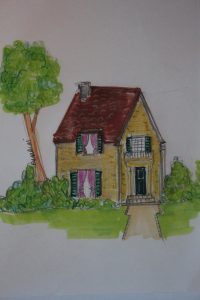 "House of Natalina" by Beatrice Brandini
Coming home she was very sad, she decided to tear off her costume by throwing it in a basket. She gave away all the gifts and treats she had received to the children she met on the way back. However, even if the epilogue of the most anticipated evening of the year had been dramatic, that fact taught her something, such as the need to pay more attention to the sensitivity of others.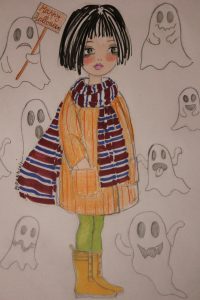 "Elena" by Beatrice Brandini
The day after Diavoletta returned to that place, looking for the door of that house, this time the old woman did not open immediately, she first peeked out of a window, but when she saw that smiling little face of the child, she did not hesitate and immediately opened. Diavoletta apologized for the fear it had caused her, explained that she was the one in disguise and what Halloween was, a party about the irony of death and its monstrous characters. Thus they made each other's acquaintance, they chatted a lot that afternoon, so much so that that meeting was only the first of many, and a beautiful friendship was born between the two women.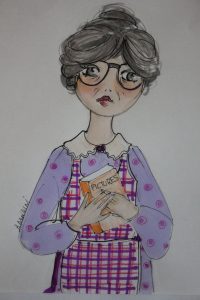 "Natalina" by Beatrice Brandini
Diavoletta was actually a little girl named Elena and the old lady was named Natalina. Many things were told about their life; Elena talked to her about school, her passions, her future projects, her friendships… Natalina told her the most beautiful story she had ever heard before, those of the love of her life. Having met her husband had been the greatest luck that had happened to her, she remembered unforgettable moments spent together. The little girl often returned to see her, kept her company, and Natalina, a wise and kind old woman, reassured her, consoled her, considering her a very special child. What apparently seemed an impossible story, was actually the most natural thing in the world, the seventy years that separated the two women were non-existent in the face of the affinities and affection that united them. There were beautiful days between the two unusual friends.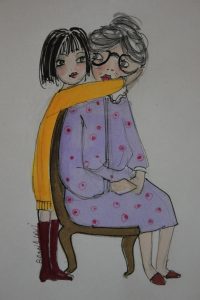 "Elena and Natalina" by Beatrice Brandini
Elena began to reduce visits due to the many commitments to be carried out, there was school, dance, some friends and family with whom she loved to spend her free time.
But one day, some weeks before the new Halloween night, Elena returned to visit Natalina to celebrate the anniversary of their meeting; but when she arrived in front of her house, she noticed that it was closed and the windows barred; it rang and rang, but no one opened. Elena could not find peace and understand, after all it was only a few weeks that she had not gone to that house. Until a neighbor of Natalina's approached Elena and, with great emotion, explained to her that the old lady had died.
Elena returned home destroyed by the pain and remorse of not having spent all the time with her that Natalina deserved. She also remembered that evening a year before, in which he had frightened her, huge tears began to run down her cheeks, she was really terribly sad. In truth, Natalina had been ill for some time and had never reported it to Elena. With the same lightness with which she had entered her life, she had left.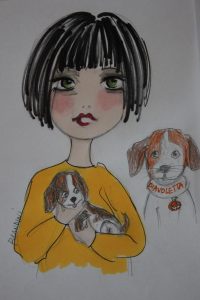 "Elena and Diavoletta" by Beatrice Brandin
After a few days a delivery boy rang her doorbell delivering a package for Elena. It was the day before Halloween, Elena was not expecting anything, no one in the family was waiting for something … Opening the box with a slight suspicion, Elena was speechless, from that anonymous box came a magnificent dog named "Diaovoletta", so it was written  on the collar around her neck. It is not difficult to understand that it was love at first sight! At the bottom of the box a small card "Happy Halloween Elena, hope that this dog will keep you company and give you the same happiness that you gave me in our short but lucky meeting. Don't worry, I have finally reached love. Good luck, sweet Elena. " Natalina"
Even from a negative episode, sometimes great things can arise, especially if we know how to understand where and how we can improve. These are the little miracles of life!
Good life to everyone!
Beatrice