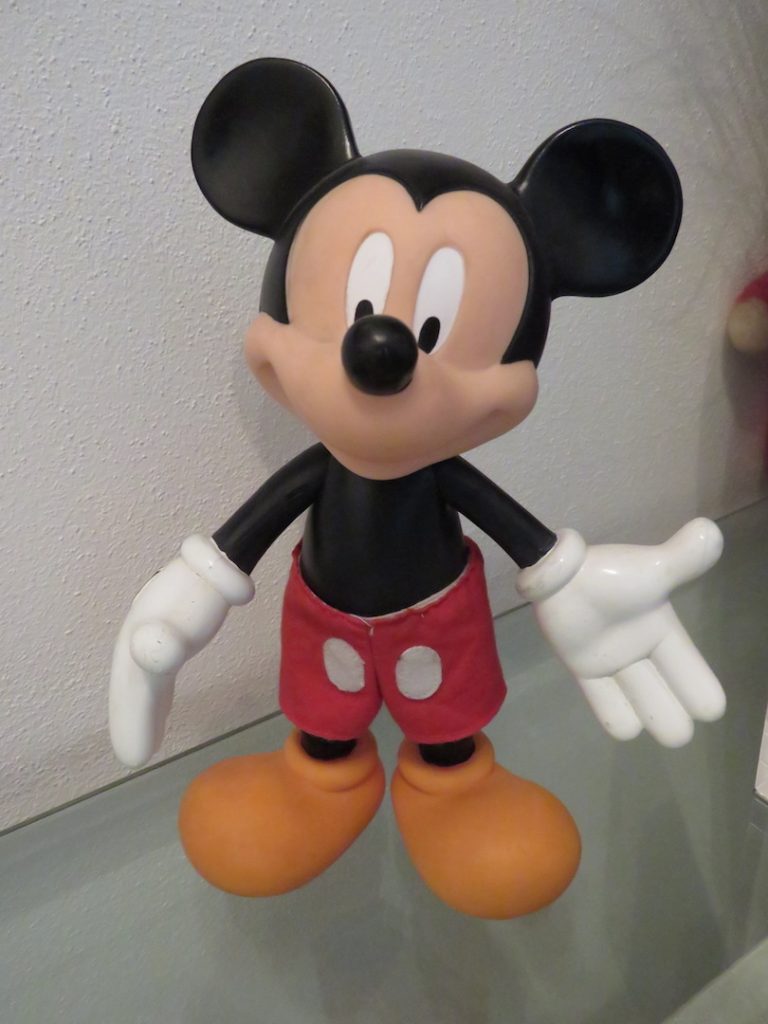 Vintage Mickey Mouse from my collection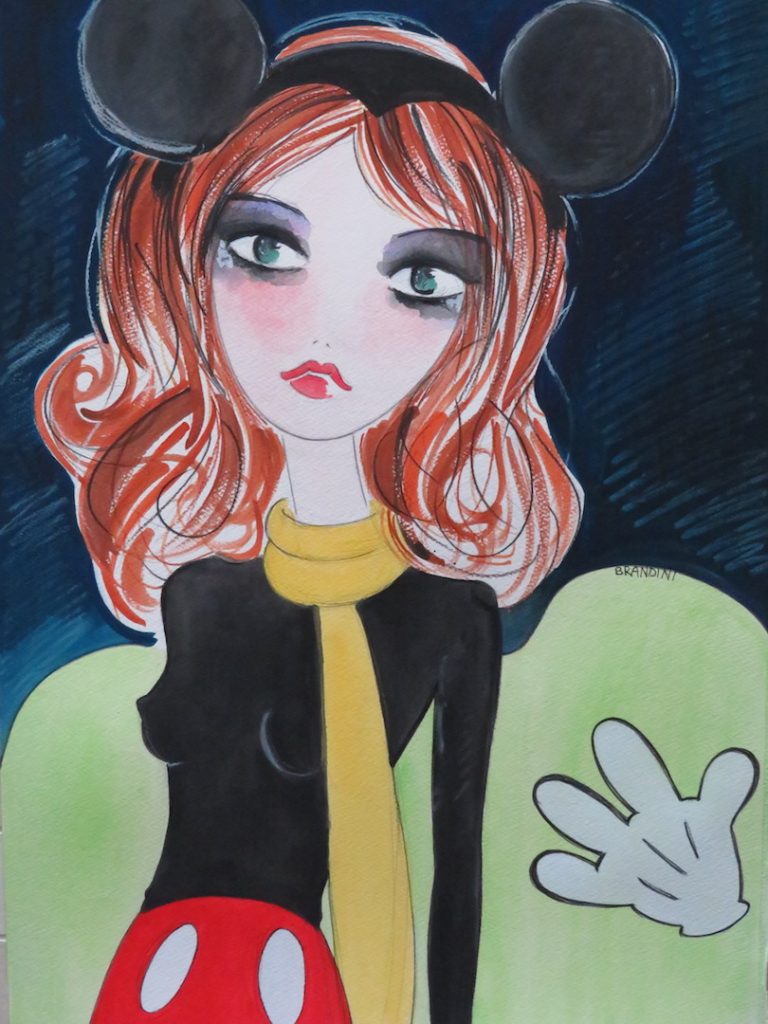 "Topina" by Beatrice Brandini
"A small personality with the task of snatching a laugh". So Walt Disney described Mickey Mouse. And he was definitely right because it's been ninety years since Mickey entertains, impassions millions of people around the world, proving that maybe he was not just a small personality …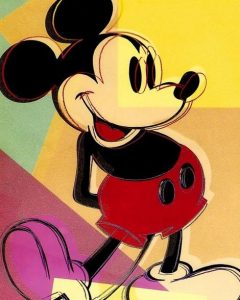 Mickey Mouse by Andy Warhol belonging to the 1981 series "Myths"
Quintessence of optimism, Mickey, never like today can help us, giving us a timeless lightness that each of us, in his way, needs.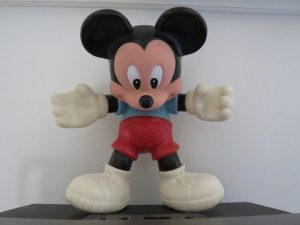 Vintage Mickey Mouse from my collection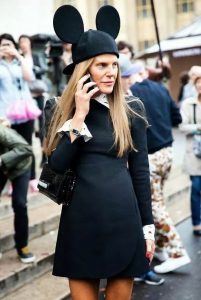 Anna dello Russo 
Born in 1928 thanks to Ub Iwerks and Walt Disney, he owes the extraordinary success to the latter. Of modest origins, Disney was an enterprising young man who did a thousand jobs before joining an advertising agency where he will meet Iwerks and where, shortly thereafter, he will understand the potential of cinema and the perfect alchemy between cardboard and animation. It is said that Walt Disney first sketched it along a train journey on a flying sheet "all the other animals were already used".
When appeared the first time, Topolino was not like what we know. He had neither gloves, nor shoes, nor clothes: just a pair of red brachettes with a couple of big white buttons. And for eyes two dark ovals, without bottom and without pupils. Then he began to transform himself, put on gloves and shoes, and his pupils sprout in Fantasia. He was also different in character, he was a thin, naughty, moody, "street boy".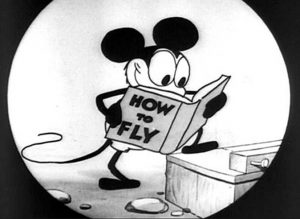 Mickey Mouse in a vintage image

Evolution of Mickey Mouse
Mickey cup, from my collection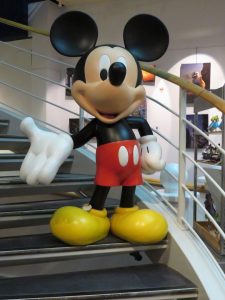 Mickey Mouse welcomes us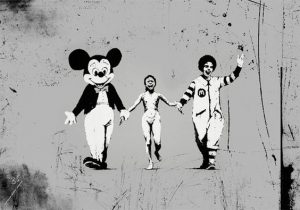 Bansky 
He will reinterpret classic tales like Cinderella or Pinocchio, he will create, before anyone else, sound cartoons (Steamboat Willie, 1928); the first technicolor animation (Flowers and trees, 1932); a very high sophistication in the drawings thanks to the depth, the perspective and the realism. He invests in technology, he makes debts, he arrives at the first real feature film with Snow White, two million drawings, three years to make it happen, a budget started from 350 thousand dollars and reached 2 million "Money is just a function of what you can do " Walt Disney. Eight million dollars after a few months of screening. And this will be the first of the great successes that will characterize his entire life.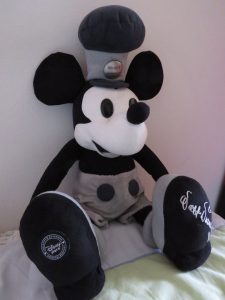 Mickey puppet from my collection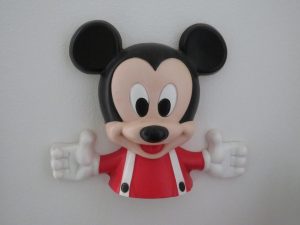 Vintage Mickey Mouse from my collection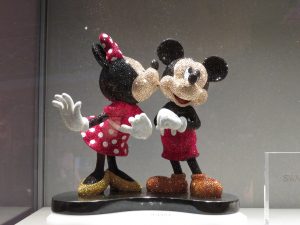 Mickey Mouse and Minnie by Swarovski 
Creator of the Disneyland park (it took him fifteen years to develop it in 1955), convinced that there was no place (magic!) that could entertain and amuse young and old. "Give me an idea to make you laugh and I will give you a world of dreams in which all the pains will be forgotten". Walt Disney.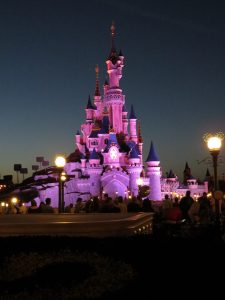 The castle at Disneyland Paris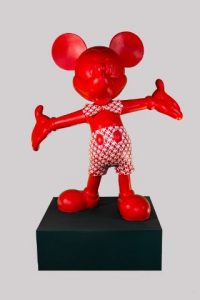 Mickey Mouse by Katell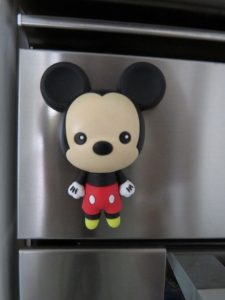 Magnet on my fridge
Cups and small cups for breakfast
Winner of 32 Oscars in 43 years, Disney's true greatness was to understand that people always need to dream, but that it is especially adults who want to renew and perpetuate their childhood; the Disney world, with its favorites and its countless proposals, was (is) the answer, the cure, the ideal recipe.
Mickey Mouse was perhaps his alter ego, his mentor, his self-portrait, optimistic, concrete, always with a smile on his lips.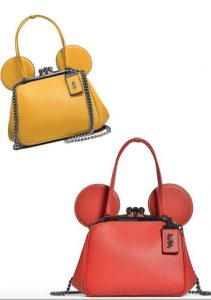 Coach, celebratory bag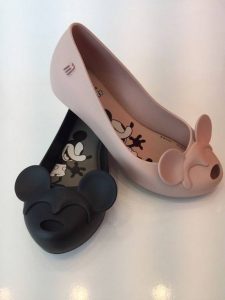 Melissa
Vans
Special Capsule Collection for OVS; for sale from 17th October
Mickey Mouse has a star on the famous Walk of Fame Boulevard, Hollywood. Fiat dedicated a car to him, Cartier a bracelet; Andy Warhol elected him as much icon as Marilyn or his famous soups. David Bowie quoted him in one of his songs. The American troops chose it as a password when in Normandy landed on June 6, 1944.
LOVE magazine, Edie Campbell photographed by Mert & Marcus, 2013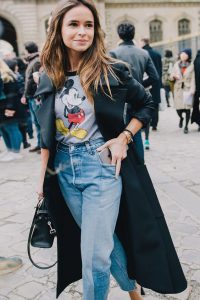 Miroslava Duma 
Pandora
Lacoste Mickey Mouse, capsule collection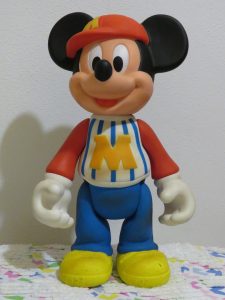 Vintage Mickey Mouse from my collection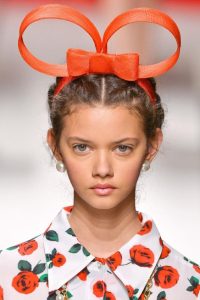 Moschino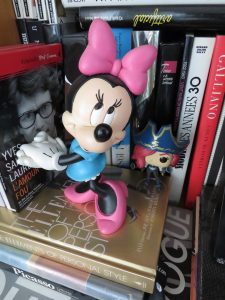 Minnie his eternal girlfriend, from my collection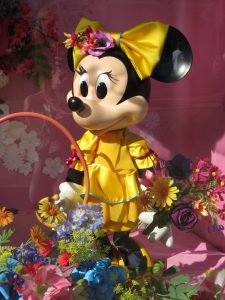 Minnie
Become a pop and fashion icon, with his red shorts, yellow shoes and white gloves, to be recognized even through one of these "symbols".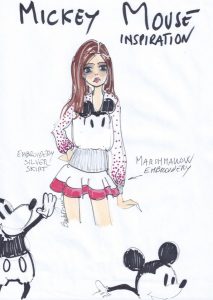 Mickey Inspiration by Beatrice Brandini
Mickey Inspiration by Beatrice Brandini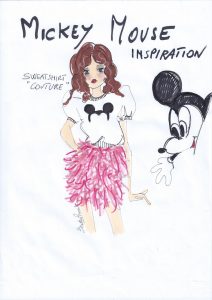 Mickey Inspiration by Beatrice Brandini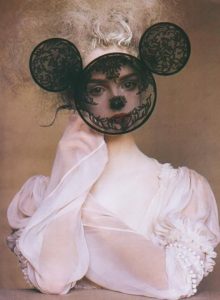 Irving Penn 2005 Ives Saint Laurent, Vogue USA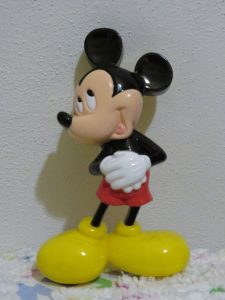 Mickey Mouse
Mickey Mouse always has the impression of one who, in the end, always manages to get by, so we love him and, in every age, he is one of us! Happy anniversary Mickey, a mouse, a star.
Good life to all!
Beatrice