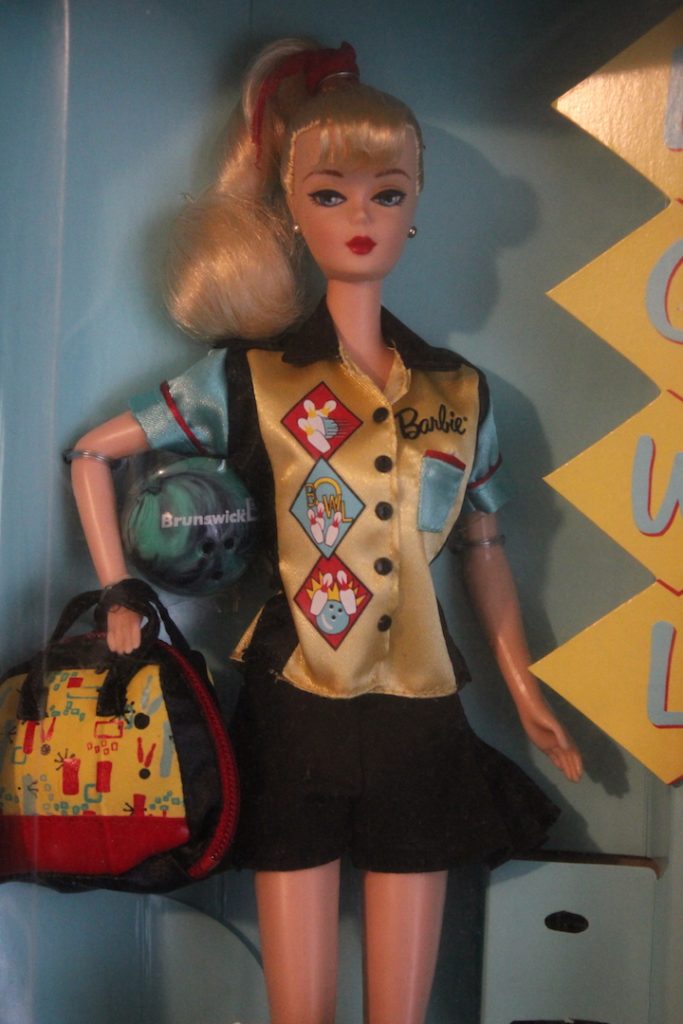 "Barbie Bowl" limited edition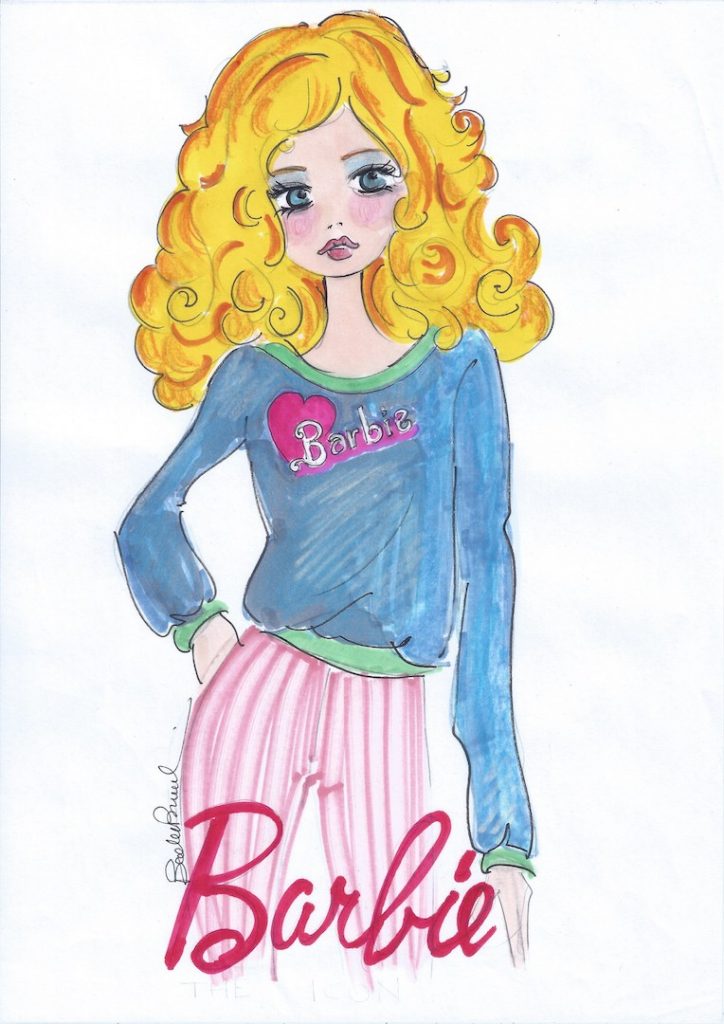 "Barbie" by Beatrice Brandini
The success of the Barbie doll can be attributed to innumerable factors, but I believe that among all there is the fact that this revolutionary doll represents a free and independent woman, with the ability to be light, fun, beautiful, but also self-confident, interpreter of the aesthetic and cultural transformations that characterized the middle of the last century.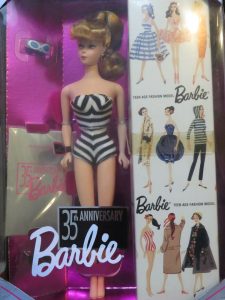 Barbie 1959, special edition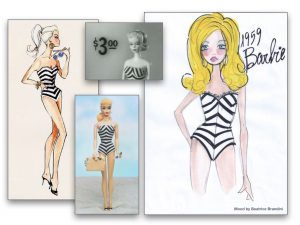 Barbie celebrates a decade, by Beatrice Brandini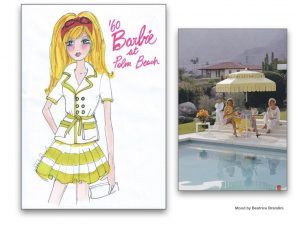 Barbie celebrates a decade, by Beatrice Brandini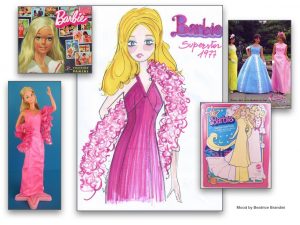 Barbie celebrates a decade, by Beatrice Brandini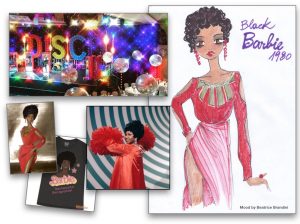 Barbie celebrates a decade, by Beatrice Brandini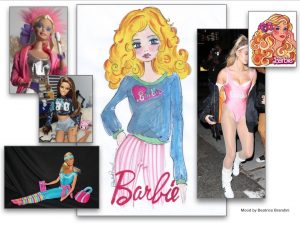 Barbie celebrates a decade, by Beatrice Brandini
Born in Wisconsin in 1959, Barbie's real name was initially Barbara Millicent Roberts, as her inventor, Ruth Handler, seeing her daughter (Barbara) play with paper dolls (often actresses cut out of newspapers), noticed that she invented stories by giving to them a more adult connotation; so he proposed the idea to her husband, Elliot, owner together with partner Harold Matson of the Mattel toy factory (an acronym of the two names of its founders: Matson and Eliott), all the rest is history.
It is estimated that three Barbies are sold per second, with a total amount that is already around the billion sold worldwide.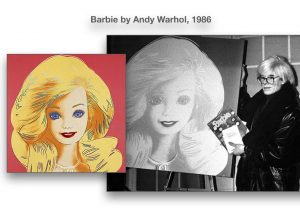 Barbie by Andy Warhol, a portrait commissioned by Mattel in 1986, kept in the Californian headquarters of Mattel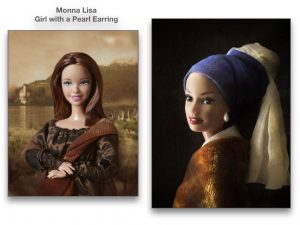 Barbie becomes a work of art
It soon becomes clear that Barbie's destiny could only be full of successes. The doll debuts at the toy fair in New York, accompanied by an unprecedented television advertising campaign. Within a few months it will sell more than 350 thousand copies, with clothes and accessories offered separately.
A revolutionary idea, even if Lilli, a doll produced in Germany since 1955 that recalled Brigitte Bardot, already had some of the characteristics of Barbie, that is it was made of plastic, had adult features, and was 29.5 cm high. For this reason the Handlers bought his patent and within a few years they refined the look up to what they gave to their Barbie.
Claudia Schiffer photographed by Ellen von Unwert for Vogue Italia, 1994
Probably from this shooting, a Barbie is born dedicated to Claudia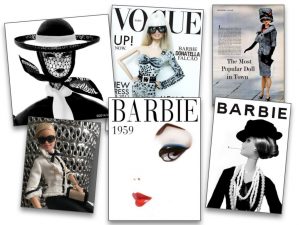 Barbie and fashion
Moschino fashion show with the artistic direction of Jeremy Scott
The first appearance of Barbie is that with the zebra-striped swimsuit and heels, a very glamorous and modern image. From there, there are countless dedicated outfits, crowning her a style icon for girls (and mothers!). Since its debut, at the end of the fifties until today, many designers have lent themselves to create clothes for themselves, many of Mattel's designers who have realized dozens and dozens of wardrobes with assisted accessories, just as if they were collections developed for fashion house.
#MoreRuleModels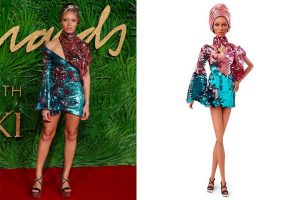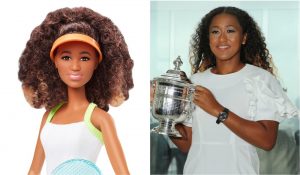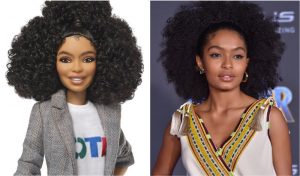 Adwoa Aboah,  Naomi Osaka,  Yara Shahidi with their Barbie
With the term Barbie, she defines herself as a beautiful, almost perfect woman, and despite the fact that in recent years she has often been the victim of controversy and criticism (not always the "politically correct" attitude can be attributed to everything), I believe that this is not at all a negative model for the little girls who love her unconditionally. First of all, in recent years, with #MoreRuleModels, a very important female model is proposed, namely that of the woman who is the protagonist of whatever she decides to do. Introducing girls to stories of women from all walks of life, as a reference model for something extraordinary achieved. Extraordinary women that Mattel honored with a doll in their likeness. Like the one dedicated to the tennis player Naomi Osaka, or to the actress, model and activist Yara Shahidi, to the supermodel and activist Adwoa Aboah, artist Chen Man, etc. etc.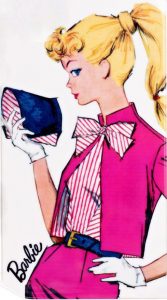 Barbie in a vintage image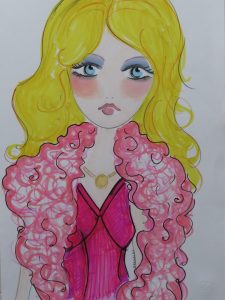 "Star" by Beatrice Brandini
"The philosophy that revolves around Barbie has meant that the girls could imagine doing what they wanted. With Barbie every woman has always known she has endless possibilities. Everything is possible" . Ruth Handler.
It seems to me the best hope that can be wished for a woman…
Good life to everyone!
Beatrice