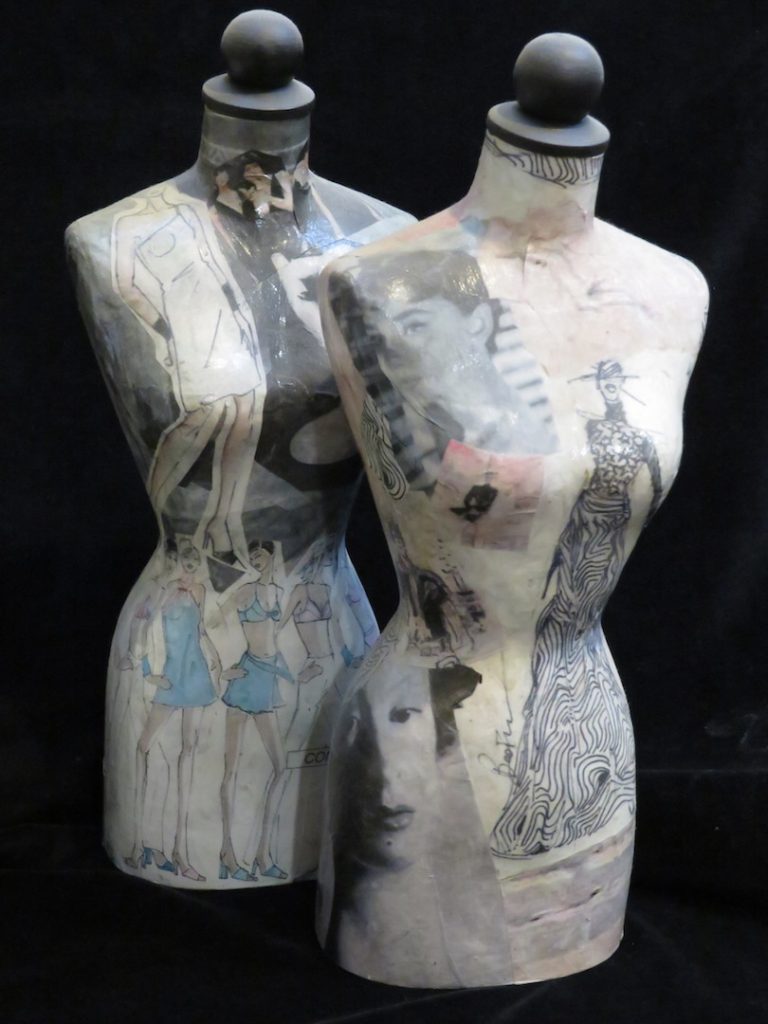 Découpage busts with drawings by Beatrice Brandini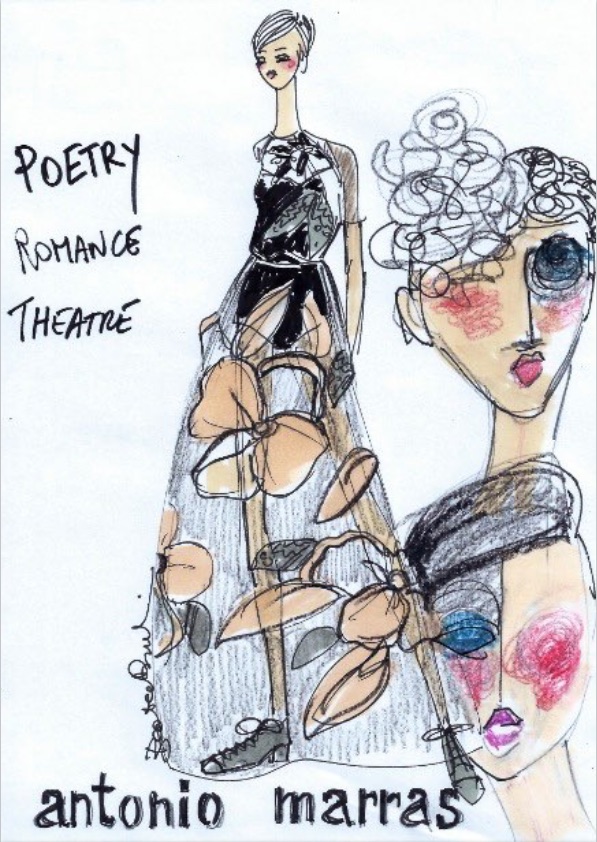 Antonio Marras interpreted by Beatrice Brandini
Here ends my journey over more than a century of FASHION. I am about to make a small book out of it, a sort of manual of costume history a little more modern, for those who love this world unconditionally and deeply.
Fortuny interpreted by Beatrice Brandini
Mariano Fortuny has breathed art since childhood, he devoted himself to painting, engraving, set design and many other forms of applied art. Together with his wife he also created wonderful and very modern dresses, characterized by Greek and Catalan influences, decorated with the beautiful prints by William Morris. His tunics are very famous, "Delphos", impalpable and full of very thin folds. It is to Mariano Fortuny who created the pleating, which he patented way back in 1909. His beautiful Venetian palace, home and atelier, is now home to the Fortuny Museum.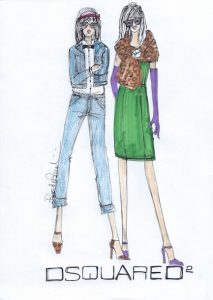 DSQUARED2 interpreted by Beatrice Brandini
Canadian twins working in international fashion since 1984. Their strength is surely to have combined an irreverent taste with the great Italian tailoring tradition. Their fashion is indeed luxurious in an alternative way. Much care is given to details, fabrics, fit, keeping a sexy and fun allure. Collaborations and the link with the world of music are also fundamental, such as those with Madonna, Lenny Kravitz, Christina Aguilera, Ricky Martin, just to name a few. "Born in Canada, living in London, made in Italy".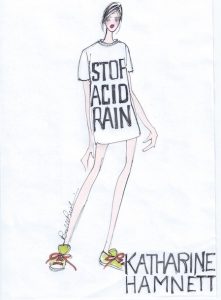 Katharine Hamnet interpreted by Beatrice Brandini
Katharine Hamnet is an English designer who, before anyone else, we are in the eighties, spoke about sustainable fashion, both on the environmental level (she became aware, modifying the production chain, that the cultivation of transformed cotton had a devastating impact on the environment) , both from the point of view of the workers, safeguarding their conditions and their safety. Her most famous creations are those of t-shirts with slogans, a sort of blank sheet on which to express concepts and ideas.
Paul Smith interpreted by Beatrice Brandini
Paul Smith opens a boutique in Nottingham, his hometown, in 1970, offering clothes for various designers but also his creations, something he couldn't find and would have liked to wear. This episode is quite emblematic to understand the philosophy of Sir Smith. Essential dresses, which respect tradition especially in cuts and fabric, with that little touch of eccentricity dear to English custom. Very important have always been the eccentric, often bold, innovative prints, especially in the men's scene.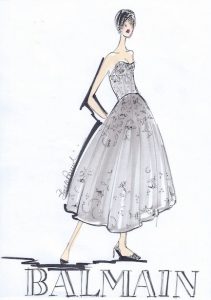 Balmain Interpreted by Beatrice Brandini
Pierre Balmain has dressed princesses, Hollywood divas, aristocrats, women of the international jet set, with its splendid evening dresses that were worn even during the day because for them the glamor was lived 24 hours on 24. Unforgettable images of Cecil Beaton in where his precious clothes were immortalized in a magical atmosphere. Today the young Olivier Rousteing carries on the Balmain philosophy with a renewed and modern creativity.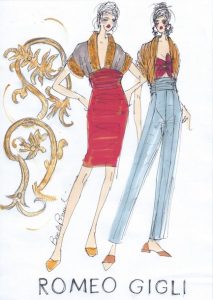 Romeo Gigli Interpreted by Beatrice Brandini
Romeo Gigli was one of the most important and talented fashion creators at the turn of the 80s and 90s. His collections, his clothes, his advertising campaigns were unique, as were his women, ethereal girls out of a fairy tale. East and West met, creating an innovative and perfect mix, never found again, at least not as GIgli realized it. Coming from a family of antique dealers and booksellers, his fashion was nourished by ancient and modern, by culture and history. In 1988, in Paris, at the end of one of his shows, the public stood up in standing ovation and applauded for 20 consecutive minutes.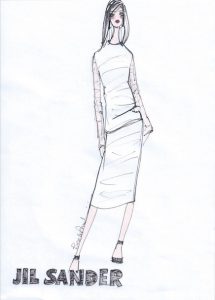 Jil Sander interpreted by Beatrice Brandini
Jil Sander, German designer who loves the minimalist and rigorous style, characterized by neutral colors. He had a special relationship with Italy, we loved his fashion, he always produced his collections here. The brand is now in Japanese hands (with an intermezzo, the acquisition by Prada); many creatives who have been artistic directors after her, but no one has ever come to interpret her style perfectly. His trouser suits are very famous, accompanied by the timeless white shirts. She was thinking of a style for "women with brains", as she herself defined her fashion.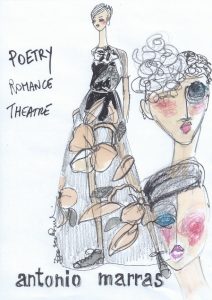 Antonio Marras interpreted by Beatrice Brandini
Defining Antonio Marras as a designer is an understatement because he is an artist in all respects. Many are the influences that give life to his splendid creations: Sardinia (it is an inseparable bond with his land), craftsmanship, the only apparently contradictory link between decorativism and sobriety. His fashion shows are theatrical representations in which the clothes are only the tip of the iceberg, in fact sets, productions, soundtracks, etc., are the work of the artist Marras, and they capture us, accompanying us by the hand in a dream.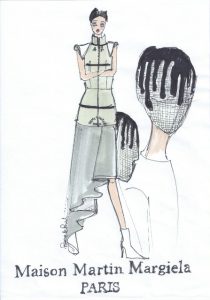 Maison Martin Margiela interpreted by Beatrice Brandini
Martin Margiela, an atypical and independent designer, defined "invisible" for his total aversion to appearing (as opposed to that of most of his colleagues); maniac of the artisan process, he builds his clothes with the same attention and meticulousness of a surgeon in the operating room. Also important is the use of unusual materials in the textile world, applied to clothing as research and experimentation. Today the maison entered the "Only the Brave" group by Renzo Rosso, who called a reborn John Galliano to the creative direction.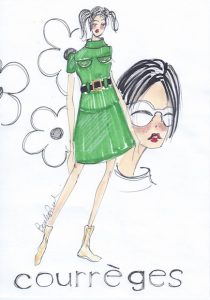 Courrèges interpreted by Beatrice Brandini
André Courrèges was a pilot, an engineer, a rugby player … but above all a designer with a great personality, creator of an incredibly modern futuristic and geometric fashion. Very famous are his ankle boots, his white mini dresses (the paternity of the miniskirt between him and Mary Quant is still debated), accessories like the extravagant glasses, very suitable for a journey through space.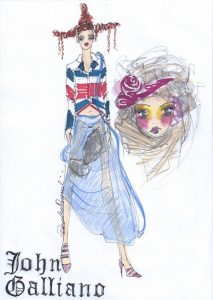 John Galliano interpreted by Beatrice Brandini
John Galliano, an English designer born in Gibraltar, origins that will greatly influence his poetics. His first collection, the one at the end of the course at Central Saint Martins, was immediately bought by Browns, catapulting him towards celebrity. In 1995 his appointment as creative director at Givenchy was announced, succeeding his founder Hubert Givenchy. In 1997 he will go to Christian Dior, where he will re-launch the brand image, upsetting the world of high fashion. An eccentric and excessive character, Galliano imposed a different taste at a time when fashion was minimalist and grunge. Winner of four British designer of the Year Awards. Among the best designers of the last decades. Eccentric and unconventional, romantic and provocative, one of those cases in which a stylist and fashion house blend so well that it becomes a single entity (especially with Dior).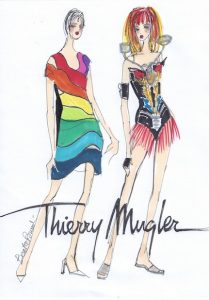 Thierry Mugler interpreted by Beatrice Brandini
Another creative with an explosive and multifaceted personality, as well as an undisputed talent. Designer, photographer (for example, his beautiful images of the advertising campaigns for his perfumes), director (one of the most iconic video clips of the last millennium, "Too Funky" by George Michael). Among the first to use stars in his fashion shows (for example Diana Ross in 1991). Author of a provocative and sexy fashion, absolutely representative of the Eighties / Nineties.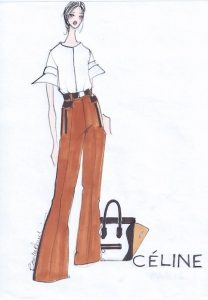 Céline interpreted  by Beatrice Brandini
Céline. Brand born in 1945, initially dealing with custom-made footwear for children, then moving on to luxury leather goods and prêt-à-porter. It has maintained over time that typically French elegance of elegance. Many creative directors in the history of the fashion house, we must remember Michael Kors, Roberto Menichetti, but above all Phoebe Philo, already fundamental with Chloé, to whose guide, especially for accessories, the brand has regained popularity and international appeal.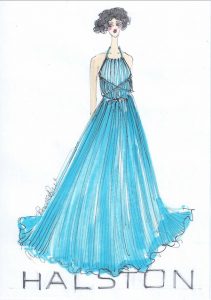 Halston interpreted by Beatrice Brandini
Roy Halston Frowick, but only Halston for his loyal customers, was a man capable of making glamorous that period between the seventies and eighties, in America, representing beautiful and incredibly sexy American women. Able to drape fabrics and create wonderful necklines (the famous halter neckline is practically a his invention), but also to produce simple and essential lines, and to make iconic hats like the one worn by Jacqueline Kennedy during the establishment of the husband. 
I did not mention some brands because I believe that perhaps, despite the fame and considerable turnover, they have not been able to identify their work in such a clear and personal way, at least in my point of view. However it is instead necessary to talk about great creative personalities who often work for important and historical Maison, like that of Riccardo Tisci who for over ten years has been at the helm as creative director of Givenchy; C.P. Company, with their innovative and conceptual casual, but above all with their iconic jackets, copied by many; Chloé, the minimal and timeless French chic; Calvin Klein and Donna Karan, two stylists capable of raising the American taste, advocating, albeit in different ways, an easy and portable lifestyle concept. Designers like Nicolas Ghesquière, Karl Lagerfeld, Hedi Slimane, Jeremy Scott, Raf Simons, Olivier Theyskens …, all great creatives who have imposed their style, raising and generating important turnover from companies that are a bit dusty, giving a lot to fashion and all of us that without it we could not live.
I have always finished my posts with this greeting: "Good life to all!" I hope that it really is for all of you, you who have loved (and soon you can decide to buy) this little fashion dictionary, but above all for you students, full of dreams and aspirations, I really hope to reach the summit of the world that love and that you have chosen, that of fashion!
Good luck and good life to you all!
Beatrice