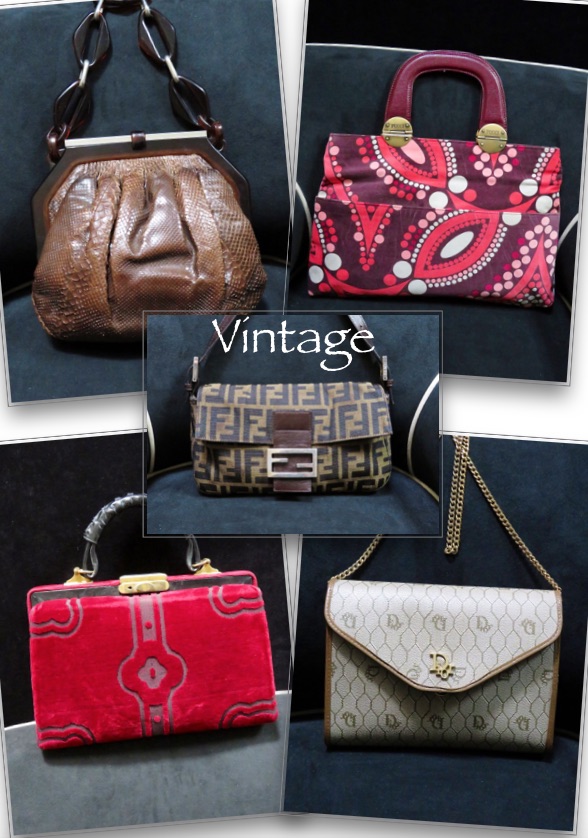 Timeless bags, private collection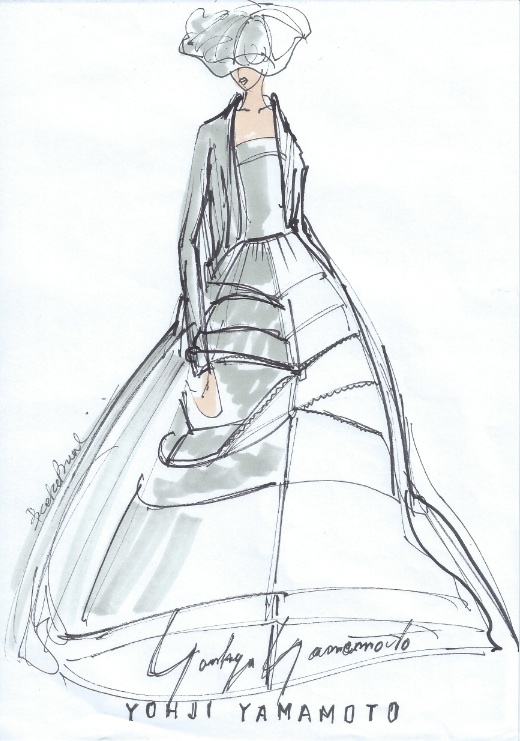 "Icon vintage dress" by Beatrice Brandini
Continue my extraordinary journey through the history of fashion of the last century continues. It is an incredible journey not because I talk about it or illustrate it, but because it characterizes epochs, it accompanies important events, discoveries, results, effects and consequences, such as that of having emancipated the woman, occupying her, freeing her, or simply making her safer than self.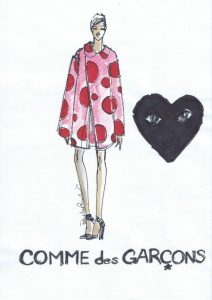 Comme des Garçon portrayed by Beatrice Brandini
Comme des Garçon is Rei Kawakubo, perhaps the most independent designer of all time. She upset the aesthetic standards especially at a time when fashion was glamorous characterized by designer and branded clothes. Her creations break down the boundaries between genres, they do not take into account the proportion of the body understood in the classical sense. Rei Kawakubo leads us to think about fashion differently. Art and experimentation.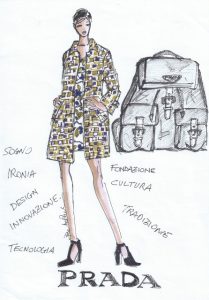 Prada portrayed by Beatrice Brandini
If Comme is Rei, Prada is Miuccia. Tradition and innovation, craftsmanship and experimentation, culture, art, avant-garde, independence. Miuccia Prada has been able to merge all these aspects together to create a brand (but we could also call it a status, both objects with the Prada brand are coveted) personal and strong. Strong above all as an identity, demonstrating that it is not always necessary to repeat an aesthetic to determine a style, but recreating it every six months, remixing the cards on the table, is a difficult exercise, a little complacent, but definitely stimulating and rewarding. The nylon backpack as a daily and contemporary object becomes, thanks to Prada, a must.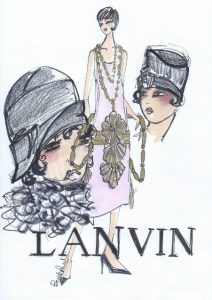 Lanvin portrayed by Beatrice Brandini
A style full of grace, charm and French elegance. Another great woman, Jeanne Lanvin, who at just eighteen created her Maison, leaving it as a legacy to the present day with the same allure of the past. Alber Elbaz (creative director in the last fourteen years) with his poetic fragility, has been able to remain faithful to the style of the maison, getting excited again with his creations in the Lanvin style.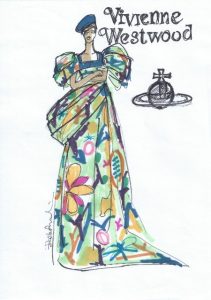 Vivienne Westwood portrayed by Beatrice Brandini
Great artist, feminist, activist, nonconformist, free! Creator of the current "Pirate" and Punk in Margaret Thatcher's conservative England. Beloved by stars and professionals, by loyal customers who wear her clothes with the same passion as her creator. Beautiful evening dresses, corsets, tartan and patchwork patterns, each creation is an artistic expression.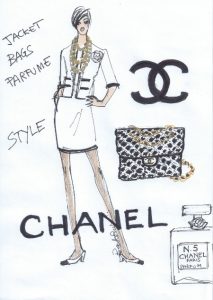 Chanel portrayed by Beatrice Brandini
Chanel, a brand that expresses the identity of a nation and a city, France and Paris, better than anything else. Brand founded by Mademoiselle Gabrielle Chanel in the early twentieth century. To this extraordinary woman we owe the birth of the little black dress (le petite robe noir), of the pearls worn by day, of short hair (alla garçonne), of the tweed suit … but above all of having emancipated women also through their way to dress, more comfortable and modern. He started with a straw hat when the headdresses were feathered and stuffed, he finished with a matelassé handbag carried over his shoulder. Since 1983, Karl Lagerfeld has been pursuing the Chanel philosophy with respect and continuity.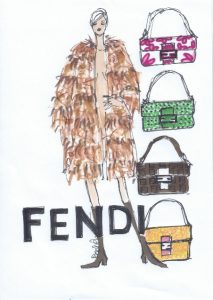 Fendi portrayed by Beatrice Brandini
Fendi or the most beautiful furs in the world. Inlaid, used as a fabric, painted, innovative in style and workmanship. Five sisters who gave away to an empire, started with a small shop in Rome that sold leather products. Far-sighted and generous, they have been working with Karl Lagerfeld since 1965. The baguette is also very famous, a small shoulder bag designed and revisited in multiple versions, one more beautiful than the other.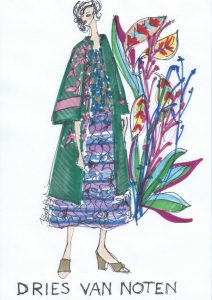 Dries Van Noten portrayed by Beatrice Brandini
Antwerp designer who mixes tailoring, tradition, bohemian taste, experimentation, especially in the use of fabrics. Beautiful decorative exercises that have always characterized his creations. Among the famous sextet of Antwerp, Van Noten is certainly the most portable and the most successful. Great poetry in the fashion shows and collections of this timeless designer.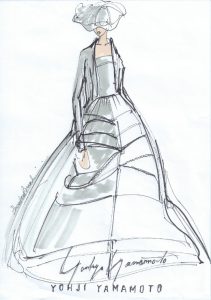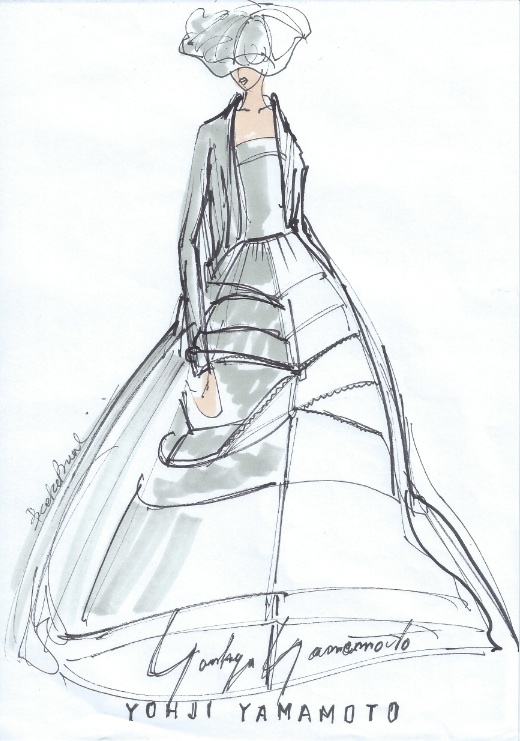 Yohji Yamamoto portrayed by Beatrice Brandini
Yohji Yamamoto is one of the most authoritative and pure designers on the fashion scene. His conceptual and scenographic collections are always very creative and poetic. He has reworked the proportions of the body in a very personal way. The collaboration with Adidas is also important, bringing sportswear into fashion and vice versa.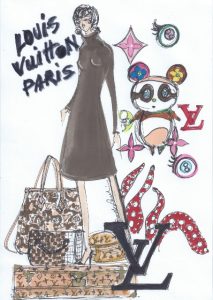 Louis Vuitton interpreted by Beatrice Brandini
In 1854, at the age of sixteen, Louis Vuitton decided to create trunks, the rest is legend. A famous and iconic canvas characterized by the initials of its founder, has already celebrated a century. In 1997 Marc Jacobs became the creative director of this fashion house (until 2013), imposing his personal, decidedly creative taste, and making some models of legendary accessories. He collaborated with designers and artists such as Sprouse, Murakami, Kusama, Koons, intervening with their aesthetics, on the famous canvas.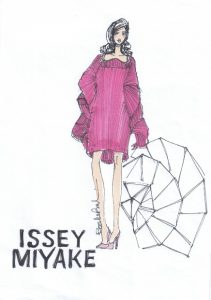 Issey Miyake interpreted by Beatrice Brandini
Japanese designer, pioneer in bringing his fashion to Europe, parading in Paris ten years before Yamamoto and Kawakubo. King of plissé (his Pleats Please line of completely pleated dresses), he has masterfully combined Japanese heritage with Western taste. To underline also the collaboration with Irving Penn, a perfect alchemy between two masters, creations and unforgettable poetic images.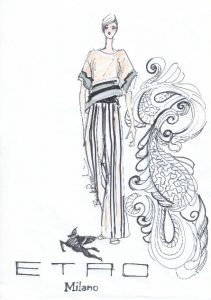 Etro interpreted by Beatrice Brandini
Etro is the suggestion of the journey. Girolamo Gimmo Etro, founder of the fashion house, begins with furnishing fabrics that over the years, for culture, curiosity and mastery, become precious fabrics characterized by an ancient processing technique. In 1985 the Home collection was born, in 1988 the men's and women's lines. The Etro universe, characterized by the Paisley design, that is the decorative leaf motif born in Mesopotamia that recalls the tree of life, mixes tradition and cosmopolitan spirit, dandy and gipsy touches, timeless refinement and modernity.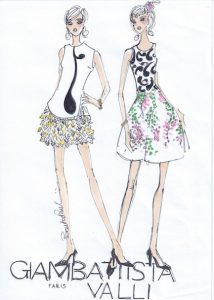 Giambattista Valli interpreted by Beatrice Brandini
Magnificent designer, Giambatista Valli, enchants with his elegant and sophisticated creations. He started from Capucci, then moved on to Fendi, Krizia and Ungaro. In 2005 the debut of his pret-o-porter line that immediately won over the most famous celebrities. Impeccable lines, great creativity, fondness for precious materials and couture details, these are the main features in the collections of this extraordinary designer (artist).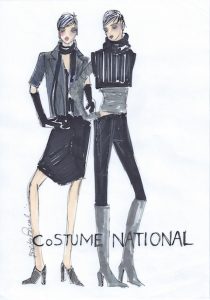 Costume National interpreted by Beatrice Brandini
Ennio Capasa is the founder, along with his brother Carlo, of Costume National, a fashion house founded in 1986. Trained in Milan at the Academy of Fine Arts of Brera, in the eighties Capasa decided to go to Japan where he will work with one of the greatest masters of all, Yamamoto. The collections of this interesting brand are characterized by thin and sharp silhouettes, the use of precious materials, the purity of cuts and a certain predilection for black. It is a rock soul, slightly anarchic, that of the woman Costume.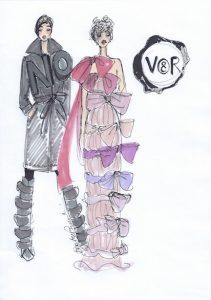 Viktor & Rolf interpreted by Beatrice Brandini
Viktor & Rolf are two Dutch designers with an incredible and highly personal imagination. They met at the Academy of Arts and Design in Arnhem, they never left each other. Their creations are extremely innovative, often characterized by exaggerated volumes and unusual shapes. Lovers of art and theater, as well as of the great couturiers of the past such as Elsa Schiaparelli and Yves Saint Laurent. Winners of numerous awards. Also memorable are their fashion shows that we could call spectacular shows. Recently they have written a book, showing that their imagination and artistic vein knows no limits.
Good life everyone!
Beatrice