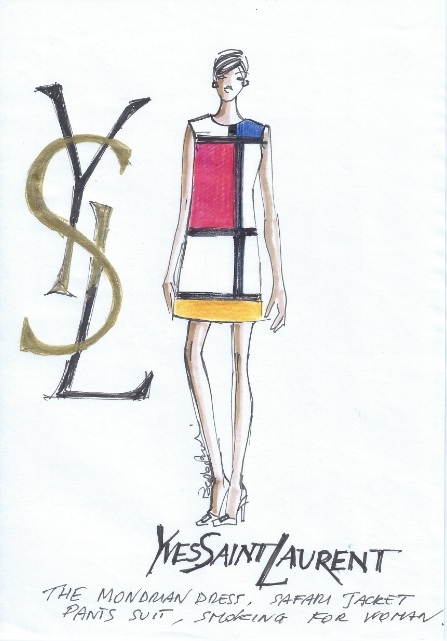 Yves Saint Laurent  interpreted by Beatrice Brandini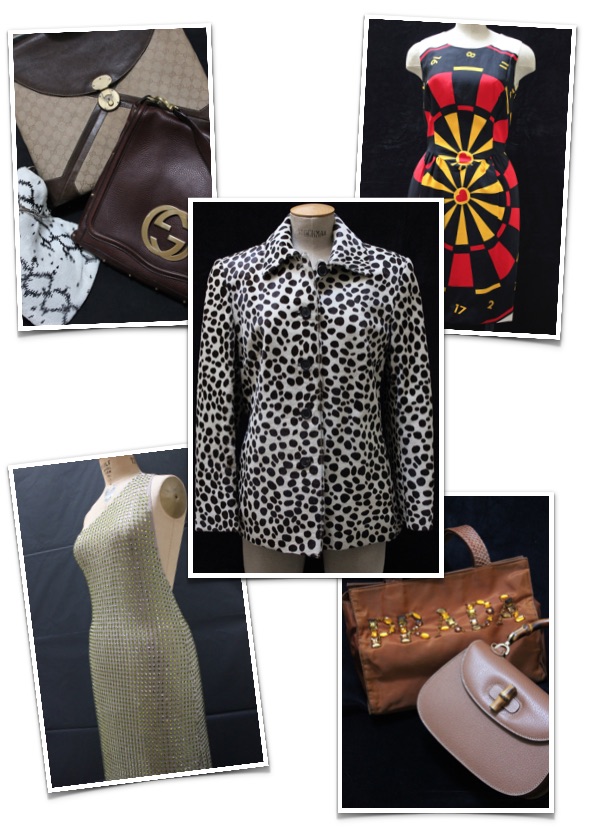 Collage of vintage clothes and accessories from a private collection, photo A.G.
A few years ago my blog was born and my first lighting, my first post (June 2013), spoke of the phenomenon of vintage and the most significant fashions in the history of fashion, or "ICON VINTAGE DRESS". From this idea of mine six years ago, also published on Pinterest and Instagram, I am planning to draw a manual from it, expanding the topic and making it simple and easy to understand, even to those who do not work in the sector, but still follow the passionate fashion.
Every creative, every designer, every brand or historic fashion house, has its own aesthetic vision, a poetic in terms of style. The more recognizable this becomes, the stronger the sign will leave over time, a sort of signature that will inevitably also determine its success by becoming: "THE STYLE OF …"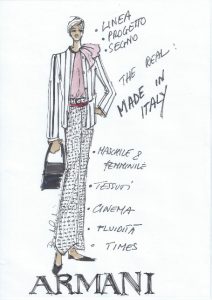 Armani interpreted by Beatrice Brandini
Start with the King, with Armani, a name known all over the world, an export name like Ferrari, Brunello di Montalcino, truffle from Alba, Pavarotti, Fellini or Valentino Rossi. A name that makes us proud and proud, especially abroad. The Armani style is unmistakable, a whispered elegance, never ostentatious. The one who put the blazer on women at a time when they were emancipated (1980s), trying to have the same opportunities as males. Armani has reinvented the jacket, a jacket without infrastructure (also in men), soft, elegant, made of fine materials, but above all, PERFECT constructed.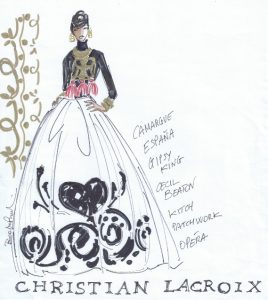 Christian Lacroix interpreted by Beatrice Brandini
Christian Lacroix was one of those designers who stimulated me to do this job. In fact there are creatives that have the power of to inspire you and make you dream, Lacroix was a sort of revelation, seeing his creations, his shows, for me meant loving fashion even more. The creator of high fashion dresses so beautiful and precious that they become pure ART. His collections mixed Provencal influences with the magnificent costumes of the Opéra, to pass by the gypsies of the Camargue. Unfortunately he no longer draws his line, but he lent his extraordinary creativity to important fashion houses like Emilio Pucci or Schiaparelli, leaving us a little less orphaned of such beauty.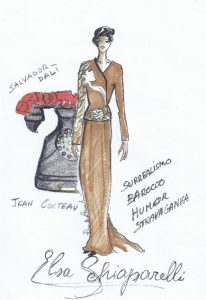 Elsa Schiaparelli interpreted by Beatrice Brandini
Even Elsa Schiaparelli (it was one of my first posts and one of the most successful ones!) Is my great love. Her collections were characterized by a constant and happy contamination between art and fashion. In fact he collaborated with the greatest artists of the twentieth century, many surrealists. She made her main characterization of astonishment and of the "coup de théâtre". They were clothes but could be called sculptures, paintings, illustrations. The dress I sketched was born from a drawing by Jean Cocteau, a masterpiece! Creative also important as a free, emancipated and courageous woman.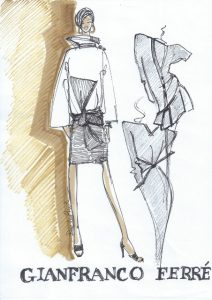 Gianfranco Ferré interpreted by Beatrice Brandini
Gianfranco Ferré, the fashion architect, his collections were beautiful style and "engineering" exercises. His white, impalpable shirts, fluttering like corollas, were pure poetry. The first Italian exporter, the first to collaborate with a historic French luxury house, Dior, in years when this had not happened yet, opening the doors to all the other Italians (Tisci, Valli, Pilati, Dell'Acqua, Zanini, etc.). He left a void never filled.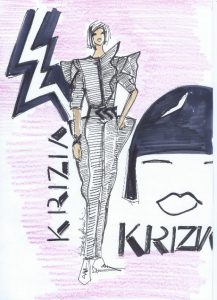 Krizia interpreted by Beatrice Brandini
Mariuccia Mandelli, aka Krizia, was one of the first female protagonists of fashion and of the "Made in Italy". A lover of plissé, of leather treated like a fabric, of prints, of zoo and animalier illustrations, one that understood in advance the potential of accessories to complete a dress. An experimenter, one of the first to create a lifestyle concept "signing" hotels and products not exclusively related to the world of fashion.
In all this time, also due to personal passion being first and foremost a vintage fashion collector (several years before this term was abused), I have studied this theme considerably, trying to remember the most unforgettable clothes in the history of fashion and the poetry of the most important Maisons, tracing, through a sketch, their vision, their taste, their style project.
I hope this post can serve as an inspiration for all those who study in the field of fashion, work with it or simply love it, a form of expression very close to art.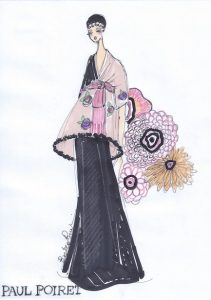 Poiret interpreted by Beatrice Brandini
Paul Poiret, one of the first great couturiers of the twentieth century with a well-known atelier also outside the French borders, the first "designer" in the modern sense. Creator of clothes but also of accessories, perfumes, furnishings (we are in 1910!). The first to advertise with his sketches, the first to make itinerant shows, but above all the one who freed women from nineteenth-century corsets, creating fluid, soft, draped dresses. With Paul Poiret we can say that fashion became modern and that from then on it never came back.
Valentino interpreted by Beatrice Brandini
Valentino Garavani, simply Valentino, was one of the first Italian designers to dress the international jet-set, among his most important (and elegant) clients was the splendid Jacqueline Kennedy Onassis. A lover of luxury, of perfection, with him the Italian Haute Couture has redeemed itself, becoming famous and loved everywhere (before him high fashion was almost exclusively the prerogative of the French). Beautiful historical clothes in which women have always felt like princesses. Valentino is also known for creating a shade / shade of red, to be called "Valentino red".
An additional note should be put in favor of Pierpaolo Piccioli and Maria Grazia Chiuri who, after a long experience in Fendi, came from Valentino to develop the accessories. Always together, only a few years later, creative directors were appointed. From 2016, the year of Chiuri's release, Pierpaolo remained to design the collections, becoming its creative director. Valentino, has had a new course, more modern and conceptual, really very interesting.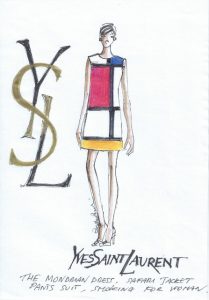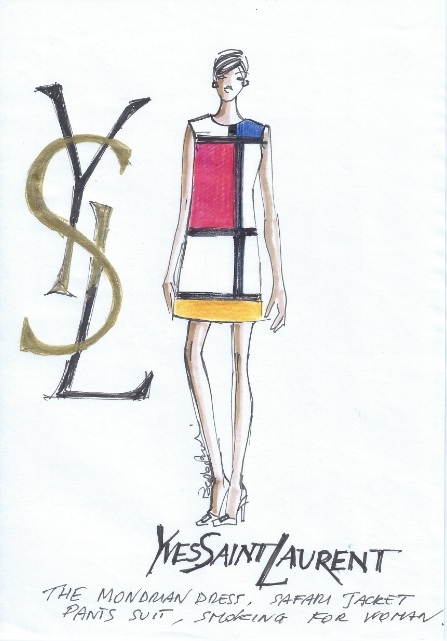 Yves Saint Laurent interpreted by Beatrice Brandini
Yves Saint Laurent was one of the undisputed protagonists of fashion in the twentieth century, loved and respected by all other colleagues (I believe there is no greater consecration). He started with Dior, of which he became creative director, and then founded his own fashion house in his early twenties. A great innovator, in his dazzling career he created almost everything, and almost everything before the others. The male tuxedo for women; the love for art carried in clothes (the Mondrian dress, the one in my sketch, like the other tributes to Picasso, Braque or Matisse); the female trench coat; the Saharan Africa; the trouser suit; the nude look; ethnic contaminations … He was the first living designer to whom a museum, the Metropolitan of New York, dedicated a beautiful retrospective.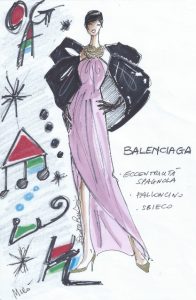 Balenciaga interpreted by Beatrice Brandini
Balenciaga: an other very good couturier who was able to break the mold by creating something new and absolutely interesting. His are the first balloon shapes, the lace adopted in multiple versions, the suit without a belt, the hoods etc. etc. Able to beautifully mix the French elegance of the fifties, with art and its Mediterranean origins. He made high fashion pure artistic expression, as much as a good painter or a skilled sculptor.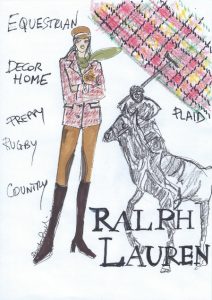 Ralph Lauren  interpreted by Beatrice Brandini
Ralph Lauren: American designer who has created, perhaps first of all, a glamorous, elegant and sophisticated lifestyle concept, redesigning the American style. Strong sports extraction in Ralph Lauren collections, not only in those dedicated to Polo, Rugby or the sea, but also in pret-a-porter. Often his creations are inspired by the holidays of rich Americans, whether they are spent in New England, or dedicated to a safari in Africa or New Mexico, it doesn't really matter, they always maintain a very sophisticated and absolutely distinctive allure.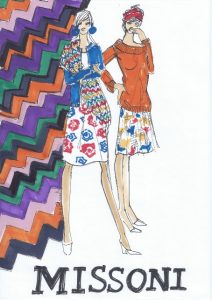 Missoni interpreted by Beatrice Brandini
Missoni has always been synonymous with knitwear, colorful, inlaid, jacquard with incredible designs, a magic sweater. Famous throughout the world for their knitwear and not only, they have known a huge success since the seventies where America discovered them and never left them again. They designed costumes for La Scala and made other very interesting things, for example in furnishing, customizing with their unmistakable taste and imagination, carpets, sofas, ottomans.
I am convinced that it is fundamental to study and learn about the subject of our studies, of our work, of our love, especially through its past. This applies to fashion as well as to music, cinema, art, design, but also to scientific and technological sectors. Yesterday's creations and discoveries must be an inspiration, a guide and, why not, a challenge for the present and the future. But without knowing the story well it is more difficult to say or do something new. Looking at the past does not mean nostalgia, but culture and respect.
Returning to the main topic of this post, that is the protagonists of fashion from the early twentieth century to today, we can talk about style by citing the "conceptual" of Comme de Garçon, the "magic knit" of Missoni,  "the romantic dreamlike" by Marras, "the elegance" of Armani, "the architectural planning" by Ferré, "the irony" by Moschino, the "Mediterranean femininity" by Dolce & Gabbana, the "timeless romanticism" by Ferretti …  It is even those who, through a nuance of color, have created their trademark, associating their name to it and becoming their adjective, like "the red Valentino", "the greige of Armani" (acronym of gray and beige), "the shocking pink" by Schiaparelli.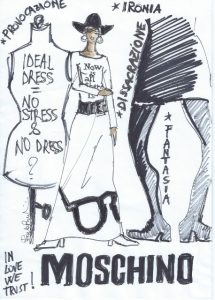 Moschino interpreted by Beatrice Brandini
Moschino: Ironic and irreverent, he played with fashion by taking it and making fun of himself. But also capable of launching ethical (and moral) messages on important issues, while maintaining ingenuity and lightness (see his campaigns on the environment, on religion, on sex, on the "power / dependence" of the fashion system, etc.). Famous are his fashion shows for the playful and playful climate, as well as the shop windows in the first store in Milan, true stage sets. Wearing a Moschino garment is a bit like returning children, having fun with fashion and with yourself.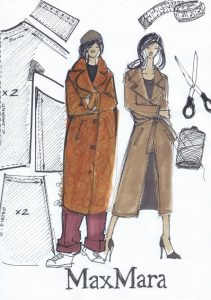 Max Mara interpreted by Beatrice Brandini
Max Mara is a historic Italian fashion house, famous above all for its beautiful coats, for the quality and tailoring of its creations. Founded by Achille Maramotti in 1951, during its history it counts among its young collaborators names like Karl Lagerfeld, Jean Charles de Castelbajac, Dolce & Gabbana, Narciso Rodriguez … Present in 90 countries, for some years it has declined collections in many lines , covering the needs and demands of women at 360 ° (the first Max Mara line, then the more sporty Sportmax, PennyBlack target young, Weekend Max Mara sport leisure ..). Maramotti was a great collector, his magnificent collection of contemporary art is visible to everyone in the Reggio Emilia Foundation that the same entrepreneur, enlightened and generous, wanted to share with his city and the whole world.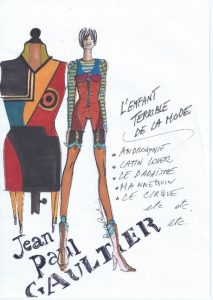 Jean Paul Gaultier interpreted by Beatrice Brandini
Jean Paul Gaultier defined at home "the enfant terrible de la mode" for his irony, his theatrical taste, his irreverence towards dogmas that sometimes also influence the world of fashion. He has collaborated with important directors such as Peter Greenaway, Luc Besson, Pedro Almodóvar, designing the costumes for their films, as well as artists such as Madonna (his conical bra is very famous for the "Blond Ambition Tour"), Marilyn Manson, Kylie Minogue. His Haute Couture line is also beautiful and amazing.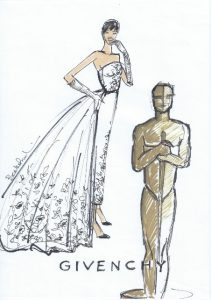 Givenchy interpreted by Beatrice Brandini
Givenchy is one of the most famous fashion houses in France. Founded by its creator Hubert de Givenchy in 1952, it made its distinctive and elegant style refined. After the retirement of its founder and mentor, there have been important creatives such as John Galliano, Alexander McQueen, to arrive in the hands of the very Italian and talented Riccardo Tisci, creative director of the maison for over 11 years. It is also important to remember his most famous testimonial, including the unforgettable Audrey Hepburn, who also thanks to the film Breakfast at Tiffany (and his little black dress), exported it internationally. My sketch instead pays homage to the splendid evening dress that Audrey Hepburn always wore for "Sabrina", winner of the Oscar for best costumes in 1955.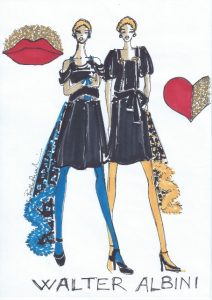 Walter Albini interpreted by Beatrice Brandini
Walter Albini was one of the most important Italian designers, unfortunately he disappeared too soon because he could have the recognition he deserved and the fame that would surely have taken him much furthe. Brilliant, excellent designer, perfectionist, lover of the early twentieth century and of his elegance, Albini has changed the rules of fashion, from fashion shows, to the first advertising campaigns, to the design of a total look, creating the foundations of what we could define prêt- à – porter as we know it now.
The first part of this infinite and fascinating topic ends here. In the coming weeks I will continue to tell you about twentieth-century fashion through its protagonists.
Good life to everyone!
Beatrice