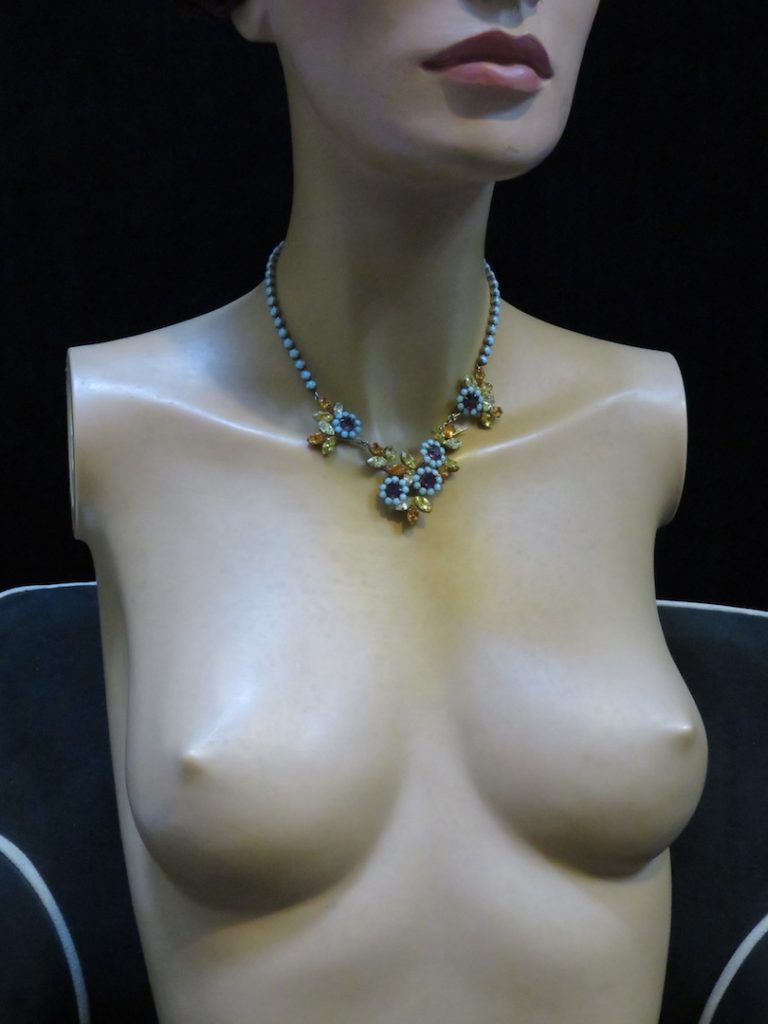 "Dummy with necklace" private collection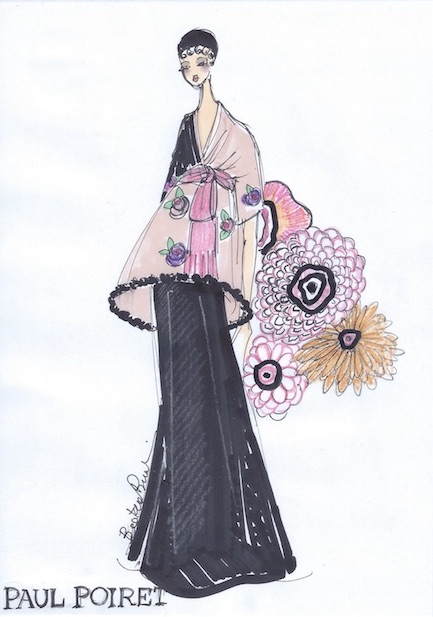 Paul Poiret by Beatrice Brandini
Here starts my journey that tells about designers, fashion houses and the most iconic clothes they have crossed the last century up to the present day.
There are clothes that alone have become a duty in the history of costume, in museums, in collections, in the dreams of all the people who love fashion and this work. Becoming testimony of an era, not only for taste and aesthetics, but also for "uses and consumption", that is the expression of society. To give some examples, at the beginning of the twentieth century Poiret, Vionnet, and subsequently Chanel, freed women from the corset, decreeing the beginning of a more fluid, comfortable fashion, MODERN. Then in the sixties with the sexual revolution, the miniskirt by Mary Quant. At the end of the seventies, Vivienne Westwood's extravagant creations and street punk in Thatcher's London. The hedonistic boom of the 1980s, with paninaries and their aesthetic codes through Timberland and Moncler. The Nineties and the hegemony of the LOGO as social redemption; all these are just a few examples.
Alberta Ferretti interpreted by Beatrice Brandini
In her long career Alberta Ferretti has created clothes that are very romantic, feminine, impalpable, to be recognized and loved by woman all over the world. In fact, many of her famous clients (not testimonials, very important differences) are looking for a refined, whispered femininity, made of elegance and romanticism. Very good at using precious and "difficult" fabrics like organza or chiffon for her incredible evening dresses; her collections are characterized by a mix of innovation and tailoring work of the past.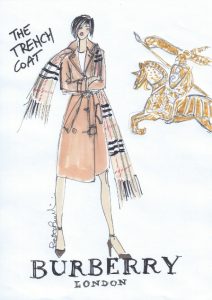 Burberry interpreted by Beatrice Brandini
Historic English brand characterized by the unmistakable and extremely copious check, or the check pattern (tartan). His fame is mainly linked to the trench coat, the same worn by Humphrey Bogart in Casablanca, what has always been in the wardrobe of all those people who love a timeless "British" elegance. For some years he has known a new youth and popularity thanks to his creative director Christopher Bailey, who gave the brand a modern and very glamorous touch.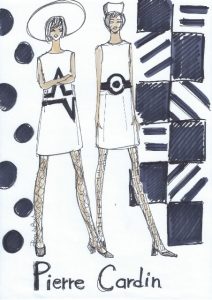 Pierre Cardin interpreted  by Beatrice Brandini
An Italian-born designer, he was an innovator in colors, materials and shapes. Expert in geometries, unisex fashion, optical and a futuristic and spatial avant-garde concept. Pierre Cardin exported his fashion to Japan, opened stores in many countries, bought restaurants (among them Maxim's in Paris), first linked his name to food, designed design objects, etc. Also famous are its beautiful houses, often the scene of parties and cultural initiatives.
Gucci interpreted by Beatrice Brandini
Fashion house founded in Florence by Guccio Gucci in 1921 which initially developed only luxury leather goods. Some of his accessories have become true icons, characterizing the fashion of the 20th century. The Bamboo Bag, bag with Bamboo handles, moccasins with a clamp, the floral print created for the "Flora" scarf by Grace Kelly. Throughout its history, many international Jet Set characters have worn Gucci creations, such as Maria Calllas, the Duchess of Windsor Wallis Simpson, Jackie Kennedy, etc.
I chose to dedicate two sketches to this Maison, one interpreting two Tom Ford creations since it was, together with Domenico de Sole, the promoter of the relaunch of this historic brand. Ford has made Gucci much more glamorous, amplifying its international success. In this interesting revival, the testimonials, like Madonna, and the beautiful advertising campaigns protagonists of the association with Mario Testino were also important.
The other sketch sees in the foreground the creations (visions) of his new creative director, Alessandro Michele. Gucci is experiencing a particularly happy period just under his artistic direction, turnover is growing, media attention has never been so morbid towards the brand. Michele has reinvented the Gucci style, with its excesses, mythological and fairy-tale contaminations, creating a very personal aesthetic vision.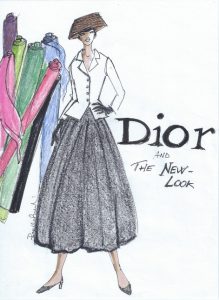 Christian Dior interpreted by Beatrice Brandini
Christian Dior has the merit of having revolutionized fashion between the Forties and Fifties with the "New Look", that is a new concept of elegance and femininity thanks to the enhancement of women's waistline, its aesthetic codes were small jackets, thin with rounded shoulders and 3/4 sleeves, combined with flared and midi skirts. Dior used fine fabrics; he gave the same importance to clothes and accessories, convinced that they had a fundamental role to complete a look. Finally, it is also important to mention the name of his dolphin, a certain Yves Saint Laurent. In the last thirty years many great designers have succeeded each other at his helm, from the unforgettable Gianfranco Ferré to John Galliano, from Raf Simons to the talented, first woman creative director in the history of the maison, Maria Grazia Chiuri.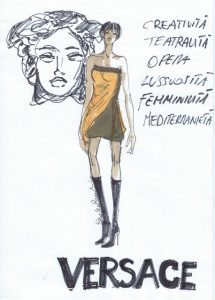 Versace interpreted by Beatrice Brandini
Gianni Versace has been able to translate his personal passions into an unmistakable style, such as love for Magna Graecia, baroque opulence, theater, Léon Bakst, Miami, music and much more. Able to enhance women with sensuality and pride like no other, thanks also to advertising campaigns with the greatest photographers in the world, from Avedon to Meisel, from Testino to Ritts, and it is thanks to him that the top models of the 90s they entered the collective imagination replacing the actresses in dreams. He has collaborated with La Scala and the Piccolo Teatro of Milan, working with choreographers like Béjart. Brava Donatella Versace to carry on her brother's dream and talent by not betraying the style of her debut.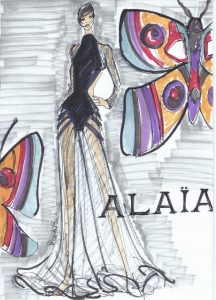 Alaïa interpreted by Beatrice Brandini
We could define Azzedine Alaïa as the sculptor of fashion, her clothes were often a second skin, but without knowing vulgarity. His woman is strong and aware of her body, but in a feminine way. Inventor of a knit in jersey that has been able to shape creating beautiful creations The popularity and esteem of the experts in their work has always been immense, although he has always been shy and reserved. He presented his collections outside the official calendar of fashion shows, because he thought that the creative project could not be forced to calendars that were too tight or simply customary.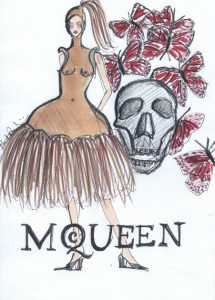 Alexander McQueen interpreted by Beatrice Brandini
Alexander McQueen has succeeded in just a few years has left such a clear mark that he will be remembered forever. Provocative, convinced that provoking a reaction was absolutely fundamental. In his creations we find fetishism, a somewhat gothic, English, sartorial, anatomical, zoological, anthropological taste. His fashion shows, his collections suitable for being in a museum of costume history, as creative as they are exciting. Really a genius!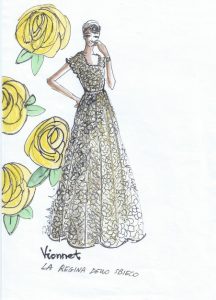 Vionnet interpreted by Beatrice Brandini
Another talented creator, Madeleine Vionnet, who has always thought and created a fashion for women. She banished the busts and shortened the hems. Her geometries are famous and above all the revolutionary clothes cut on the bias. worn by the most beautiful Hollywood divas, like Jean Harlow.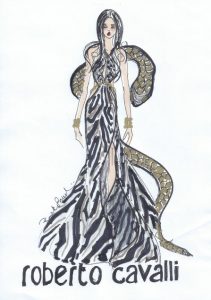 Roberto Cavalli interpreted by Beatrice Brandini
Roberto Cavalli made his debut patenting a method of printing on leather. His fashion has always been sensual and feminine, close to the concept of woman he loves. The patterns were also very important, especially the animalier ones, the true leitmotiv of his collections, and the patchwork on the leather. For Cavalli fashion must be a dream, that's why everything is perfectly aligned with this philosophy of beauty and light ostentation.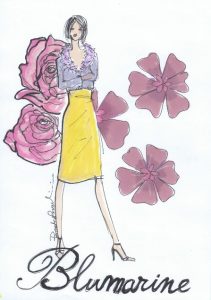 Blumarine interpreted by Beatrice Brandini
Brand founded by Anna Molinari and Giampaolo Tabarini. Synonymous with a feminine style, romantic, full of grace. Flowers, in particular roses, have always been protagonists in the Blumarine collections, especially embroidered, or with splendid jacquard effects, on knitwear. Blumarine is designed for women in their everyday life, beautiful and wearable, just like her creator, who was able to combine creativity and beauty with a strong entrepreneurial spirit.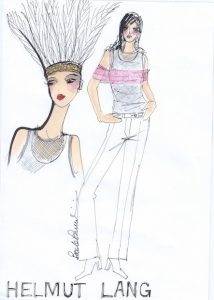 Helmut Lang interpreted by Beatrice Brandini
Helmut Lang at the turn of the nineties – two thousand years clearly influenced the costume with his sporty, minimal and contemporary style. Lang's stylistic codes were expressed both in women and in men, one of the first to have women and men parading together. His collections were not influenced by trends, but by a strong personal taste and the desire to experiment.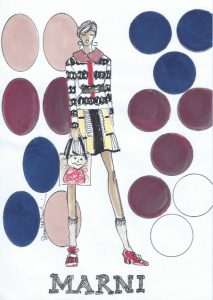 Marni interpreted by Beatrice Brandini
We cannot talk about Marni without mentioning the one who over the years has been able to give this brand an unmistakable mark, Consuelo Castiglioni. The Marni aesthetic is nonconformist, independent of trends, conceptual, modern. Beautiful patterns, overlapping fabrics and colors. A timid woman, apparently naive, that of Marni, in reality aware and free, who does not want to please anyone except herself.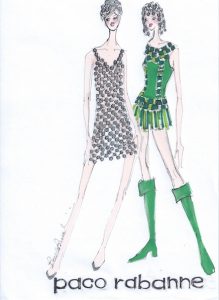 Paco Rabanne interpreted da Beatrice Brandini
Designer of Spanish origin, he was one of the first to use unconventional materials such as paper, plastic and above all metal, already in the 1960s. His metal mesh was held together by rings, no longer with needle and thread. He was the first designer to use black models in high fashion and music as the background of his fashion shows. He desired to democratize fashion, so he used "poor" materials, and at the same time wanted shock the still conservative public. The metal mesh costume designed for Jane Fonda in the film Barbarella is very famous, as also the one made in gold foils for Françoise Hardy.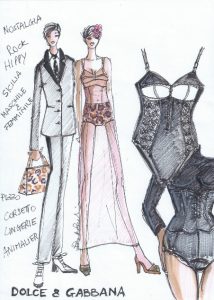 Dolce & Gabbana interpreted by Beatrice Brandini
Domenico Dolce and Stefano Gabbana have known, in a very short time, to create a brand with a strong and very recognizable identity. Few but essential are the cornerstones of their style, Italianness understood as feminine pride and territory; corsetry (underwear as the petticoat), worn externally and with pride; the fifties glamor that expressed a very strong and "healthy" idea of femininity; tailoring, attention to detail, use of embroidery and applications that transform even the Pret – a – Porter 's clothes into high fashion creations; the origin of one of the two designers (Domenico Dolce and Sicily), as a starting point for a 360 ° aesthetic.
This second part ends here too, in the coming weeks I will publish the third post. I hope I have excited you by telling you about what I love, fashion, friend, companion, an integral part of my life.
Good life to everyone!
Beatrice