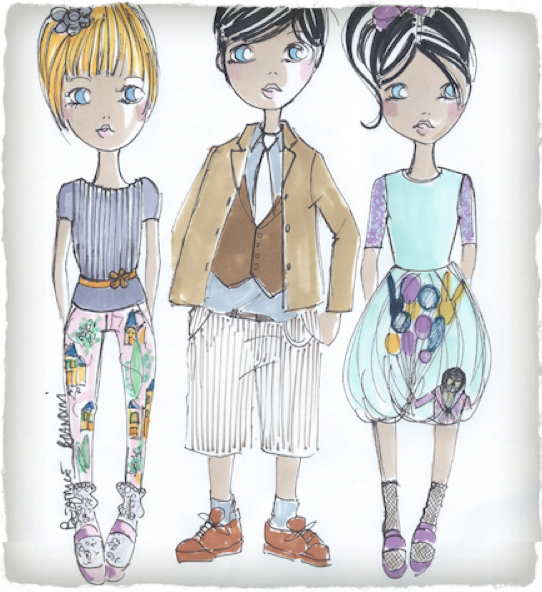 "Children" by Beatrice Brandini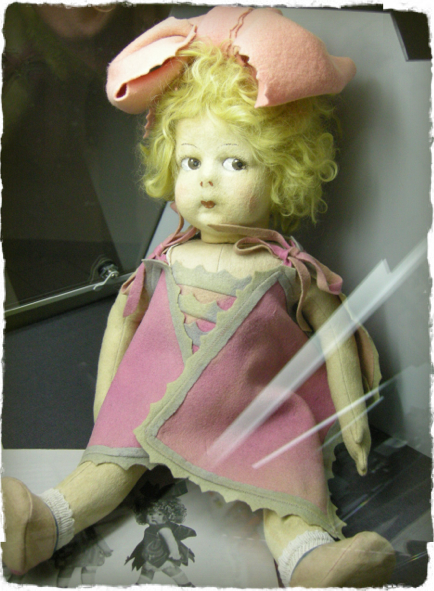 Lenci doll
The children are our future ….
The childrenswear has always been a passion of mine, over the years I have designed many things for kids, but never what I wanted …. Design clothes for children allows you more freedom, because, although you should still follow the codes, dynamics, timing … the study of this universe allows you "fantasy flights", and you think, when you were little.
From some research suggests that the crisis has not spared even this wonderful industry. But as always I like to think and highlight only the positive and optimistic things, as for example that the crisis calls for spending in a more targeted way that compulsive (and is good), that you do not create anything without research and then the ' Italian excellence in children's certainly have more skills (quality and style in the first place), compared to low cost competitors or exclusively production Made in China .
I produced 4 trends children Mood Board for the upcoming Spring / Summer 2015, and are just a "taste" .
These issues are the result of what I see, feel and imagine fot the future ….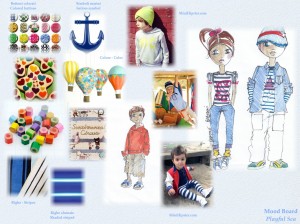 The first theme is Playful Sea – Mare Giocoso
A colorful theme, playful and optimistic.
The colors are ringing and vitamins. The shapes are almost unisex; ever green stripes  and print with marine; also accessories are inspired by the nautical world as anchors, floats, ropes or knots seamanship; fabrics such as denim and washed cottons, jersey. Bomber jackets and wax jacket are the outdoor in this theme.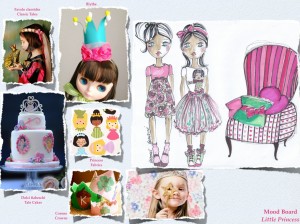 The second Little Princess – Piccola Principessa
A theme for girls, each of them, just like their mothers and grandmothers, has dreamed,  at least once, of being a princess ….
The colors are romantic, lots of pink, candy, and floral, always on the bright tones. The forms are female, mostly dresses, skirts, corolla dresses, with the waist well marked and highlighted. Important are the accessories, such as grosgrain, satin used as tape, lace, ruffles …. Used increasingly as a particular (belt, straps, hem ..). Fabrics like tulle, satin, organza, but also lightweight jersey, cotton viscose for brilliant effects. But everything always played down by a touch of modernity (thanks to prints, fabrics, colors). It is not the helpless princess or asleep, but she is a princess witty and "rock".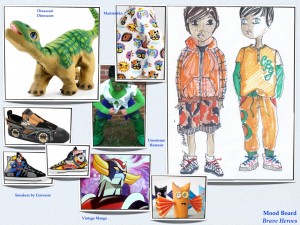 The third theme Brave Heroes – Eroi Coraggiosi
This theme is dedicated to the boys. That, like the princesses, dream of being heroes, thanks to cartoons and movies that increasingly shows film adaptations of superheroes (Superman, Thor, Iron Man …).
The theme is colorful, enriched with all-over prints, or from applications that refer to the world sporstwear lifestyle. There is an ironic component, mainly due to the prints. Summer colors, orange, electric blue, banana yellow, mint green and green jasmine. Jersey fabrics, fleece washed terry, nylon. Always sneakers!
The last theme is Vintage Tales – Racconti d'epoca
The last theme is "timeless". Colors, styles, fabrics recall the past. But it is a past without nostalgia, just as a refuge. In a nutshell a modern Bon Ton.
Dusty and vintage colors, lilac, wisteria, powder blue, pastel blue, but also rope, putty, off-white. Important are the processes, such as pleats, lace or embroidery crochet, often present only as a detail. The prints are those of fairy tales, fictional and dreamlike characters, featuring leggings, t-shirts, touch of clothes. And summer fabrics such as linen, organza, silk wash, but always mixed with jersey or stretch gabardine, just to create a mix between ancient and modern, between elegant and sporty.
We also remember "the children are watching us ….."
Good life to all!
Beatrice