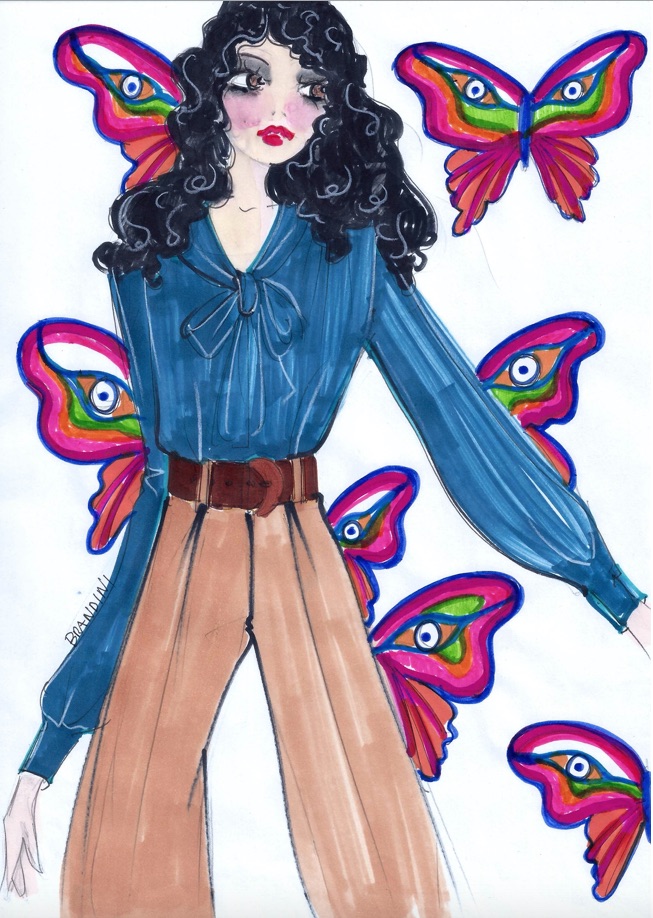 "Leonora" by Beatrice Brandini
Detail from "Semaine", by Leonora Carrington
Leonora Carrington was a magnificent painter, the artist that Salvator Dalí called the most important surrealist female artist, but this definition was narrow to her and in fact, throughout her life, she tried to be simply an artist, without distinction of gender.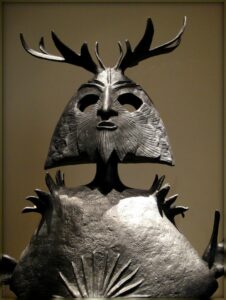 Sculpture by Leonora Carrington
Carrington has been drawing since she was a child, filling sketchbooks and for this reason, we are in the twenties and thirties, she is often defined as strange and bizarre. Her temperament, little inclined to the rules (she will be repeatedly expelled from many schools), accentuates this discomfort. Even her wealthy family would like her to be sensible, docile, dedicated to activities such as dancing and horse racing. But Leonora will have other projects for herself …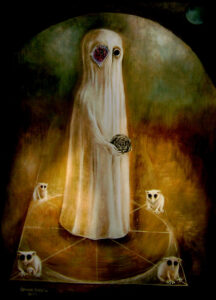 "The Ancestor",  by Leonora Carrington
She will study art in Florence, and then migrate to London, where the meeting with the already famous Max Ernst will affect much of her life. They fall in love, despite the age difference and the fact that he was not free, and it will be an overwhelming and important love. He will introduce her to the environment of the surrealists, where Leonora will finally find her world, made up of irrationality, poetry and fantasy.
From London they will move to Paris, where she will sell her first painting to another very special woman, the eccentric Peggy Guggenheim.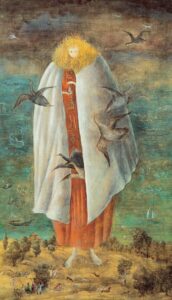 "The Giantess", by Leonora Carrington
Unfortunately Ernst, of German origin, will be deported and Leonora will try in vain to save him. This pain will become a sense of guilt, so much so that she is interned in a psychiatric hospital.
With Ernst they will meet again later in New York, but will no longer want to be neither muse nor companion. But it will be Mexico that will save her, here she will become mother and here will be born her works more beautiful.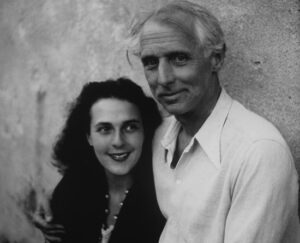 Leonora Carrington and Max Ernst
The Venice Biennale has chosen The milk of dreams,  fairy tales written by Leonora for her children, as the leitmotif of this edition, and her curator, the good Cecilia Alemani, could only be a woman.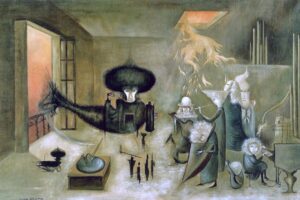 "Friday the 13th", di  Leonora Carrington 
If you look at Carrington's paintings you enter a magnificent world populated by strange characters, by a disruptive nature and by strange objects. It is a fairytale world, sometimes even terrifying, but always capable of staging a breathtaking story, making everyday life less gray and banal.
Carrington sided with women's rights when, especially in Mexico, it was much less obvious; in her works she has always represented many women, often with uncertain sexual identity (gender fluid already sixty years ago), solitary and transgressive. Protagonists together with recurring animals, such as the hyena and the horse, testimony of the dark and wild, instinctive personality of human nature.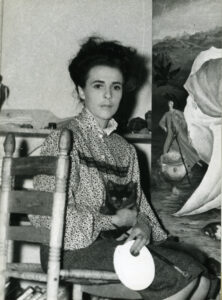 A photo of Leonora Carrington
Carrington did not want to be a mannequin (often a symbol of surrealist and metaphysical painting), she wanted to be recognized and understood, she wanted to be an artist. "Women must regain their rights, including those mysterious powers that have always been ours and that over time men have violated, stolen or destroyed. Leonora Carrington
Good life to everyone!
Beatrice