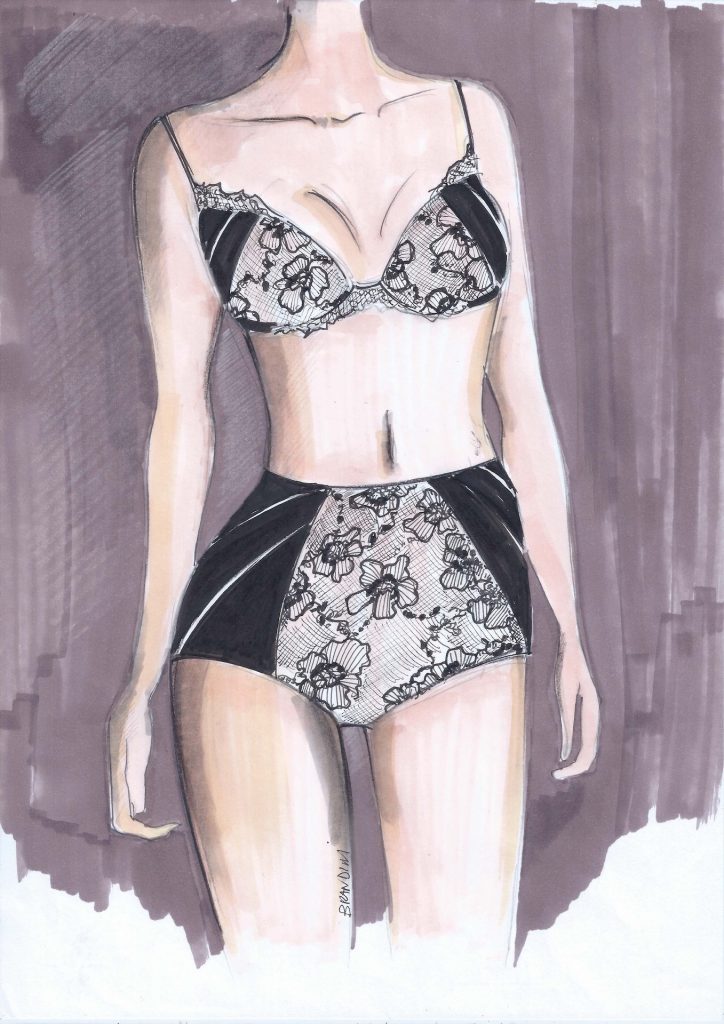 "Beautiful" by Beatrice Brandini
The 14th edition of Immagine Italia & C, the reference fair for the underwear and lingerie sector, in which important Italian and foreign producers take part, has just ended.
The Fair, conceived by the Pistoia Chamber of Commerce, which in an intuitive and far-sighted way created a pole in central Italy for a sector, that of lingerie, too often the prerogative of foreign markets, took place digitally.
The fair has always allowed its visitors to participate in a series of live events related to commercial and marketing issues, necessary tools in an increasingly competitive and unpredictable world of work. 
"Drama and Decadence" mood by Beatrice Brandini
This year the topics were clearly linked to the pandemic, for example how to deal with new post-covid sales and relaunch strategies, the change of social networks with a focus on Instagram, how to renovate a shop or enhance it by lighting more effectively … Small and great fundamental suggestions for a sector that is still made up of small and medium-sized businesses, which have scarce training opportunities. The videos are still on the Immagine Italia website, available to operators in the sector.
I developed mood boards related to lingerie trends for 2022.
The first theme is "Drama and Decadence". Key word drama; the colors are intense such as burgundy, wine red, China blue, petunia, wild lemon with touches of bright blue. The styles are retro, with a preference for corsets and culottes. The materials are "precious", such as organza, devoré velvet, jacquard fabrics with damask patterns, lace. 
"Launge" mood by Beatrice Brandini
The second theme I called "Launge" and wants to emphasize that comfortable clothing that has never been more necessary than in this period. I proposed it to companies with which I collaborated many years ago, just as it is easy to find it in my old mood boards. But now it has also been presented by those who were not familiar with this genre, moving "formal" productions towards more casual and lifestyle themes. Underwear, these are seamless garments, without underwire or other constructions. Basic shapes and natural materials such as organic cottons, modal and cupro. The colors are terracotta, biscuit, café au lait, flesh pink. Also interesting pajamas or jog pants with precious materials for daily use.
"PlaNet" mood by Beatrice Brandini
The third theme is "PlaNet" which plays with the acronym planet and network (net), underlining times in which green attention has fortunately become a necessity, with a virtuous but increasingly connected consumer. This theme is also green in the palette, characterized by moss, olive green, vine, partridge, yellow-green. Natural and impalpable materials. Simple shapes, fabrics and bohemian jacquard designs. Precious velvets for dressing gowns and pajamas. 
"Play and Fantasy" mood by Beatrice Brandini
The last theme is "Play and Fantasy", very playful and positive, necessary to escape from these very trying times for everyone. The theme is characterized by strong colors, some primary, others flou, such as magenta, purple fuchsia, beetroot, raspberry, jasmine green, riviera blue, lime. The shapes are retro, some surrealist with games and surprises, others look at the grandmother's linen with unpredictable effects in the prints and applications.
The underwear sector (also consisting of hosiery) is an important sector for Italy (in the first 9 months of 2019, exports were worth 2.9 billion), made up of small and medium-sized enterprises that produce and export excellent products. One of the many sectors that make Made in Italy great, creating products that last over time, with quality and style.
We are submerged by "rags", and above all this sector the one that is most affected by foreign productions with wild prices and disposable products. We buy with more awareness and we buy above all Italian. Underwear makes us feel more beautiful and confident, but if made from poor quality materials, it can be highly harmful to our body. 
This terrible pandemic has perhaps taught us that we do not need everything that seemed indispensable until a year ago!
Good life to everyone! 
Beatrice