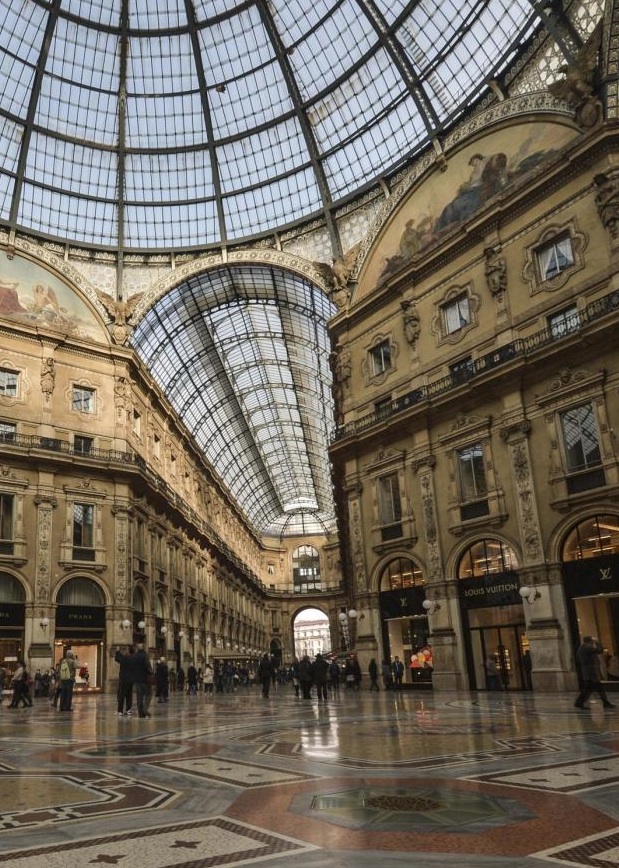 The Gallery in Milan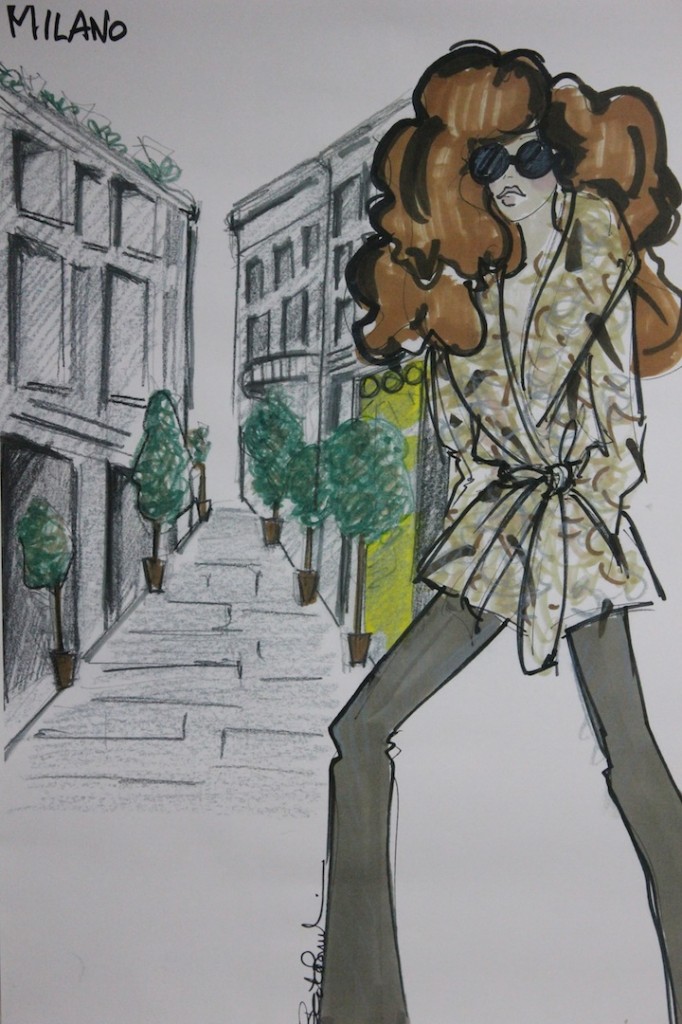 "I love shopping" by Beatrice Brandini 
Here is the second part of the appointment with the Milan runway for next Spring / Summer. It seems impossible given the excellent level of the first part, but maybe this second "edition-part" is even more "surprising." Fashion shows really beautiful with lots of ideas, proposals for many different women, hard not to accommodate and satisfy them with this fashion!
Alberta Ferretti, beautiful as always …. Maidens Botticelli; impalpable fabrics, inlaid flowers and embroidered with light and wisdom, blush palette, but also mint, white, lilac, a beautiful woman, feminine and romantic.
Bottega Veneta. I am an honorary fellow of this brand, which I dedicated a post. I think Tomas Maier is very good, especially because he manage to carry out his personal aesthetic, season after season, in a manner consistent but also "evolutionary." Beautiful modern dancers. Collection conceptual but wearable minimalism that enhances the woman. Jeans, embroidery, knitting, one luxury sportswear. Palette dusty.
Roberto Cavalli a beautiful and modern Gipsy in the first part, a young lady for good in the second. All this with the "style Cavalli", unmistakably sexy, feminine, colorful, positive. Beautiful embroidery and interpretation of jeans "couture".
Blumarine, flowers blooming everywhere, femininity, romance. Very nice day with the proposal clothes from the A line. Fine prints and patterns. I enjoyed the most "clean" with little clever touches and unusual.
Dsquared2, a kaleidoscope of colors, patterns, women. A mix and match modern and interesting. I loved the patterns, from Art Deco to the Manga; leather, satin, gold, jeans, sweatshirt and tuxedo. Well done and fun! 
These are my mood, interpreting the most significant trends from the catwalks of Milan. I also reinserted 4 posted previously in a small collage: 
60's, vintage flavor but very bon ton. Lines A, slender dresses, marquetry, mirrors, geometric embroidery , Courreges in the most glamorous part.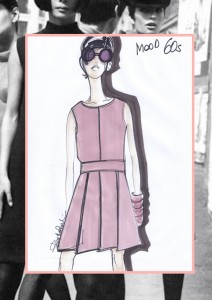 "60s" by Beatrice Brandini
Lots of accessories, handbags and shoes, the most beautiful and creative views right in the catwalks of Milan, in addition  many hats, sunglasses, scarves….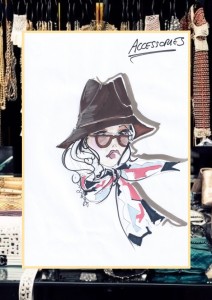 "Accessories" by Beatrice Brandini
It will be the Denim Spring / Summer, that next. Proposed by all … day and night, embroidered, unstructured, marquetry, combined with the chiffon or sweatshirt, couture or sportswear, always JEANS.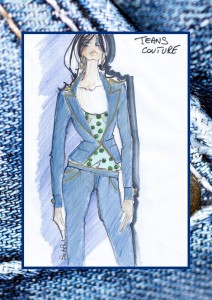 "Jeans" by Beatrice Brandini 
Many proposals evening, almost "dream." Long dresses for the red carpet, cut and interpreted (fabrics and workmanship) beautifully, but almost always refined, minimalist, for modern princesses .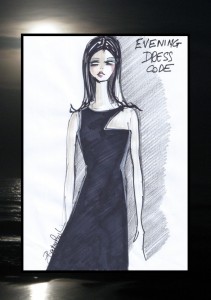 "Evening" by Beatrice Brandini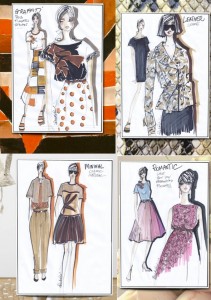 Mood fashion shows in Milan, Part I: "Graffiti-Leather-Minimal-Romantic"
Fendi, a beautiful collection. Masterful use of leather, suede, pleated and inlaid. Beautiful orchid motif printed, embroidered, à jour. Color combinations, such as coffee with powder blue, very interesting.
Gucci, nostalgic collection, the archives of the brand is re-interpret prints and shapes, the results are printed dresses and tailleur that would have really liked to Jackie. Beautiful the denim, in Gucci style and the use of orange, mandarin from rust.
Jil Sander, nice collection. Minimal and conceptual, in tune with the philosophy of the brand. The modern geometric patterns and the line of the skirt with slits combined with the blouse, one of the outfit more feminine and seductive as ever, for women.
Marco de Vincenzo, he parts of the fabric to create something new. Matter,  beautiful inlaid fringes, the damier leather, the light yarn for feminine dress.
Ports 1961, nice collection. Sophisticated cuts, combinations of clothes and colors, as the beige and powder, combined with off white, among the finest presented these days.
N°21, Alessandro Dell'Acqua is always good (I love him). True to his poetic,  this collection mixes masculine (military) and female (voile and shapes). Beautiful tartan printed on the more impalpable fabric, silk voile; the transparencies made with inlay and accessories, such as shoes "baroque" and the leather belt to give the whole an air almost spartan, certainly always MODERN.
Tod's for me one of the most beautiful collections seen in Milan. Bravissima Alessandra Facchinetti, who has been able to exploit the icons of the brand, reinterpreting them but in a personal, feminine and sophisticated way, creating a refined collection.  Laser open work, floral inlays, leather and fabric are one thing. The result of this collection is what means for me  "Made in Italy" in its highest meaning. 
Appointment the next few days in Paris (almost finished but hard to keep up at all in real time). 
Once again Milan has been able to distinguish creativity, craft, concreteness, skill in making beautiful collections, starting with IDEAS, in the raw material, the processing. W fashion and W Milan (and all the Italina factories / workshops, evrywhere, who work 12 months for this), which  makes us proud to be Italian. 
Good life to all!
Beatrice