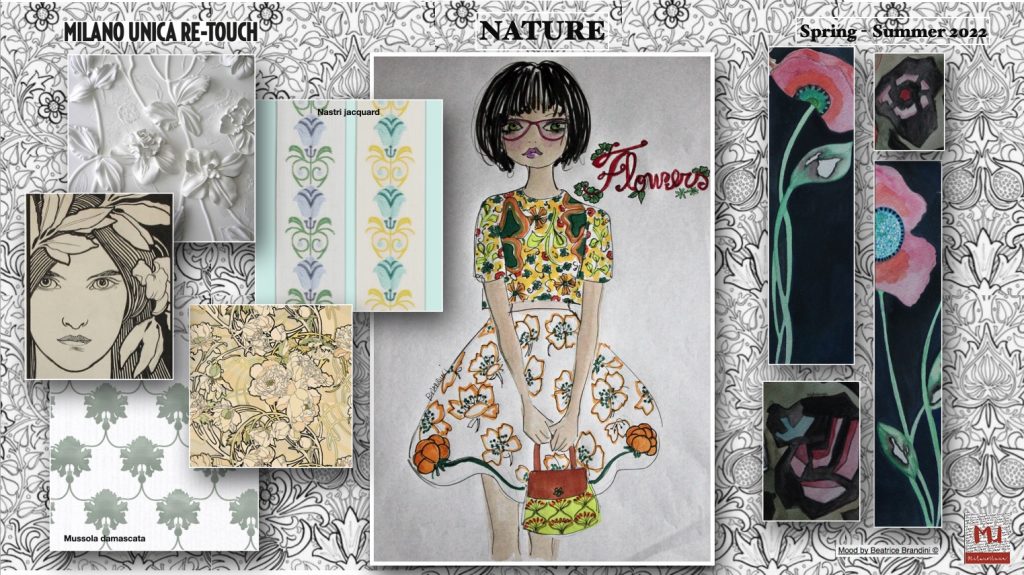 NATURE mood board by Beatrice Brandini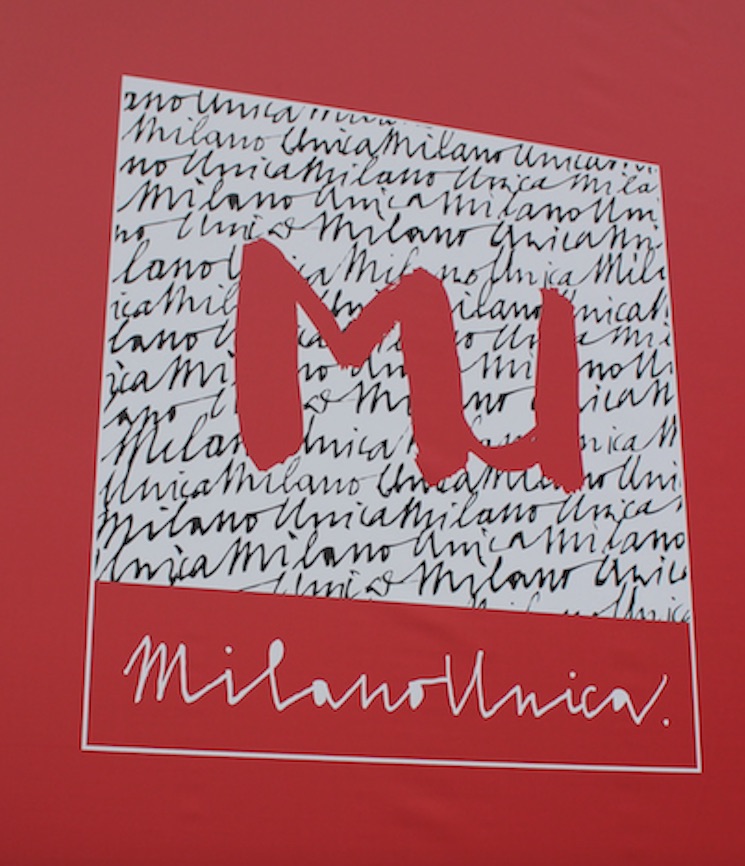 Banner Milano Unica
The key word of this digital edition is RE-TOUCH, a tribute to the sense of touch, which we have been missing (and continues to lack) for many months, inexorably marked by Covid 19. MILANO UNICA RE-TOUCH means paying homage to the suggestions that we try when we touch a fabric or material, wefts and warps, weaves and selvedges. In short, when we are in contact with those magnificent fabrics that evoke sensations but also concrete clothes, the ones we all would always like to wear.
Milano Unica brings together the most important producers in the textile field, focusing, for some time now, on sustainability. Now this theme also becomes that of RE-USE, RE-CYCLE, RE-PROCESSING and RE-DIGITIZATION.
The key word will be RE-TOUCH, that is to feel the body of a fabric, its softness, its lightness, its thickness, its finesse .., all sensations that we can perceive through touch. The Milano Unica Spring – Summer 2022 trend starts again from the tactility of fabrics and fashion accessories to define their specificity and uniqueness.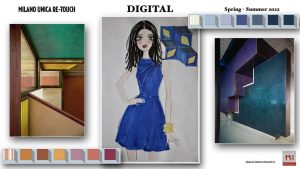 DIGITAL mood board by Beatrice Brandini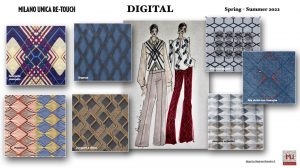 DIGITAL mood board by Beatrice Brandini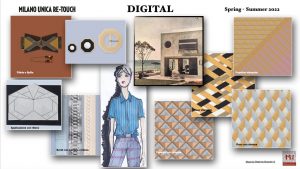 DIGITAL mood board by Beatrice Brandini
DIGITAL is the first theme, in which rigorous forms and modern symmetries are the main inspiration. The graphic plays of the fabrics are digitally re-elaborated, with a clear homage to great Italian architects of the 1940s and 1950s. The search for pure and essential form is the basis of this theme.
Fabrics: Silk, interpreted in iridescent textures such as shantung, taffeta and crêpe satin. Cotton is developed on sateen, cretonne and panama. Wavy designs such as partridge eyes and piquet. Wool blended with linen, silk, soy and bamboo. Rayon, cupro and modal mix with nylon and polyester, always regenerated.
Accessories: 3D effect ribbons. Relief applications. Cellulose for tags and labels, but also for buttons and embossed buckles.
Colors: Digital White, Dusty Blue, Lilac, Amethyst Violet. Many shades of blue, such as Prussian Blue, Midnight Blue and Deep Blue. But also woody and orange shades such as Douglas Yellow, Chestnut Brown, Oak Yellow, Cherry Mallow, Bronzed Orange and Beige Teak.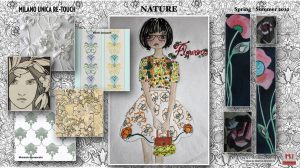 NATURE mood board by Beatrice Brandini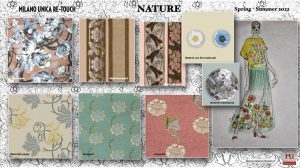 NATURE mood board by Beatrice Brandini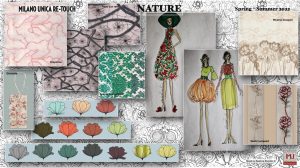 NATURE mood board by Beatrice Brandini
NATURE is the second theme with a clear homage to the aesthetics of William Morris, founder of the Arts and Crafts movement; a Pre-Raphaelite nature, which becomes very modern with 3D effect designs, flowers and geometric designs, preferring traditional textile arts, enhancing the enormous and magnificent heritage of "made in Italy".
Fabrics: Vegetable fibers, exclusively sustainable and environmentally friendly. Materials based on Bamboo, Aloe and Agave to protect the skin. Linen for jacquard with rough and irregular aspects; cotton, poplin, muslin and organza, but also gabardine that creates embossed botanical textures. Hemp, Jute, ramie, relief prints and precious effects from the botanical design. We also find regenerated synthetic fibers to enhance the three-dimensionality of the design, such as nylon, elastane and lurex. Rayon, with its characteristic bright appearance, gives life to translucent effects.
Accessories: here too the fibers of vegetable origin dominate, lace and ribbons are made of cotton. Shiny aspects are given by silk and viscose; silk is also intertwined with rustic yarns such as linen and jute. Regenerated plastics give life to beautiful buttons and buckles.
Colors: natural shades: tuber gray, agave green, ivy green, camou gray, umber, mixed with dusty shades. Terracotta, Olive green, Petal yellow, Lemon yellow, Jade.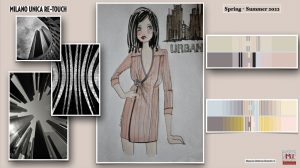 URBAN mood board by Beatrice Brandini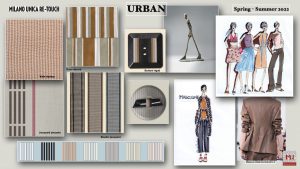 URBAN mood board by Beatrice Brandini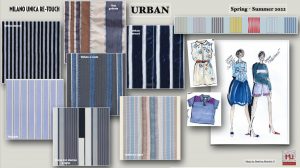 URBAN mood board by Beatrice Brandini
The last theme is the one called URBAN: the graphic inspiration comes from the city skyline, from buildings and skyscrapers. This is why verticality becomes a line. The fabrics are the classic ones of the male wardrobe, such as pinstripe. The re-reading of fabrics taken from Italian historical archives, reworked through original and digital graphics.
Fabrics: wool as pinstripes, cotton developed in poplin and in canvases embellished with three-dimensional stripes. Denim that combines with silky aspects, and yet rustic fibers such as hemp, linen, jute. Rayon, cupro and modal, naturally fluid, are enriched with optical patterns.
Accessories: composite and assembled taping enhance the zip. The blending of the yarns gives the applications volumetric motifs. Regenerated cellulose are used to make perspective buttons.
Colors: Off-White, Black and Camel, that is the classic colors of men's clothing, but these are mixed with White Cord, Daino, Cream, Twilight Pink, Fog Gray, Asphalt Gray, Blue glass and sky, industrial yellow and glossy red.
These magnificent proposals will be part of the inspiration in the creative phase of designers and fashion houses, essential artifacts for the realization of what has made us famous all over the world, our unmistakable and inimitable "made in Italy". However, for the next edition, which will take place in February 2021, we sincerely hope that Italy and the whole world have emerged from this terrible moment dictated by the pandemic. I am a dreamer but I know that Covid in February will not yet be completely behind us, but I also hope that the world will be reborn, that behind these months of incredible anguish and bewilderment, there is a restart full of optimism and opportunities for everyone. , especially for the textile sector, used to often doing (everything) alone.
Good life to everyone! 
Beatrice