Vintage records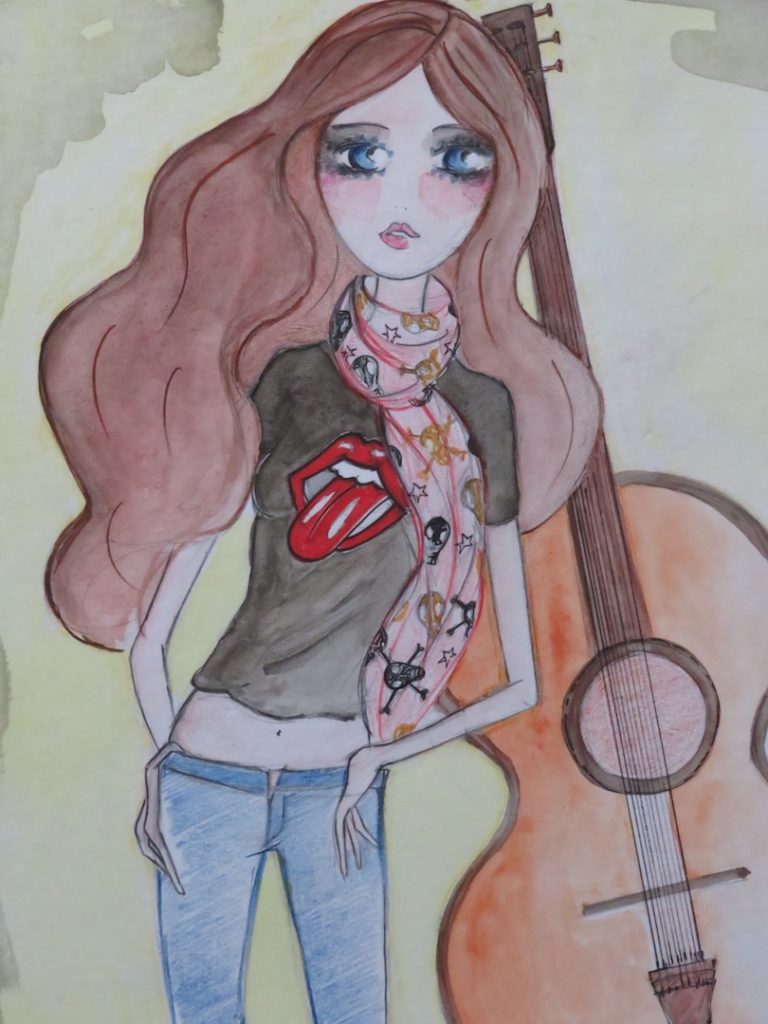 "GROUPIE" by Beatrice Brandini
Music helps us, keeps us company, it makes us happy, it is a precious gift, and like the air to breathe " until there is life there is music ". Beatrice Brandini
Music is an incredible creative propeller. It was born before the egg or the music? This is a provocation, but if we think about it is not so absurd, because everything is music, everything has a sound … For me it is extremely vital.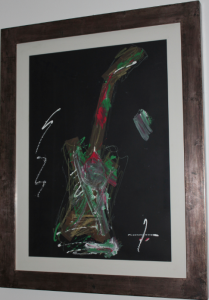 "Guitar" Giuseppe Chiari, private collection
I create with his help , whether it's art, in which the music often has to be exciting, or whether it's fashion, in which vice versa I need to rock music is part of my life constantly. It makes me focus, it gives me energy, feeds my neurons. I think the mental and physical good feeling that you can not hold back from beating the foot, the dancing, the singing ( I jarring … ) or yelling, expressing in its own way a bit ' of happiness " felt".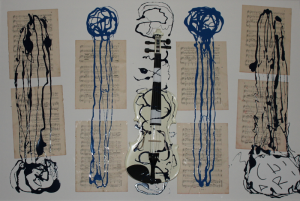 "Violin and sheet music" Giuseppe Chiari, private collection
The music really has many merits, of all I think it is a sincere and constant companion of our lives, as well as having a placebo effect to small or great pain.
"20 Golden hits" The Beatles
If I have vivid memories of when I was younger are often related to music. I think of a beautiful concert of Sade (I was sitting next to the late Enrico Coveri ); one of Diana Ross, pure Motown soul, I get the shivers just thinking about it;  a Giorgio Gaber's show at the Teatro Verdi, I think it was one of the most generous artists I've ever had the fortune to hear and see;  Paolo Conte to Arezzo, with the accompaniment of an orchestra that was the envy of symphony orchestras.
Songs, concerts, records, shows,  are memorable frames of our lives.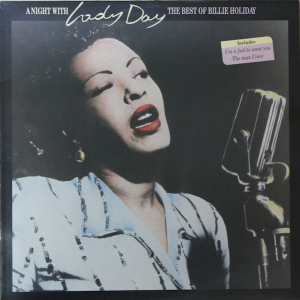 "The best of Billie Holiday"
So many beautiful films have become timeless thanks to their music as well as their reputation is inseparable from their soundtrack. I think of the great films of Sergio Leone with music by Ennio Morricone, to those of Fellini's genius with notes of Nino Rota, the visionary Dario Argento ( among all Deep Red ) with electronic music of Goblin 's by Claudio Simonetti …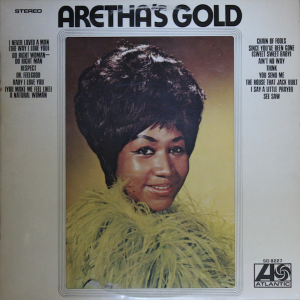 "Aretha's Gold" Aretha Franklin
Or scenes enter in our imaginary that without that music would lose part of their emotional intensity. The Kim Basinger's striptease Basinger in "Nine and a half weeks " with a the hoarse and unmistakable voice of Joe Cocker;  the poignant Mon River sung by the lovely Audrey in "Breakfast at Tiffany's "; Simon & Garfunkel with Mrs. Robinson,  in the " Graduate" ;  Keith Carradine with I'm Easy, in " Nashville "; Unchained Melody in "Ghost" in the unforgettable moment between Demi Moore and Patrick Swayze ……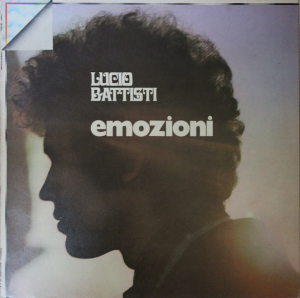 "Emotions" Lucio Battisti
We choose the music according to our feelings and moods and differentiate according to the " use " we want to do with it. Drive us at the beginning of a new day and returning home in the evening, while we cook, we create, we are close to our person of the heart … I discovered that even the little ones are abducted, already showing a taste and personal self ( my son loves Jovanotti and Vasco Rossi, he will surely feel at home, but with so much more … ).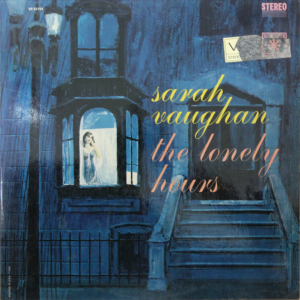 "The lonely hours" Sarah Vaughan
I'm in love with the music and all the technologies that have allowed us to always listen better.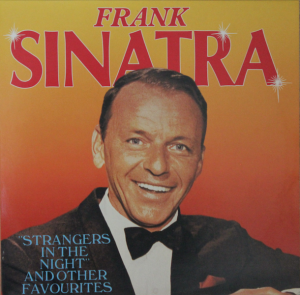 "Strangers in the night" Frank Sinatra
Music helps us, keeps us company, it makes us happy, it is a precious gift, and like the air to breathe " until there is life there is music ". Beatrice Brandini
Good life to all !
Beatrice