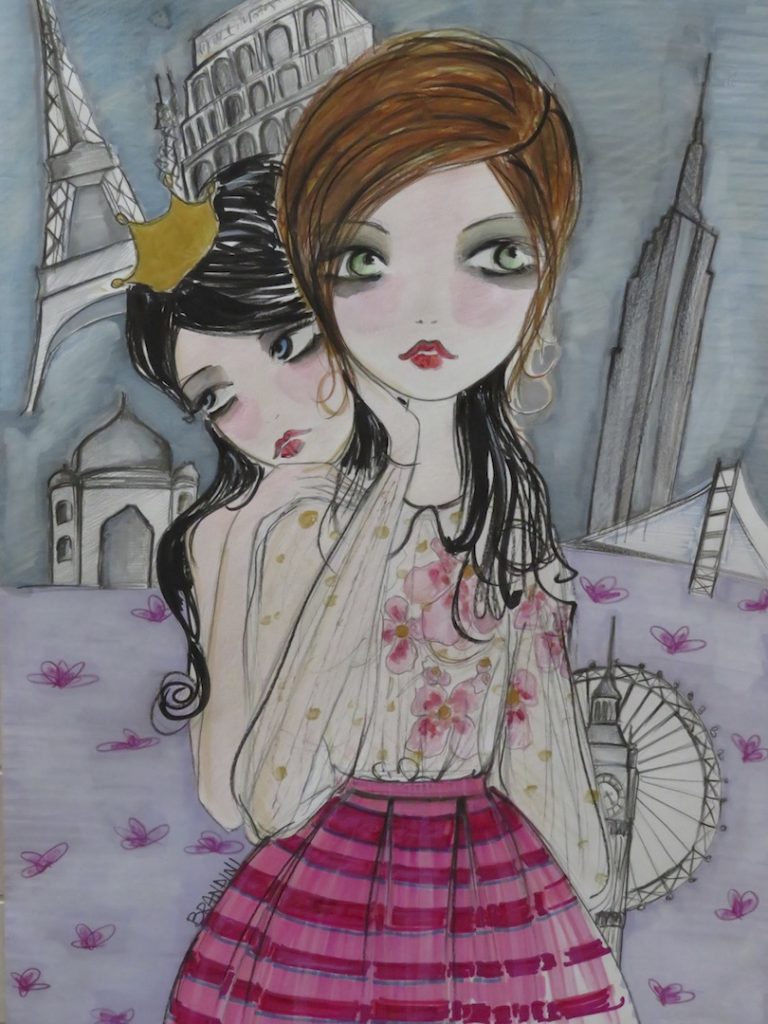 "INFLUENCER" by Beatrice Brandini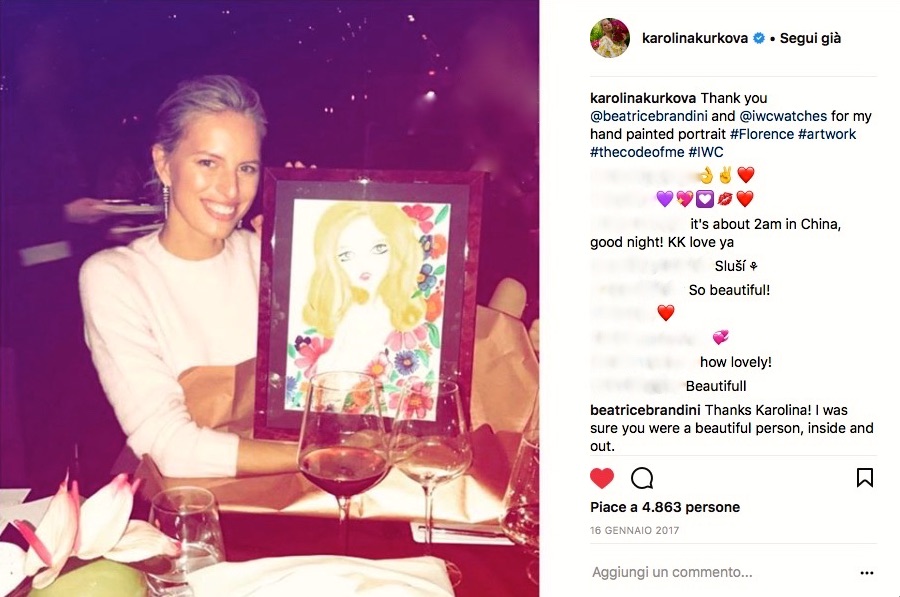 Karolina Kurkova on Instagram with my sketch
Last year I made 10 sketches for some of the most important Influencers in the world for the famous Swiss watchmaking company IWC Schaffhausen.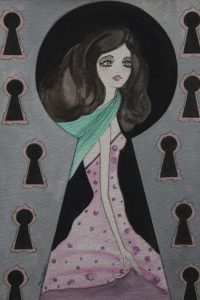 "Lana" by Beatrice Brandini – Sketch for Lana El Salehy (Blogger and Stylist)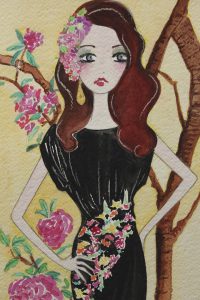 "Xenia" by Beatrice Brandini – Sketch made for Xenia Tchoumitcheva  (Model, Blogger  and Influencer)
The event was dedicated to the launch of the new Da Vinci women's watch model, an example already well known in the men's version. This is why IWC has gathered some of its testimonials in Florence, shooting some shots in that same land that gave the origins and fame to the great Leonardo Da Vinci.
IWC has been creating luxury watches for almost 150 years, a unique and important heritage made of hand-made mechanical watches.
I had not yet had the chance to make a post on this important event (concluded with a dinner at the magnificent Se.Sto on Arno restaurant, from which you can admire a unique Florence skyline in the world), because talking about it seemed too self-referential.
I decided to do it now because there was a lot of work behind it and it was a shame to leave it in the archives; but also because that of the Influencer is a subject that is now part of our daily life, so it was also worthwhile to deepen its socio-cultural implications.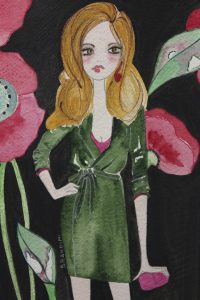 "Alexandra" by Beatrice Brandini – Sketch created for Alexandra Lapp (Model, Blogger and Influencer)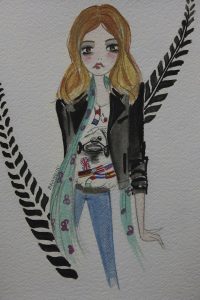 "Carmen" by Beatrice Brandini. Sketch made for Carmen Jorda (Driver F3 Racing, IWC Ambassador)
In the last twenty years, fashion has undergone the greatest revolution imaginable. If before the decades established the different shapes or lengths of hems, witnessing an era especially from the point of view of juvenile subculture (hippie, punk, grunge, mania logo, etc.), since the nineties there has been a radical transformation that it has affected both the commercial and the media-cultural aspects.
On the one hand the arrival of fast fashion chains, with Zara and H & M that have democratized fashion (the first time I entered the Swedish chain I was in Amsterdam, it did not exist in Italy, I immediately thought that our country would have suffered a backlash important, that the various Benetton, Sisley, Stefanel, despite producers of a much higher quality, would have to change something to stem this offer so aggressive in time and price), on the other the social networks, means that have broken down the barrier between the celebrities and the rest of the world, everyone can participate, albeit virtually, to the daily lives of their favorite, everyone can imitate them, so many try to become famous like them, creating their own story, telling it through their iPhone.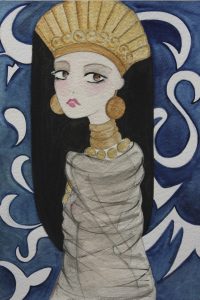 "Hend" by Beatrice Brandini – Sketch created for Hend Sabry (IWC Actress and Ambassador)
With the development of social networks like Facebook (2004), Twitter (2006) and Instagram (2010), it reveals itself with a snap. If before the blog was somehow an online diary in which the descriptive part was predominant, now the selfie is our self-document, our autobiography.
In fashion blogs you express your tastes by photographing the outfits that best represent us, but the real revolution, so appealing for companies, is that with just one click, in an instant, you can reach a vast number of users, breaking down every geographical barrier.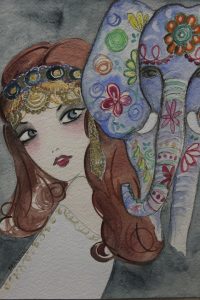 "Kanika" by Beatrice Brandini – Sketch created for Kanika Kapoor (Singer and actress)
Whether we share it or not, we can not fail to analyze this phenomenon, admitting how bloggers influence customs and choices in terms of purchases and lifestyles. And moreover, the better the blogger is, the more his figure evolves into a digital leader or, indeed, an influencer. Fans (today follower) trust their opinions and ferry them between the brand / market and the public / consumer.
This is why the big names in luxury and fashion want them as testimonials for their advertising campaigns, as ambassadors, or they are the same creators to create very popular social profiles, making their professions and their lives closer to that of the public. If someone like Anna Dello Russo, with a very respectable pedigree in fashion (just mention the 15 years in Vogue and Vogue Uomo), has gone from being appreciated especially by insiders, to a global and mainstream popularity, it is because she became ambassador of herself, transforming her passion for fashion into her trademark. Probably without social media would remain a highly rated fashion editor.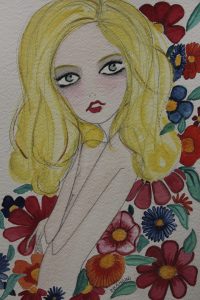 "Karolina" by Beatrice Brandini – Sketch created for Karolina Kurkova (Top model)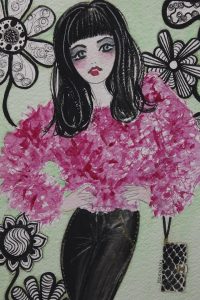 "Kristina" by Beatrice Brandini – Sketch created for Kristina Bazan (Blogger, Model and Influencer)
I do not know if all this will eventually pay off, certainly now it works and is a global means of communication. However, deep down, I believe fashion must retain a minimum of mystery, but not in an elitist sense. I think seeing a fashion show in streaming can already make old clothes that are not on the market yet; I do not think that seeing our icon of beauty upon awakening, humanizing her; I want to dream in the cinema, in the hall I want to see my favorite actress who every time plays a different woman, but this does not have to look like the one I meet at the supermarket …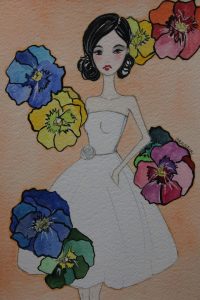 "Nicole" by Beatrice Brandini – Sketch created for Nicole Warne (Blogger, Model and Influencer)
When the internet did not exist we were completely different, it seems like centuries passed and not just some decades. With our smartphone we can do everything, organize a holiday, make purchases, book a visit, cast a vote, even fall in love. The Internet has revolutionized our lives, with a click everything becomes accessible, but perhaps this is its power, to delude ourselves that it can be.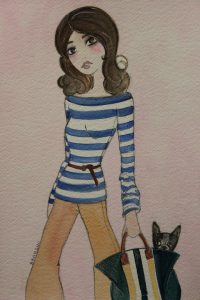 "Laura" by Beatrice Brandini – Sketch made for Laura Ferrari of IWC
A special thanks goes to Francesca, with whom I worked beautifully despite the stress for the race against time, to Laura, for the kindness and pleasant company, and to Karolina Kurkova who posted on Instagram,with enthusiasm, my "little" portrait. A beautiful person who, despite fame, has preserved generosity and humility. Thank you!
Good life to everyone!
Beatrice