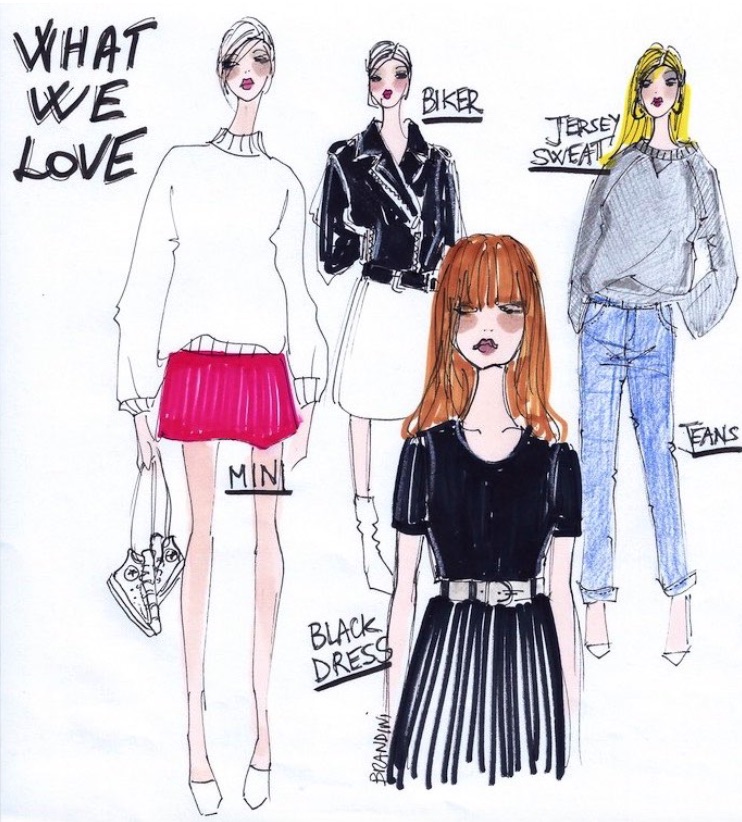 "Symbol Items" by Beatrice Brandini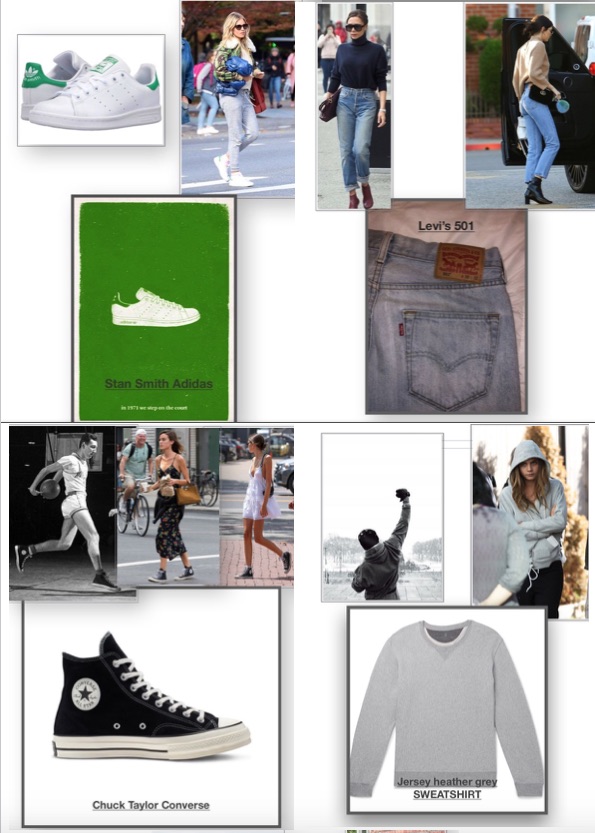 Mix of Symbol Items
I have already talked about iconic clothes and bags, and also of indispensable pieces, respectively in:
https://www.beatricebrandini.it/icon-vintage-dress-part-one/?lang=en
https://www.beatricebrandini.it/bags-inalienable-objects-of-desire/?lang=en
https://www.beatricebrandini.it/women-of-pure-class-and-the-must-have-some-clothes-make-no-mistake/?lang=en
But today I want to talk about clothes that have been, are, and will be tomorrow, a classic in the history of costume. Some of them simply because they revolutionized what was previously, breaking patterns and conventions (I think of the miniskirt), others because they are necessary for a faster and more comfortable life (sneakers and all sportswear), others still because they are capable to resist over time, still modern.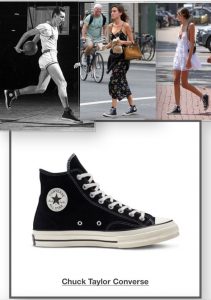 CONVERSE All Star Chuck Taylor
Produced for the first time in the distant 1917 as Basketball shoes, they became popular for the Chuck Taylor model, in 1932, in honor of the American drumstick Charles Hollis Taylor, called Chuck, who adopted them as his favorites and who took their name from him . Still very current and loved, they are another example of an evergreen, timeless "object", for understatement, perfect elegance. One of those things you buy and use over the years without ever getting tired (I have a couple from the 90s, which I still wear).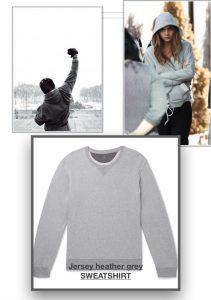 SWEATSHIRT
The gray mélange sweatshirt, round neck or with hood, emblem of a university uniform, of the sweat of the gym, symbolic garment for Rocky Balboa or Jennifer Beals (Flashdance). I had also dedicated a post to this garment, which in recent years has become the protagonist of catwalks and collections, with couture solutions, completely losing its primordial function of sporty practicality (think of the Supreme sweatshirts, those of Marcelo Burlon, or the sweatshirts of Off White). This is the link of my 2016 post dedicated to sweatshirt: https://www.beatricebrandini.it/the-sweatshirt-is-trendy/?lang=en,  if anyone would like to read it again.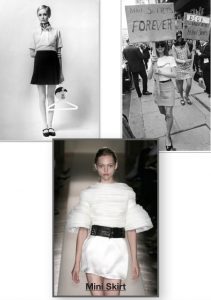 MINI (also called Miniskirt)
The miniskirt, symbol of women's emancipation, attributed to the creativity of Mary Quant, in England of Swinging London. It cyclically returns to the catwalks to the delight of somewhat centralizing women (and men). Although it has made women more free, I find it interesting to wear it in informal situations, in the summer and especially below the threshold of thirty years.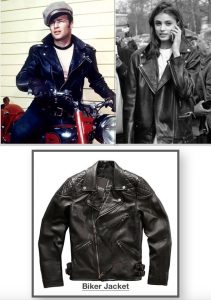 BIKER JACKET
It is the biker leather nail, "bad" and a symbol of rebellion for. It has passed multiple currents unscathed, or rather subcultures, from that of bikers, to metal, from punk to rock. Over the past few decades, somewhat like some garments seen previously, it has lost its cultural connotation to become a habitual presence in global closets. In the most flattened versions it has become feminine, indeed it is perhaps the most successful genre of the last few years. Its most representative testimonial is Marlon Brando in the "Savage", an unforgettable icon of masculinity and seduction.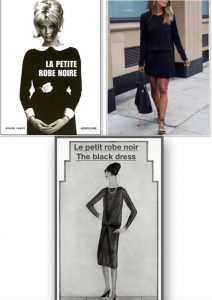 LE PETIT ROBE NOIR
The little black dress, also called the Black Dress. Timeless, chic, suitable for all women and available in millions of versions and uses. One of the first to create it was Chanel, not surprisingly a woman, who wanted to free the others from scaffolding such as those of the crinolines, and make them elegantly modern.
This is my 2014 post dedicated to the sheath dress: https://www.beatricebrandini.it/the-little-black-dress-a-must-passe-partout/?lang=en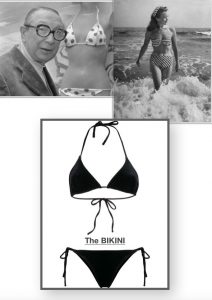 BIKINI
It is the shape of the swimsuit par excellence. Although its creation is attributed to the French tailor Louis Réard in 1946, comparing its rise in the market to an explosion, just like the Bikini atoll, in which the Americans conducted nuclear tests, we can admire iconographies of two-piece costumes in the mosaics Romans of Villa del Casale. The triangle bikini, the most basic one, is irresistible in a toned woman, not necessarily very young.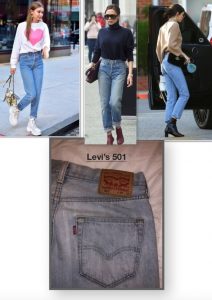 LEVIS'S 501
Born as work trousers in 1871, by the hand of Levi Strauss, a German immigrant of Jewish origin who emigrated to California, they are the denim trousers par excellence. The most famous model in the world, the 501, entered right into history, produced in the distant 1890, it is still worn today by those who want to have a nice pair of jeans and go everywhere.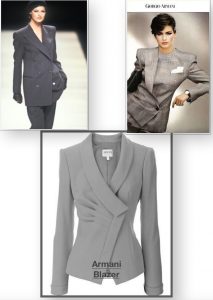 THE ARMANI BLAZER
The women's jacket created by the King, Giorgio Armani, which made women extraordinarily elegant. A fetish garment suitable for all occasions, at work, where one's credibility as a woman is still too often called into question, in the newspaper, or for a special evening. From the 1980s to today Armani has developed this garment in many versions, all extraordinarily special. For this reason, unlike many previous cases, its fame is to be attributed to its creator and not to the object itself.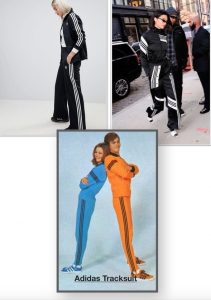 TRACKSUIT
The sports suit, born in technical and resistant fibers, such as polyester or microfibre, has now become a luxury garment, loved by billionaire rappers, and worn by it girls around the world. There are more technical versions, made with breathable, antiallergic, special fabrics, designed for sportsmen in their daily challenges. The most famous and probably sold in the world is the Adidas 3 stripes.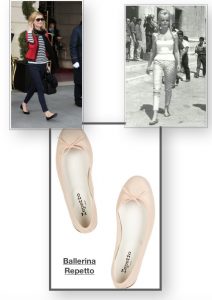 THE DANCERS by Repetto
In my imagination the dancers are those shoes wonderfully worn by Brigitte Bardot or Audrey Hepburn. I don't particularly like them because I consider them a little uncomfortable (too flat) and because I'm among those of "a bit of heel always", but I recognize that they are very elegant, a white palette, and, in a slender figure, perfect. The most famous and chic ones are those of Repetto, founded in 1947 by Rose Repetto, mother of the dancer and choreographer Roland Petit, who over the decades has gone from a technical shoe for dancing (still produced), to the dancer par excellence to conquer the world.
STAN SMITH
Another iconic shoe, created by Adidas in 1971 for tennis Stan Smith testimonial of the brand. Originally the shoes were a little different, it was in more recent years that it became the Stan Smith that we all know, the immensely popular one. Worn by designers on catwalks all over the world, as well as on the streets of the most important metropolises. If you are looking for the shots of the most beautiful women in the world, at least in one of them, they wear a Stan Smith.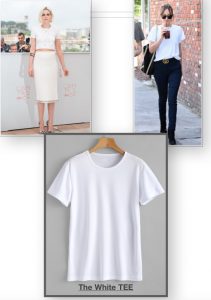 WHITE TEE
The basic, immaculate, white t-shirt, always beautiful! It can be combined with jeans (for example 501) making the wearer become very refined in a natural way; worn instead with an elegant blazer or a precious skirt, it plays down an important look, becoming immediately modern. Even in this case, just like the sweatshirt, over the years it has lost its manifesto mission, becoming simply a must have in the wardrobes of each of us.
If you have time and desire to see my 2014 post dedicated only to this garment, this is the link: https://www.beatricebrandini.it/the-white-t-shirt-a-basic-item-with-a-dual-personality-may-be-heading-slogan-or-understatement-elegance/?lang=en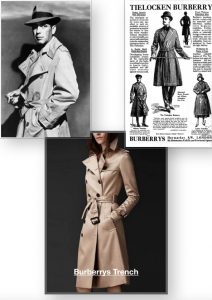 THE Burberry TRENCH
The trench coat cannot and must not be missing in the wardrobe since it is not only comfortable and functional, but makes a whole chic at any time and with any combination. Over jeans, over an elegant dress, over a full skirt or a business suit. Therefore, if possible, you should buy it of excellent workmanship, spending something more, rest assured that it will be an investment that will capitalize over time. The most beautiful in this sense, are those of Burberry, which began to produce in the distant 1856.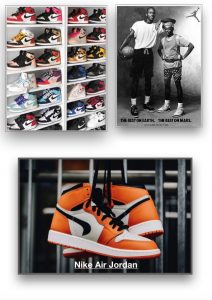 AIR JORDAN
Shoes produced and launched by Nike in 1984 for the NBA champion Michael Jordan, in honor of his aerial style in playing basketball. These shoes are equipped with an internal air chamber that cushions the impacts, however it is not only the technicality that has made the Jordan so popular and so still linked to the world of basketball. This model demonstrates how a product and its testimonial can be united for a long time, creating an indispensable and extremely winning combination (brand-player).
I certainly forgot to mention some garments or accessories, however it was important to speak of part of these objects as important pieces that marked the decades of our recent past, characterizing our society much more intensely than any other form. Probably from the initial rebellion, which is why many of them were born, very little is left today, but this too is a sign of the our times …
Good life to everyone!
Beatrice